South Korean media slam 'provocative' photo of Abe
Major South Korean newspapers splashed a photograph of Japanese Prime Minister Shinzo Abe in a military trainer jet on their front pages yesterday, saying it was a reminder of Japan's colonial-era atrocities.
The picture in question showed a smiling Abe giving a thumbs-up while sitting in the cockpit of an Japan Air Self-Defense Force T-4 training jet emblazoned with the number 731.
The number evoked memories of Unit 731 — a covert Japanese biological and chemical warfare research facility that carried out lethal human experiments during the 1937-1945 Sino-Japanese War and World War II.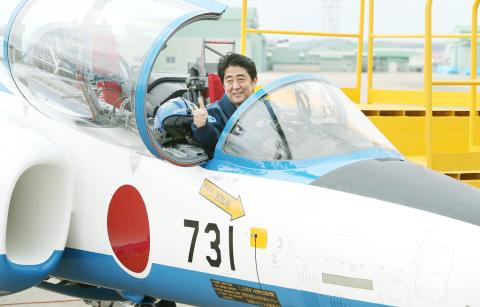 Japanese Prime Minister Shinzo Abe poses inside a T-4 training jet belonging to the Japan Air Self-Defense Force's Blue Impulse flight team at a base in Higashimatsushima, Miyagi Prefecture, Japan, on Sunday.
Photo: AFP
The unit was based in the northeastern Chinese city of Harbin and it held prisoners from China, Korea and the Soviet Union.
The press in Seoul suggested the Abe picture was an intended affront to countries such as China and South Korea, which suffered under Japanese occupation.
"Abe's endless provocation," said a picture caption on the front page of the country's largest daily, the Chosun Ilbo.
"Abe's pose resurrects horrors of Unit 731," ran the headline in the English-language Korea JoongAng Daily.
The picture was taken on Sunday at an air force base in Miyagi Prefecture. Abe was visiting the base as part of a tour of areas affected by the 2011 earthquake and tsunami.
The Japanese Ministry of Defense suggested the number on the trainer was simply coincidental.
"There was no particular meaning in the number of the training airplane the prime minister was in on Sunday. Other than that there is nothing we can say," a ministry spokesman said in Tokyo.
South Korean Ambassador to Japan Shin Kak-soo said he knew of nothing that indicated there was any intent behind the use of a plane numbered 731, but that Japan needed to pay attention to perceptions.
Likening Japan's sticky relationship with its neighbors to that between a school bully and his victims, he said: "There is a gap between the perception of a victimizer and that of a victim."
He said Japanese empathy toward Koreans on history "would prompt a faster curing of wounds."
The prominence given to the photo will likely fuel public anger in South Korea, which has already been aroused by the recent visit by Japanese Cabinet ministers and lawmakers to the Yasukuni Shrine.
Comments will be moderated. Keep comments relevant to the article. Remarks containing abusive and obscene language, personal attacks of any kind or promotion will be removed and the user banned. Final decision will be at the discretion of the Taipei Times.