Ma's son-in-law should do his duty: DPP
DOUBLE STANDARDS: A DPP legislator criticized Ma as commander-in-chief of the military for having a son-in-law who has not fulfilled his military service
Lesley Ma (馬唯中), the elder of President Ma Ying-jeou's (馬英九) two daughters, and her Harvard University schoolmate Allen Tsai (蔡沛然), who have been dating each other for many years, married in New York last year, the Presidential Office confirmed on Monday night.
The president thanked people for their concern and expressed the hope that the new couple "would be given privacy," Presidential Office spokesperson Lee Chia-fei (李佳霏) said.
Tsai, a former model-turned-banker, now works at a financial institution in Hong Kong and the couple are residing in the former British colony.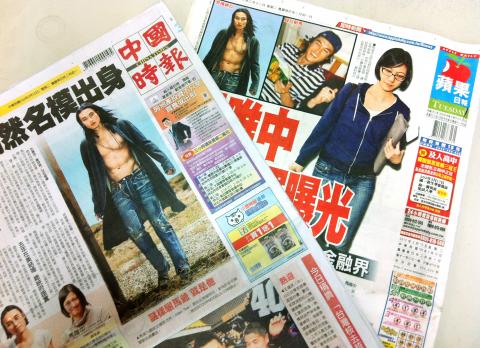 President Ma Ying-jeou's son-in-law, Allen Tsai, is pictured on the front covers of Chinese-language newspapers in Taipei yesterday.
Photo: Taipei Times
Lee said Tsai was born in Taiwan and went to the US when he was a child. His parents are retired and currently residing in Taiwan.
Democratic Progressive Party (DPP) Legislator Hsueh Ling (薛凌) yesterday said that she checked with the Ministry of National Defense's Reserve Command Headquarters and Tsai, born in 1980, still retains Taiwanese citizenship, but has not served compulsory military service.
Hsueh said that if Tsai was an ordinary person who went abroad as a child, it would not be a big issue, but now Tsai has married Lesley Ma and he is an important member of the first family, his words and deeds should be subject to public scrutiny.
The president is commander-in-chief of the military, but his son-in-law has not fulfilled the required military service, which is a breach of the law and a violation of ethical standards and people's trust, she said, questioning whether the Presidential Office's secrecy about Tsai and Lesley Ma's wedding was due to the military service issue.
"As leader of this country, President Ma should not set a bad example," Hsueh said. "He should request that Tsai come to Taiwan and do his military service."
In response, Lee Chung-ching (李忠敬), deputy head of the Ministry of Interior's National Conscription Agency, said his agency has limited information on Tsai and from the known facts, Tsai had not completed his compulsory military service.
"However, it is not a case of avoiding military service," Lee said.
All Taiwanese males (with the exception of those with a disability, or who do not meet the height and weight criteria, or who have certain medical conditions) must serve compulsory military service.
Later last night, Lee (李佳霏) said Tsai had applied for and obtained "Overseas Compatriot Status" in accordance with the law, so Tsai is therefore not "dodging compulsory conscription."
Premier Jiang Yi-huah (江宜樺) was also questioned about Tsai's nationality at the legislature in Taipei yesterday.
DPP Legislator Liu Chien-kuo (劉建國) said Tsai, who reportedly holds dual nationality and intends to continue to reside in Hong Kong, should be obligated to serve compulsory military service if he still holds Taiwanese citizenship.
Jiang said he did not know details of Tsai's nationality.
"However, numerous cases in the past show that we are not able to make anyone who lives outside of Taiwan, Penghu, Kinmen and Matsu serve," Jiang said.
Meanwhile, in light of sensitive cross-strait relations and with Hong Kong being a special administrative region of China, several lawmakers questioned the couple's safety. In response, the National Security Bureau said yesterday that Lesley Ma is not being protected by special service agents in Hong Kong.
According to the Special Service Act (特種勤務條例), the first daughter is not guarded by special service agents should she reside in areas outside of Taiwan and its islands, the bureau said.
However, should security concerns arise, the bureau would provide her with protection, it said.
Additional reporting by Chris Wang
Comments will be moderated. Keep comments relevant to the article. Remarks containing abusive and obscene language, personal attacks of any kind or promotion will be removed and the user banned. Final decision will be at the discretion of the Taipei Times.