Elections loom as Venezuelans mourn Chavez
Venezuelan President Hugo Chavez's death has unleashed a flood of emotional tributes that his allies hope will help ensure the survival of his self-styled socialist revolution when voters elect a successor.
The 58-year-old died on Tuesday after a two-year battle with cancer that was first detected in his pelvis. He had suffered multiple complications following his latest operation on Dec. 11 last year and had not been seen in public since then.
Tens of thousands of Venezuelans immediately took to the streets to honor the flamboyant leader.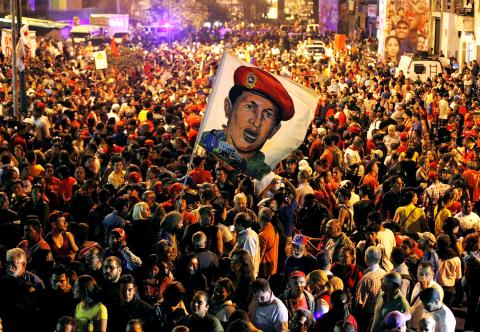 Supporters of late Venezuelan president Hugo Chavez react to the announcement of his death yesterday outside the Caracas hospital where he was being treated.
Photo: Reuters
The future of Chavez's leftist policies, which won him the adoration of poor Venezuelans, but infuriated opponents, who denounced him as a dictator, now rests on the shoulders of Venezuelan Vice President Nicolas Maduro, the man he tapped to succeed him.
"In the immense pain of this historic tragedy that has affected our fatherland, we call on all the compatriots to be vigilant for peace, love, respect and tranquility," he said.
Maduro, a 50-year-old former bus driver, will likely face opposition Miranda State Governor Henrique Capriles at the next election.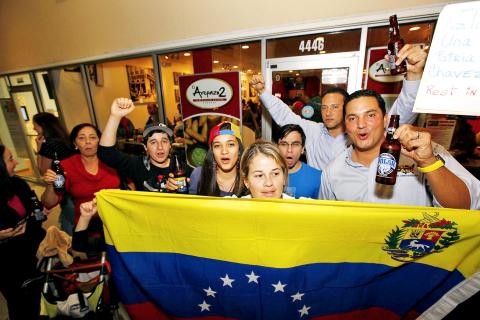 Venezuelans celebrate the passing of Venezuelan president Hugo Chavez on Tuesday in Weston, Florida. Many Venezuelans unhappy with his rule immigrated to the US.
Photo: AFP
Venezuelan authorities said the vote would be called within 30 days, but it was not clear if that meant it would be held within 30 days or whether the date would be announced in that period.
One opinion poll gave Maduro a strong lead over Capriles, because he has received Chavez's blessing as his heir apparent and is likely to benefit from the surge of emotion following the president's death.
Some have suggested he could try to ease tensions with investors and the US, although, hours before Chavez's death, Maduro alleged that "imperialist" enemies had infected the president with cancer as one of a number of conspiracies with domestic opponents.
A victory by Capriles would bring deep changes to Venezuela and would be welcomed by business groups and foreign investors.
"This is not the time to stress what separates us," Capriles said in a statement on Tuesday night, calling for unity and respect for the loss that many felt after Chavez died.
"He was our father," said Nancy Jotiya, 56. "He taught us to defend ourselves. Chavismo is not over."
In Taipei, Ministry of Foreign Affairs deputy spokesperson Calvin Ho (何震寰) said Taipei offered its condolences to Venezuela.
Taiwan does not have diplomatic relationships with Venezuela, but had a representative office in the country from 1974 to 2009.
Additional reporting by Shih Hsiu-chuan
Comments will be moderated. Keep comments relevant to the article. Remarks containing abusive and obscene language, personal attacks of any kind or promotion will be removed and the user banned. Final decision will be at the discretion of the Taipei Times.