DPP pans Ma over 228 Massacre
UNDEMOCRATIC: Hsiao Bi-khim said Ma's 'attempt to rewrite history' was totally unacceptable in a democracy and he should be ashamed of his 'two-handed' strategy
President Ma Ying-jeou's (馬英九) demand that academics relaunch a study of the 228 Massacre in 1947 is part of his de-Taiwanization effort, and the president owes the victims and their families an apology, Democratic Progressive Party (DPP) lawmakers said yesterday.
Showing a document issued by the Presidential Office to Academia Sinica which recommended the institution's Institute of Modern History revisit the controversial incident and uncover the "real facts," DPP lawmakers told a press conference that it was part of Ma's de-Taiwanization effort.
The document stemmed from a letter to Ma from Chinese Maritime Transport Ltd chairman John Peng's (彭蔭剛) on Feb 21, which asked Ma to rehabilitate his late father, Peng Meng-chi (彭孟緝), a former commander at the Kaohsiung Fortress.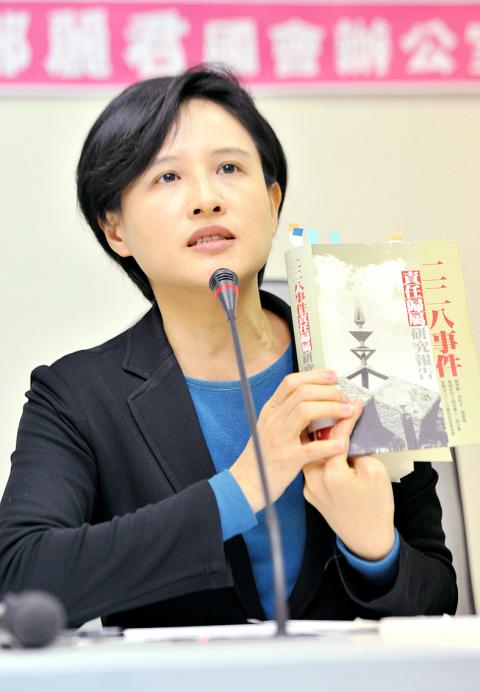 Democratic Progressive Party Legislator Cheng Li-chiun speaks at a press conference in Taipei yesterday.
Photo: Chen Chih-chu, Taipei Times
Peng Meng-chi was named by a government investigation into the massacre, published in 2006, as one of the people responsible for the deaths of many innocent Taiwanese as he had ordered a massacre in Kaohsiung, which later earned him the nickname the "Kaohsiung Butcher."
"It is likely the last piece of the puzzle for Ma's de-Taiwanization effort after the president's attempt to revise high-school history textbooks last year," DPP Legislator Chen Chi-mai (陳其邁) said.
Ma, who accused the DPP of a "desinicization" attempt when the party was in power between 2000 and 2008, has been trying to distort Taiwan's history into one based on a China-centric perspective, evidenced by his instruction to merge Taiwanese and Chinese history textbooks in July last year, Chen said.
Chen also condemned Peng for his description of Taiwanese who died in the massacre as "thugs" in his letter, saying that Peng and Ma should apologize for vilifying those who perished and their families.
Chen has proposed legislation to subject those who deny or tone down the 228 Incident to up to five years in prison, referencing a German law on pro-Nazi violations.
Ma should explain whether he agrees with Peng's view of the massacre and should "face the tragedy with humility," DPP Legislator Cheng Li-chiun (鄭麗君) said.
"Ma's attempt to rewrite history would be unacceptable in any other democracy, especially when many victims' families who witnessed the massacre are still alive," said DPP Legislator Hsiao Bi-khim (蕭美琴), who recently urged the government to extend the period victims' families can apply for compensation because some were not aware that their relatives were executed until after 1996 — the deadline for applications.
Ma should be ashamed of his "two-handed strategy" — offering sympathy to the victims and their families every year on one hand, while trying to distort history on the other, Hsiao said.
Chen Yi-shen (陳儀深), an assistant researcher at the Institute of Modern History and an expert on Taiwan's modern history, said various studies showed that Peng Meng-chi's responsibility for ordering the massacre in Kaohsiung was "indisputable."
Peng Meng-chi's role in history should be remembered as more than just a commander who ordered the brutal massacre, Chen said, as Peng was later promoted to commander of the Taiwan Garrison Command, which was responsible for suppressing and killing many democracy activists during the White Terror period.
Comments will be moderated. Keep comments relevant to the article. Remarks containing abusive and obscene language, personal attacks of any kind or promotion will be removed and the user banned. Final decision will be at the discretion of the Taipei Times.