'China Times' editor threatens student with lawsuit
EMPTY WORDS? The editor said that although he had wanted to file a lawsuit against the student he thought had created an image of him, the student was not his real target
Despite repeated threats that he would file a lawsuit against National Tsing Hua University student Chen Wei-ting (陳為廷) over an image posted on Facebook, China Times Weekly deputy editor-in-chief Lin Chao-hsin (林朝鑫) had yet to act on his threat yesterday, while Chen said he was ready to defend freedom of speech on the Internet.
"Instead of finding out the truth about the 'walking fee incident,' Want Want China Times Media Group chose to [threaten to] file a lawsuit against a college student for posting an image on Facebook," Chen told a news conference in Taipei yesterday morning. "The lawsuit is not only against me, it's against all netizens, and Taiwanese civil society."
Chen was referring to a lawsuit that Lin has repeatedly vowed to bring against him for posting a snapshot of a CTiTV news report of a student protest against the merger of Want Want and cable TV service provider China Network Systems (CNS) on Wednesday.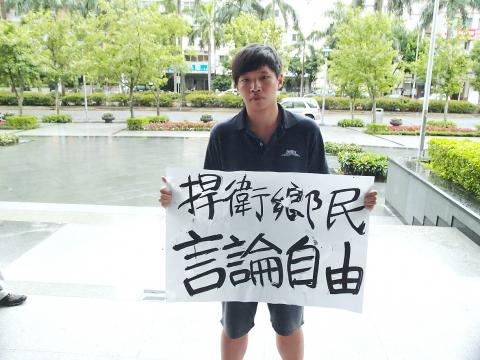 National Tsing Hua University student Chen Wei-ting holds a placard calling for freedom of speech in front of the Ministry of Transportation and Communications in Taipei yesterday.
Photo: Chen Ping-hung, Taipei Times
On Friday, Want Want Group's media outlets — the Chinese--language China Times, China Times Weekly and CTiTV — all reported that the student crowd was paid to stage the protest, and implied, without providing evidence, that Academia Sinica research fellow Huang Kuo-chang (黃國昌), who organized a separate protest earlier, was behind the incident.
Netizens took a snapshot from the CTiTV report on the protest that showed Lin among the crowd and questioned whether the media group was actually the one behind it.
Although Chen was only one of the hundreds of netizens who posted the image online, Lin seems to believe that Chen was the person who originally produced the image, since he was quoted by the China Times yesterday as saying that Chen was the person who took the photograph.
"Most of the people opposed to the merger of Want Want and CNS feel that way because they worry that a media giant ... threatens the freedoms of the press and of speech," Chen said. "What Lin and the media group have been doing these past few days just proves that our worries are not baseless."
"As a mere student, I feel helpless, but I'm determined to fight on, not only for myself, but also for freedom of speech on the Internet," Chen said.
Lin said in a telephone interview that he would sue Chen to defend his reputation. Although he originally said he would file the lawsuit against Chen because he believed Chen was the one who took the snapshot, Lin later said that Chen was not his ultimate target.
"The purpose of the lawsuit is not to do something against a student, rather, it is to find out who's behind the entire incident," he said.
Lin told media that he would file the lawsuit at 2pm. As of press time, he had yet to file anything.
Comments will be moderated. Keep comments relevant to the article. Remarks containing abusive and obscene language, personal attacks of any kind or promotion will be removed and the user banned. Final decision will be at the discretion of the Taipei Times.