Ma promises more aid to Burkina Faso
LIGHTING UP AFRICA: The Burkinabe president thanked Ma for a project that gave students LED lights with solar-powered batteries that stored energy for reading at night
President Ma Ying-jeou (馬英九), who is on his first state visit to Africa, promised yesterday more development assistance to Burkina Faso and lauded a hospital built with Taiwanese help.
Ma embarked on a 12-day tour of three allied nations in Africa — Burkina Faso, Gambia and Swaziland — on Saturday. He arrived in Burkina Faso on Sunday.
Ma was greeted by Burkinabe President Blaise Compaore at the airport, where he was welcomed with full military honors, complete with a 21-gun salute.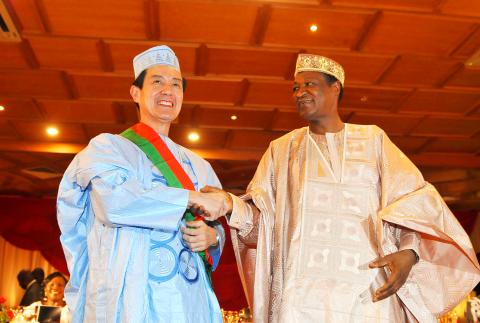 President Ma Ying-jeou, left, yesterday shakes hands with Burkinabe President Blaise Compaore at a state banquet in Bukina Faso during his first state visit to Africa.
Photo: CNA
A group of local people also greeted Ma with a rendition of Kao Shan Ching, a famous Taiwanese Aboriginal folk song.
In talks, Ma told Compaore that Taiwan was hoping to expand scholarships for Burkinabe students to encourage them to study in Taiwan, as part of the country's efforts to become a center of higher education in East Asia.
In addition, Ma said Taiwan would provide more assistance to Burkina Faso in the areas of education, medical care, transportation and agriculture.
Compaore expressed his appreciation to Taiwan for sponsoring a project dubbed "A Lamp Lighting up Africa," which allows local students to study at night by the light of solar-powered LED lamps.
Compaore said the project was very helpful because there is an energy shortage in Burkina Faso, which imports half of its energy from Ivory Coast.
Ma said Taiwan and Burkina Faso were not only political and economic allies, but also partners in promoting regional peace.
Ma also toured the National Blaise Compaore Hospital, which was built with assistance from Taiwan.
"We toured the hospital and the birthing training center this morning, and while we slowly came to realize that diplomatic work for the ROC [Republic of China] is very hard, we are happy to say that the results are very rewarding," Ma told a press conference in the evening.
The hospital was built by Taiwanese companies and funded by the private and banking sectors. This has proven a successful model, Ma said, adding that he hoped the hospital would prosper and help Burkina Faso and other West African countries.
In Taipei, the Ministry of Foreign Affairs said the government decided to withhold information about a planned refueling stopover in Mumbai, India, en route to Africa based on an agreement with Indian authorities, dismissing allegations that Ma had deliberately deceived the public.
Minister of Foreign Affairs Timothy Yang (楊進添) said the stopover was aimed at building mutual trust with India and ensuring that "nothing unexpected [in bilateral relations] would happen."
Ma's plane landed the previous day at Chhatrapati Shivaji -International Airport in Mumbai for refueling before continuing on to Africa.
The ministry had previously announced that Ma's plane would make a refueling stopover in Dubai, United Arab Emirates, and informed the media of the change only at the last minute.
In a report on Sunday, the Press Trust of India described it as a "surprise stopover" and said the Mumbai Air Traffic Control that was informed about an hour before the plane landed.
Critics in Taiwan have accused the government of misleading the public.
Yang said the change from Dubai to Mumbai was because of -adjustments in the president's itinerary, which had originally included Sao Tome and Principe, with Swaziland being the first leg.
After Sao Tome and Principe was removed from the itinerary, the ministry decided to make Burkina Faso the first leg of Ma's tour and Swaziland the final leg, Yang said.
Yang said the fact that -Taiwan's request was approved demonstrated the success of the "flexible diplomacy" policy promoted by the government over the past four years.
However, he said it would be inappropriate to describe the refueling stop as a "diplomatic breakthrough."
With translation by Jake Chung, staff writer
Comments will be moderated. Keep comments relevant to the article. Remarks containing abusive and obscene language, personal attacks of any kind or promotion will be removed and the user banned. Final decision will be at the discretion of the Taipei Times.