'Friends of Syria' demand access to supply aid
Western and Arab nations were set to demand yesterday that Syria allow aid to be delivered to desperate civilians in the absence of any international resolve to intervene to end a crackdown on a near year-old revolt against Syrian President Bashar al-Assad.
Foreign ministers from more than 50 countries were in Tunis for the first meeting of the "Friends of Syria" group, against the backdrop of a surge in government attacks on the city of Homs and mounting world outrage over violence that has claimed thousands of lives during the uprising.
In Homs, Syrian government artillery fire killed five people in the city's Baba Amro district, opposition activists said, as the bombardment of opposition-held neighborhoods entered its third week yesterday.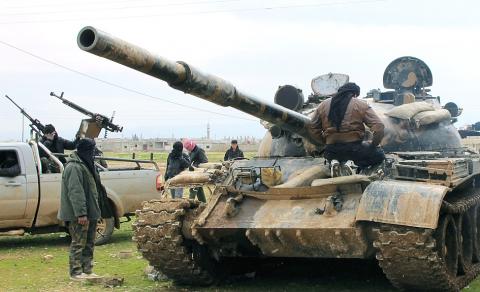 Free Syrian Army fighters look at a tank taken by defectors from the regular Syrian Army in al-Qusayr, Syria, on Thursday.
Photo: Reuters
"Baba Amro is being hit with 122mm artillery directed at it from surrounding villages. A father and his 14-year-old son were among those killed. They were trying to flee the shelling when shrapnel hit them in the street," Mohammad al-Homsi said.
US Secretary of State Hillary Rodham Clinton has warned that Syria's opposition would ultimately arm itself and go on the offensive if diplomacy failed, but with moves for tough action in the UN Security Council stymied by Russian and Chinese vetoes, and a lack of appetite for military action to end al-Assad's crackdown, delegates in Tunis had limited options.
German Foreign Minister Guido Westerwelle said: "It is very important that the first contact group is taking place today, because it sends a message to the Syrian people that we support them in their struggle for freedom."
An updated draft declaration from the meeting called on Syria to "immediately cease all violence" to allow the UN access to Homs and to let agencies deliver aid to civilians affected by the violence.
The "Friends of Syria" pledged, in the latest version of the draft, to deliver humanitarian supplies within 48 hours if Syria's government "stopped its assault on civilian areas and permitted access."
In a sign the international community is seeking ways around the Security Council deadlock, UN Secretary-General Ban Ki-moon said he would dispatch former UN chief Kofi Annan to Syria as a joint UN-Arab League envoy.
The draft communique did not mention any foreign military intervention along the lines of the NATO bombing campaign that helped force out former Libyan leader Muammar Qaddafi.
Instead, it called for further diplomatic pressure on al-Assad to step down and endorsed an Arab League plan that sees him handing power to a deputy as a prelude to elections.
Western diplomats said it had not yet been possible to recover the bodies of Marie Colvin, an American working for British newspaper the Sunday Times, and French photographer Remi Ochlik.
Two journalists wounded in the same attack were also awaiting evacuation from Homs, where activists say the army is blocking medical supplies and electricity is cut off for 15 hours a day.
Comments will be moderated. Keep comments relevant to the article. Remarks containing abusive and obscene language, personal attacks of any kind or promotion will be removed and the user banned. Final decision will be at the discretion of the Taipei Times.