Early start beats tolls and congestion as holiday ends
GRIDLOCK: Total traffic volume on Friday was 1.7 times average, with traffic peaking between 3pm and 6pm, although many took advantage of toll-free hours
More than 2 million cars packed the freeways yesterday as the Lunar New Year holiday comes to an end, with heavy congestion reported on only a few sections, the National Freeway Bureau said.
Traffic Management Division section chief Chen Ting-tsai (陳廷才) said total traffic volume on Friday was 2.7 million vehicles, about 1.7 times the average daily traffic volume of about 1.6 million.
"We estimate the total traffic volume [yesterday] was between 2.1 million and 2.3 million vehicles," Chen said. "Northbound traffic volume was much higher than southbound and peak hours were between 3pm and 6pm."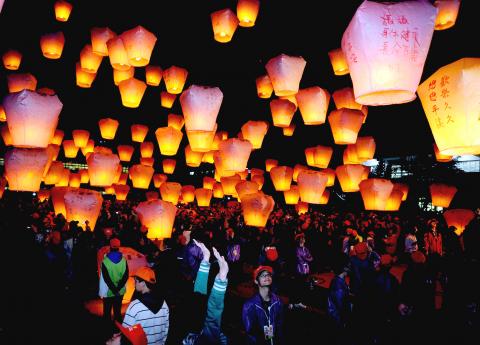 Hundreds of Taiwanese release "sky lanterns" in hopes of good fortune and prosperity in the new year and to celebrate the upcoming Lantern Festival yesterday, in the Pingxi district of New Taipei City, Taiwan.
Photo: Taipei Times
The bureau said traffic volume between 12am and 7am yesterday was 360,000 vehicles, or 2.4 times the average volume of 150,000 vehicles on weekends, showing that many people took advantage of the toll-free hours to hit the road.
Traffic conditions on the highways were fairly normal before noon and northbound sections that saw congestion in the afternoon were from Siluo (西螺) to Yuanlin (員林) and from the Hsinchu interchange (新竹系統) to Jhubei (竹北) on Freeway No. 1; from Caotun (草屯) to Wufong (霧峰) on Freeway No. 3; from Toucheng (頭城) to Pinglin (坪林) on Freeway No. 5 and the whole Hsuehshan Tunnel (雪山隧道), Chen said.
The bureau reminded drivers to consult the bureau's online traffic control information and plan ahead before setting out to avoid congestion.
Comments will be moderated. Keep comments relevant to the article. Remarks containing abusive and obscene language, personal attacks of any kind or promotion will be removed and the user banned. Final decision will be at the discretion of the Taipei Times.