Despite rain, millions hit the road
SPECIAL VISITS: Vehicles began packing the southbound lanes on freeways at about 8am yesterday, while 3pm was expected to be the start of the homeward bound trips
About 3 million vehicles hit the roads yesterday on the second day of the Lunar New Year, the day when married daughters return to their parents' home (Hui Niang Jia), packing several sections of the nation's highways, the National Freeway Bureau said.
"We estimate that the traffic volume will fall between 2.7 million and 2.9 million vehicle-times," said Lu Wen-yu (呂文玉), the bureau's Traffic Management Division vice director, adding that if so, the amount would be 500,000 more than the first day of the Lunar New Year.
The bureau said the first wave of vehicles had been expected to appear from 8am to 12am as some families headed to the homes of wives' parents, and others headed for amusement parks or recreation areas.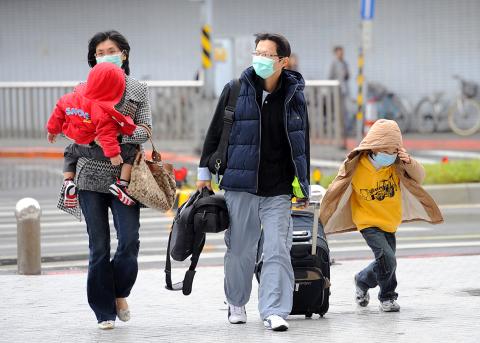 A family walks near the Taipei Railway Station yesterday on the second day of the Lunar New Year holiday.
Photo: Luo Pei-der, Taipei Times
Despite the cold, rainy weather in northern Taiwan, vehicles began packing the southbound lanes on the freeways at about 8am, causing average traffic speed to drop to about 30kph at some sections. Traffic congestion between Taoyuan's Jhongli (中壢) and Neili (內壢), reduced the average speed to as slow as 15kph for a period of time.
Traffic monitoring in the morning showed more cars were heading south, and the congested sections were shortened around midday, the bureau said at noon.
Bureau officials said another wave of cars going north was expected to begin showing up after 3pm.
"We estimate that there will be some waves of cars going north in the afternoon, with sections from Siluo (西螺) to Yuanlin (員林) on Freeway No. 1, from Jhongtou (中投) to Caotun (草屯) on Freeway No. 3, and from Toucheng (頭城) to Pinglin (坪林) Freeway No. 5 being sections that may move slowly," Traffic Management Division director Hsu Fu-Shen (徐福聲) said.
To ease traffic during the Lunar New Year period, the bureau has implemented toll-free hours between 12am and 7am, and allowed usage of the hard shoulder at more than 20 sections of the freeways.
The bureau estimated that the traffic volume today may even exceed yesterday's numbers and suggested motorists make use of the toll-free period to get on the freeways before 7am, take alternative roads, or check the online traffic control information before hitting the road, to prevent getting stuck in traffic jams.
Comments will be moderated. Keep comments relevant to the article. Remarks containing abusive and obscene language, personal attacks of any kind or promotion will be removed and the user banned. Final decision will be at the discretion of the Taipei Times.