Groups slam Shih Ming-teh for Tsai comments
REVERSE PSYCHOLOGY: KMT Legislator Chiu Yi said Shih had deliberately tried to boost Tsai Ing-wen's chances of winning the primary by bringing up the issue of her sexual orientation
More than a dozen gay rights and women's groups yesterday lashed out at former Democratic Progressive Party (DPP) chairman Shih Ming-teh (施明德) over his questioning of DPP presidential contender Tsai Ing-wen's (蔡英文) sexual orientation and demanded that he apologize to women.
"If, as Shih puts it, the sexual orientation of a presidential candidate is so important that it would have an impact on the direction of national policy, I'd like to ask him to elaborate on which gender or sexual orientation is best fit for a national leader," Taiwan Women's Link -secretary-general Tsai Wan-fen ---(蔡宛芬) said at a press conference in Taipei yesterday. "If he cannot explain, he should stop arguing, and apologize to all single women, gays and female politicians."
On Thursday, Shih called on Tsai Ing-wen, who is single, to clarify her sexual orientation, saying voters deserved "a clear answer" before voting for her.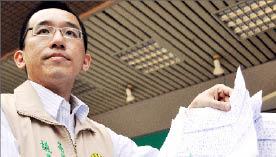 Greater Kaohsiung City Councilor Chen Chih-chung, son of former president Chen Shui-bian, yesterday holds up a letter his father wrote him from prison. The letter said the former president thinks Democratic Progressive Party presidential nominee hopeful Tsai Ing-wen has a good chance of winning next year's presidential election.
Photo: CNA
Both Awakening Foundation board director Fan Yun (范雲) and Taiwan Gender Equality Education Association secretary-general Lai Yu-mei (賴友梅), on the other hand, urged Shih to come up with concrete policy suggestions to promote gay rights if he really cares about the issue.
"By the way, if you [Shih] really care about homosexuals, you should learn this first lesson: Never force anyone to come out of the closet. If you do, you're violating their rights," Fan said, adding that the public — or individuals — should pay more attention to the public aspects of politicians' lives, not the private.
Other groups taking part in the press conference included the Taiwan Tongzhi Hotline Association, Gender/Sexuality Rights Association Taiwan, the Taiwan LGBT Pride Community and the Taiwan LGBT Family Rights Advocacy Association.
Chinese Nationalist Party (KMT) lawmakers yesterday also joined their DPP counterparts in blasting Shih.
Shih made no sense when he asked Tsai Ing-wen to disclose her sexual orientation, KMT Legislator Lo Shu-lei (羅淑蕾) said.
"Which law or regulation requires that disclosure? Moreover, it's a violation of human rights to inquire into other people's sexual orientation," she said.
"There are too many women who have not married. If Shih presumed that [Tsai Ing-wen is a lesbian] just because she is single, he did Tsai [Ing-wen] a great favor as that would only arouse women's sympathy [for Tsai Ing-wen]," Lo added.
Raising an issue about sexual orientation only showed that Shih was an "ungenerous" person, KMT Legislator Wu Yu-sheng (吳育昇) said.
"But if Tsai [Ing-wen] chose to declare her preference, it might not be bad for her chances [in winning the DPP primary] because that would show that she is brave, dedicated, candid and honest, which are all favorable traits in the -country," Wu said.
KMT Legislator Chiu Yi (邱毅) said Shih was in fact aiming to boost Tsai Ing-wen's chances of winning the primary.
"How could Shih not know that his remarks would incur anger from women activists, who would then step forward to voice support for Tsai [Ing-wen]?" Chiu said.
Comments will be moderated. Keep comments relevant to the article. Remarks containing abusive and obscene language, personal attacks of any kind or promotion will be removed and the user banned. Final decision will be at the discretion of the Taipei Times.