Jeffrey Koo Jr questioned on return
WANTED MAN All investigations involving the former banker will be taken over by the Special Investigation Panel, which is also probing Chen Shui-bian's family
Former Chinatrust Financial Holding Co (中信金控) vice chairman Jeffrey Koo Jr (辜仲諒) returned to Taiwan yesterday after being on the run for almost two years. He was immediately handcuffed and escorted to the Supreme Prosecutor Office's Special Investigation Panel (SIP) for questioning.
All investigations involving Koo, who returned to Taiwan from Japan on his private plane around 9:45am, will now be handled by the SIP, a chief investigator said.
SIP spokesman Chen Yun-nan (陳雲南) said that after talking to State Public Prosecutor-General Chen Tsung-ming (陳聰明), it was decided that the probes, including one into Koo's suspected role in a questionable financial deal and another into his possible role in alleged corruption involving the former first family, would be handled by the SIP.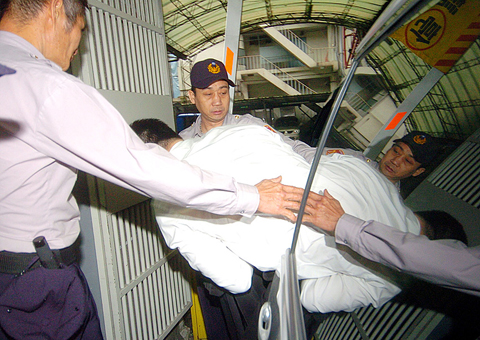 Former Chinatrust Financial Holding Co vice chairman Jeffrey Koo Jr, center, arrives at the Special Investigation Panel's offices in Taipei yesterday.
PHOTO: CHANG CHIA-MING, TAIPEI TIMES
Koo has been on the Taipei District Prosecutors' Office wanted list since December 2006 after twice failing to appear to answer questions regarding his role in Chinatrust Financial's investment in Mega Financial Holding Co (兆豐金控) through its Hong Kong branch.
Chen Yun-nan said that Koo had "turned himself in voluntarily" as a defendant, which meant he had to be handcuffed in accordance with legal procedure.
The SIP spokesman denied that there had been any "under the table deal" facilitating Koo's return from Japan.
"We did not make any deal with him," Chen Yun-nan said. "He decided to come back to help us."
Prosecutors were also anxious to talk to Koo about the sale of a piece of land in Taoyuan County owned by a development company controlled by Koo and his family, through which former president Chen Shui-bian's (陳水扁) wife, Wu Shu-jen (吳淑珍), is alleged to have received NT$400 million (US$12 million) in kickbacks.
Jeffrey Koo Jr's alleged involvement in the deal came to light on Nov. 14, when Taiwan Cement Corp (台泥) chairman Leslie Koo (辜成允), his uncle, told prosecutors that his nephew had introduced him to the former first lady's friend Tsai Ming-cher (蔡明哲), who instructed Leslie Koo on where to wire a NT$400 million "commission" on the land purchase.
At press time yesterday, prosecutors were still questioning Jeffrey Koo Jr.
His father, Chinatrust Financial chairman Jeffrey Koo (辜濂松), was summoned late last month as a witness over the firm's suspected role in the case against the former first family.
SIP prosecutors yesterday also questioned former vice premier Lin Hsin-yi (林信義) and former presidential aide Lin Teh-hsun (林德訓).
After Lin Hsin-yi left, prosecutors applied to release Lin Teh-hsun on NT$200,000 bail, a request that was immediately granted by the Taipei District Court.
The court barred Lin Teh-hsun, who had been in detention since Oct. 3, from moving house or leaving the country.
Comments will be moderated. Keep comments relevant to the article. Remarks containing abusive and obscene language, personal attacks of any kind or promotion will be removed and the user banned. Final decision will be at the discretion of the Taipei Times.