Wang should lead the KMT: Soong
LAST GASP He's kept a low profile for most of the campaign, but the People First Party boss is now of use to Wang Jin-pyng's campaign for chairman
Despite claims that he would not intervene in the election for Chinese Nationalist Party (KMT) chairman, People First Party Chairman James Soong (宋楚瑜) yesterday, on election eve, came down on the side of Legislative Speaker Wang Jin-pyng (王金平).
Wang last night broadcast a videotaped message to a campaign rally that sealed Soong's support for Wang over his rival, Taipei Mayor Ma Ying-jeou (馬英九).
"[In the tape, Soong] did not bring up my election bid. However, his meaning is clear. He hopes that I will win," Wang said at the legislature earlier yesterday.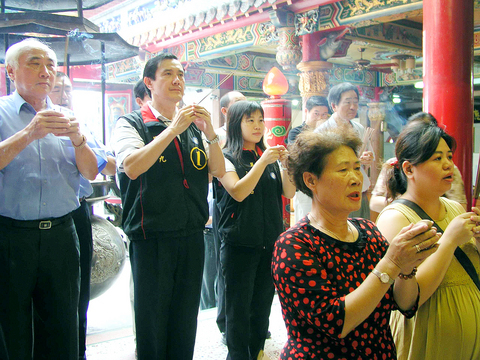 The two candidates make their final pitch for the Chinese Nationalist Party chairmanship yesterday. Above, Taipei Mayor Ma Ying-jeou, second left, holds incense sticks and prays at the Tsu-chu Temple in Kaohsiung County's Neimen Township. Below, Legislative Speaker Wang Jin-pyng, second left, pays his respects to late president Chiang Ching-kuo in Taoyuan County's Tahsi Township, where Chiang's body is temporarily placed.
PHOTOS: HSU PAI-YING AND CHOU MIN-HUNG, TAIPEI TIMES
Before leaving the country for an extended vacation in the US, Soong presented Wang's campaign headquarters with the tape.
In a further hint of where PFP support lies, PFP policy research center director Chang Hsien-yao (張顯耀) urged voters to support Wang in Nantou on Thursday night, while a number of PFP legislators, including Deputy Legislative Speaker Chung Jung-chi (鍾榮吉), made appearances at Wang's rally last night in Taipei.
In response, Ma, campaigning in Pingtung County yesterday, said that he relied on ideals and not on personal connections.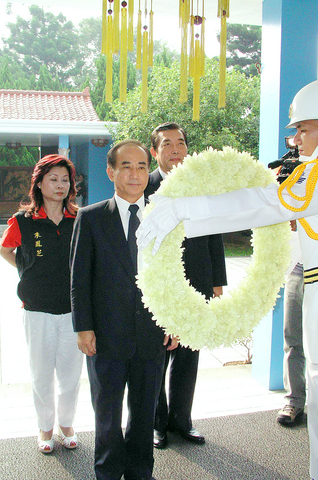 ?
"The reason why [other pan-blue camp members] left the KMT was mostly because of dissatisfaction with the KMT's past affiliation with `black gold' [corruption] and policy direction," Ma said.
"Most importantly, the KMT must find its original direction, to support the Republic of China, oppose Taiwanese independence and oppose the `one country, two systems' policy. If these things can be accomplished, then some members of the PFP and the New Party would consider returning to the KMT," Ma said.
Meanwhile, the KMT yesterday released the number of eligible voters and other details of today's vote.
"I don't dare hazard a guess at the turnout in this election. However, it should be higher than last time," said KMT organization and development committee head Liao Feng-teh (廖風德) after releasing the figures.
The party said 928,175 members voted in the last chairmanship election four years ago.
In that election, for which outgoing Chairman Lien Chan (連戰) was the sole candidate, the voting rate was 57.89 percent.
But given that this was only the second time in the party's history that party members had been able to directly elect their leader and that the election was a run-off between two highly popular party leaders, it was reasonable to expect that the voting rate would be high, Liao said.
Already, Liao said, more than 10,200 ballots from overseas party members had been cast.
The ballots from the party's 59 overseas offices will be counted today along with the rest of the votes cast by the party's million-strong voting pool.
Voting will begin at 8am and end at 4pm at 601 polling stations across the nation. While voters will not be greeted by surveillance cameras at voting stations, as the Ma camp had requested to combat voter fraud, each polling station will be supervised by up to three volunteers from both the Wang and Ma camps, in addition to regular party personnel.
Apart from voting for their next leader, party members will also be voting for regional delegates. More than 1,356 candidates, including Lien's son, Lien Sheng-wen (連勝文), are running for 985 vacancies.
According to KMT rules, elections for regional delegates are held on the same day as the chairmanship election. Delegates serve four-year terms concurrently with the term of the chairman.
Comments will be moderated. Keep comments relevant to the article. Remarks containing abusive and obscene language, personal attacks of any kind or promotion will be removed and the user banned. Final decision will be at the discretion of the Taipei Times.