Chen gives Vaclav Havel the Order of the Brilliant Star
President Chen Shui-bian (陳水扁) honored visiting former Czech president Vaclav Havel with the Order of the Brilliant Star in commemoration of his contribution to Taiwan's relations with the Czech Republic yesterday. \nSitting in a wheelchair, Havel received the medal at the Presidential Office. The ceremony was also attended by first lady Wu Shu-chen (吳淑珍), Vice President Annette Lu (呂秀蓮), Minister of Foreign Affairs Mark Chen (陳唐山) and senior presidential officials. \nForced to take a light schedule in Taiwan because of his delicate health, Havel stumbled at the hotel he was staying at and hurt his feet on Sunday, the Ministry of Foreign Affairs said when explaining why Havel needed a wheelchair. \n"It is my greatest honor to meet with a world-class writer, thinker, political leader and noble dissident. I am deeply sorry for Mr. Havel's injured feet and offer my apologies. I wish our guest can recover as soon as possible," Chen Shui-bian said after bestowing the medal on Havel. \nThe president expressed gratitude for Havel's public support for Taiwan's participation in the UN during the world body's general assembly in 1995. \n"Our guest today has a deep understanding of universal values such as human rights. He said `human life, human freedom and human dignity represent higher values than state sovereignty' and that `while the state is a human creation, human beings are the creation of God.' I highly admire his thoughts," Chen Shui-bian added. \nHavel said that although the Czech Republic is far away from Taiwan, they have many things in common. \n"We are both democratic states. I admire the people of Taiwan and the economic development here," he said. \n"It was my bad luck that I got hurt. I often get hurt when visiting other countries. It is not Taiwan's fault," Havel said. \n"Although Taiwan faces a difficult situation in the international community, its people have been courageous. I believe Taiwan should join the UN. I supported Taiwan's entrance to the UN in the past. I still support its participation in the UN and will do so in the future," Havel said. \nHavel gave his only public speech in Taiwan at the National Central Library on globalization and the future of democracy yesterday afternoon. \nMark Chen, Czech Republic's representative to Taiwan Michal Kral, Maysing Yang (楊黃美幸), vice president of the Taiwan Foundation for Democracy (TFD), and Chiu Kuen-liang (邱坤良), president of the Taipei National University of Arts, paid tribute to Havel's literary, political and humanitarian achievements before his speech. \nChiu, whose university performed Havel's drama The Increased Difficulty of Concentration for him on Sunday, said although the play shows the influence of the theater of the absurd, Havel does not exhibit the despair writers who try to catch the sense of the absurd usually betray. \n"The play highlights modern people's emptiness and complicated lives. Havel is obsessed with words, yet he strongly distrusts words. He uses a lot of cliches in the play. These cliches contain deep meanings," Chiu said. \n"No matter what he went through, he never stopped writing. Havel believes a writer should not confine his whole time to literary creation only -- that would hurt literature. For him, a writer is the conscience of the society. He is a writer and a statesman," Havel said. \nHavel received a standing ovation as he entered into the library's packed auditorium in a wheelchair. Thanking the kindness of his host, the TFD, Havel said he has traveled to more than 50 countries in different continents and that he found the world is struggling to find a new order. \n"I am trying to realize what is the most important element in this new order," Havel said. "People should respect each other and not force others to change their views. Everyone is absolutely equal."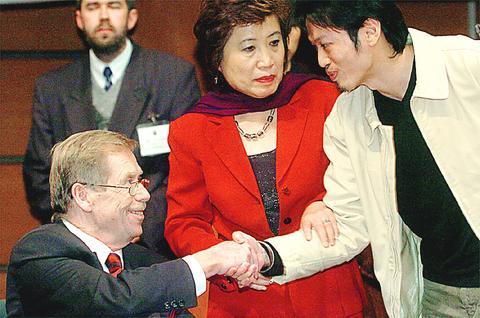 Former president of the Czech Republic Vaclav Havel shakes hands with a reporter at the National Library in Taipei after giving a speech there at the invitation of the Taiwan Foundation for Democracy last Saturday.
PHOTO: SEAN CHAO, TAIPEI TIMES
Comments will be moderated. Keep comments relevant to the article. Remarks containing abusive and obscene language, personal attacks of any kind or promotion will be removed and the user banned. Final decision will be at the discretion of the Taipei Times.