Chen takes part in submarine exercise
NATIONAL DEFENSE During a simulated drill, the president helped the navy's submarine forces sink three frigates in a simulated naval battle
More than 100 reporters accompanied President Chen Shui-bian (陳水扁) and hopped in two submarines and three frigates for a small-scale military exercise, dubbed by some critics as a "dog and pony show" -- or public relations exercise -- in the waters off Tsoying yesterday.
"Submarines are the most ideal weapons we can use during a combat situation in the Taiwan Strait. They are also a basic weapon for an island nation such as Taiwan to use to defend itself," Chen said.
Chen made his remarks at the navy's Mercury Port inside Tsoying's largest naval base, in Kaohsiung. The Mercury Port is an exclusive port for the country's four submarines, which include two US-made Guppy-class vessels and two Dutch-made Zwaardvis-class vessels.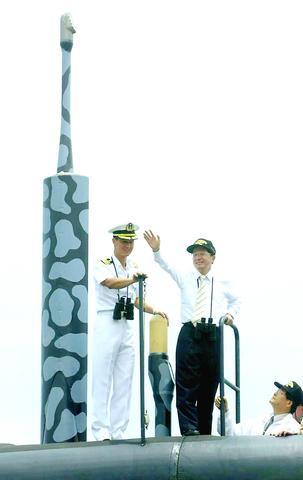 President Chen Shui-bian waves from the deck of the submarine Sea Tiger during military exercises yesterday.
CHIANG YING-YING, TAIPEI TIMES.
It was the president's second time aboard a submarine since he took office in 2000, but it was the first time that he led a group of reporters through a submarine joint military exercise.
Chen hopped in the SS-794 Sea Tiger while reporters were divided into two groups to go aboard the Lafayette-class frigate PFG-1207, the Wu Chang, and the SS-793 Sea Dragon, which also had Presidential Office Secretary-General Su Tseng-chang (蘇貞昌) and Navy Commander-in-Chief Admiral Miao Yung-ching (苗永慶) on board.
According to Captain Chou Yih-chun (周益群), the commanding officer of the SS-793, yesterday's exercise was participated in by two submarines, three frigates, one S-70C helicopter and one S-2T Turbo Tracker aircraft. During the exercise, the two submarines were opposed to the three frigates and two aircraft.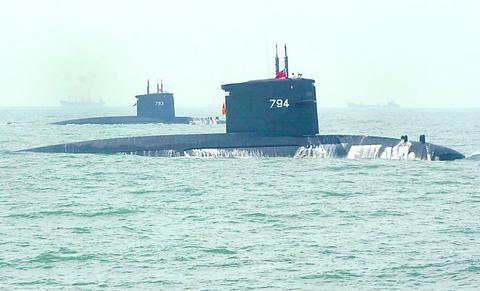 Submarines Sea Dragon and Sea Tiger cruise together in the sea off Kaohsiung during military exercises yesterday.
PHOTO: CHIANG YING-YING, TAIPEI TIMES
According to the MND, the two submarines successfully destroyed the frigates using torpedoes in the simulated battle, and the entire action was processed on a computerized simulated program.
The distance between the SS-793 and SS-794, which were the focus of yesterday's exercise, was approximately 300m. Both submarines cruised at the speed of 18 knots and dived to reach a depth of 17.5m at a location which was approximately 8.8km away from Tsoying base.
Chou said that the Zwaardvis-class submarines are capable of diving to a depth of 240m.
In addition to the simulated naval battle, the two submarines also carried out an "emergency surface" to end the entire exercise.
During the exercise, the president suffered from minor sea sickness, but he still took the helm of the SS-794 and acted like a sailor for a few minutes.
The entire exercise lasted approximately two hours.
Due to concerns involving the safety of the president and the reporters, the navy canceled several items during yesterday's exercise. However, some politicians complained that the president was wasting public funds and leaking crucial military secrets by what he did yesterday.
In addition, crtics said, a small-scale military exercise like yesterday's would not help sailors in a real combat situation.
"There might be concerns that classified military information might be leaked," said Democratic Progressive Party Lawmaker Kuo Jung-tsung (郭榮宗).
The navy also invited several female petty officers to board the submarines and frigates and participate in yesterday's exercise. However, it is still not permitted for female personnel to serve on a submarine.
"We do not have enough room inside a sub [for additional facilities for women] and may not be able to provide them with adequate privacy, either," said Wu Shang-fu (吳商福), a senior first class petty officer onboard the SS-793.
Also see story:
Chen stands up for his arms budget
Comments will be moderated. Keep comments relevant to the article. Remarks containing abusive and obscene language, personal attacks of any kind or promotion will be removed and the user banned. Final decision will be at the discretion of the Taipei Times.