Dead general's name cleared
NOT GUILTY Former General Sun Li-jen has finally been cleared of a 45-year allegation of his involvement in a coup
The state's highest watchdog, the Control Yuan, yesterday approved the findings of an investigative report and cleared once and for all the name of the late General Sun Li-jen (孫立人), who lived between 1900 and 1990. \nThe report commissioned by the Control Yuan and conducted by Chu Hong-yuan (朱浤源), of the Academia Sinica, concluded that there is "no evidence that Sun was involved in a coup." \n"The official confirmation of Sun's innocence might remind the nation of Sun's contribution to the modernization of Taiwan's army. His loyalty to the country may also be of great significance in our time," Chu said. \nThe famous Sun Li-jen case dates from May 1955 when Major Kuo Ting-liang (郭廷亮) was arrested and charged as a Chinese communist spy. The implicated Sun was placed under house arrest in August the same year by then president Chiang Kai-shek (蔣介石) on a charge of launching a coup. \nMore than 300 people were implicated in the case and more than 30 of them were sentenced to prison terms or death. \nSome accounts of the story say the Virginia Military Institute-educated Sun was backed by the US in a plot to launch a coup, while some suggest Sun's fall was the result of a struggle between a pro-American faction and Chiang's faction in the army. \nBut Chu, in an interview with the Taipei Times, disagreed with such accounts. He said Sun was a patriot and was not pro-American. \nHe said according to his research Sun was purged by intelligence agents of Chiang Ching-kuo (蔣經國) though Chiang himself might not have masterminded Sun's purge. \nBut the background to the Sun case was not covered in the Control Yuan report, Chu said. The report focused on the coup allegation against Sun. \nThe report also says that "no evidence has proved Kuo Ting-liang was a Communist spy" and "it has been proved Kuo did not conduct an act of subversion." \nKuo died in 1991 and the Control Yuan report raises doubts about the official account of his death. \nThe official story is that he jumped from a moving train. But according to Chu's investigation, Kuo was murdered by being hit on the head with a blunt object. \nKuo died shortly after he started to campaign against what he said was a gross miscarriage of justice. \nThe report also listed several suspicious points regarding Kuo's part in the case. \nKuo's sentence for the "communist spy" conviction was reduced from death to life imprisonment and then to 15 years, and the state's financial support for him and his family had been generous, the report says. \nA five-member Control Yuan investigation team had produced in 1995 a report pointing to Sun's innocence. \nBut the document was covered up and kept secret until Chu recovered it last year. \nThe government at the time instead adopted another report conducted by a nine-member investigation team that was headed by then vice president Chen Cheng (陳誠), which claimed Sun was guilty. \nIn a note attached to the new report released yesterday, Control Yuan members praised the five former members of the Control Yuan for the courage and impartiality with which they conducted their report during an authoritarian era. \nAfter Chiang Ching-kuo's death in 1988, however, the Control Yuan decided to re-investigate Sun's case. \nOnly two months later, on March 20, the government officially announced that Sun was a free man. \nOn Nov. 19, 1990, Sun died at his house in Taichung.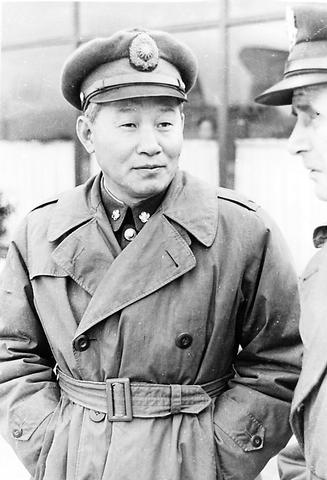 File photo of the late General Sun Li-jen.
PHOTO: CNA
Comments will be moderated. Keep comments relevant to the article. Remarks containing abusive and obscene language, personal attacks of any kind or promotion will be removed and the user banned. Final decision will be at the discretion of the Taipei Times.