747 airliner crashes at CKS airport
AIR DISASTER The Boeing 747 crashed as it took off for Los Angeles, ploughing into another plane and exploding. But casualties appeared to be amazingly light
A Singapore Airlines' Boeing 747-400 jetliner, carrying 159 passengers and 20 crew, bound for Los Angeles, crashed shortly after takeoff at CKS International Airport at 11:18pm last night. \nAs of press time, however, there were no definite figures concerning deaths or serious injuries from the accident. \nWindshear apparently caused the plane to lose altitude upon takeoff. It then crashed, and reportedly exploded and caught fire. \nThere was an explosion as the plane struck a China Airlines plane on the runway, emergency official Wu Bi-chang said. \nThe Singapore flight was reported to be flight SQ006, originating in Singapore and bound for the US west coast, scheduled to depart CKS at 10:55pm and arrive in Los Angeles at 6:15pm today. \nThere were 81 Taiwanese passengers aboard. \nSome injured passengers were rushed to Tayuan Hospital, close by the airport. \nThe accident took place as Typhoon Xangsane was approaching Taiwan causing high winds and heavy rain islandwide. \nJames Boyd, Singapore airlines spokesman, speaking from Los Angeles, told the Fox News Channel that there were no fatalities, but there were about 30 injuries. \nMost of the injuries did not appear serious, officials in Taipei said. \nAfter the crash, the plane's blue fuselage appeared badly burned, with a gaping hole in the roof. \nJohn Diaz, a passenger on the flight, told CNN the flames "shot up right next to me" as the plane tried to take off. He said there was ``heavy, heavy rain'' at the time. \n"When I got the airport conditions were so bad, and I asked them, `is the flight going to take off?'" Diaz said. "And they said, `we do this all the time, it's fine.'" \nDiaz disputed the claim that their were no deaths. \n"There had to be fatalities," he said. Describing the crash, he said there was a loud bang. "And then there were flames just all over the place. Flames shot up right next to me and some some poor fellow not very far from me got I guess jet fuel splashed on him, because he just lit up like a torch. \n"There were a lot of cuts, there were a lots of burns. One gentleman...was severely, severely, severely burned. There were a lot of burns because there was jet fuel all over the place." \nAnother passenger was quoted as saying he saw a woman die of her injuries in hospital. \nThe Veterans General Hospital reported at around 1:45 pm that one passenger had died of her injuries.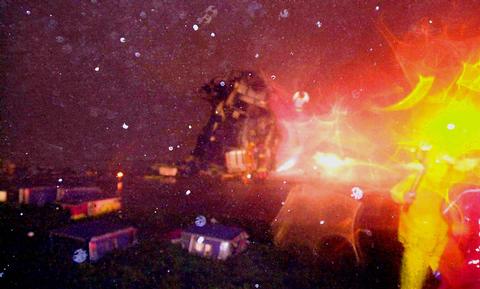 The nose of the Boeing 747-400 Singapore Airlines flight SQ006 bound for Los Angeles is pictured after crashing into runway 05 at Chiang Kai-shek International Airport last night. Strewn on the tarmac in front of the airplane is luggage and cargo from the plane.
PHOTO: TONY YAO, TAIPEI TIMES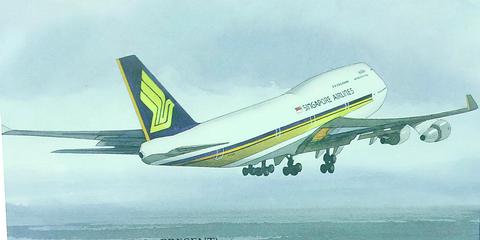 A file photo of a Singapore Airlines Boeing 747-400.
PHOTO: TAIPEI TIMES
Comments will be moderated. Keep comments relevant to the article. Remarks containing abusive and obscene language, personal attacks of any kind or promotion will be removed and the user banned. Final decision will be at the discretion of the Taipei Times.