Soong eyes 50-year China deal
CROSS-STRAIT POLICY Although the independent presidential candidate says signing agreements with China is the way to go, analysts say it's a pipe dream
In finally unveiling his cross-strait policy yesterday, independent presidential candidate James Soong (宋楚瑜) proposed that Taiwan and China sign a 30-year "mutual non-aggression peace treaty," which would be followed by a 20-year agreement basing relations on a European Union model.
Soong's running mate, Chang Chao-hsiung (張昭雄), added that if such agreements are to be signed, Taiwan should do so "in the status of a nation."
But political analysts said such a scheme would never be acceptable to China as it would entail recognizing Taiwan as an equal.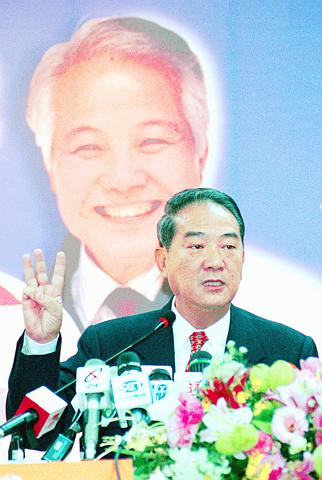 Presidential candidate James Soong releases his cross-strait policy guidelines at a press conference in Taipei yesterday. He said Taiwan and China should sign a 30-year non-aggression treaty, followed by 20 years of European Union-style relations.
PHOTO: GEORGE TSORNG, TAIPEI TIMES
Soong also proposed that cross-strait relations be based on a "quasi-international relationship under relevant sovereignty (相1鴷D 權的準國際關係)."
Using such a definition, Soong called for both sides of the Taiwan Strait to sign a non-aggression pact, countries such as the US, Japan and ASEAN members.
When the 30-year agreement expires, both parties -- if they are not interested in changing the status quo -- should sign another 20-year agreement defining their relations based on the model of the European Union and in the status of sovereign nations, Soong said.
After that, he said, the people of Taiwan should determine whether to continue the process of integration.
When asked under what status Taiwan should sign the proposed 30-year non-aggression treaty with China, Chang replied: "Under the status of a nation. Signatories should be under the names of the Republic of China and the People's Republic of China."
This would never be palatable to China, according to political analysts.
"The real question here is China's attitude," said Joseph Wu (吳釗燮), a professor at National Chengchi University. "If Taiwan wants to sign under the status of a country, getting a non-aggression pact inked with China would be nothing but wishful thinking."
Other scholars agreed.
"I'm afraid Beijing is not going to accept such a proposal. It's still a stalemate," said Hsu Szu-chien (徐斯儉), a political analyst at National Chengchi University. "It does not take an expert to work this out."
Hsu was equally scathing of Soong's rivals, however.
"None of these irresponsible presidential candidates has so far put forward any feasible proposal for dealing with the problem of cross-strait relations," Hsu said. "Candidates have to face the fact that there is a crisis, and they should be creative in devising ways to deal with it. The key is to involve the US and other Western countries, to use international frameworks such as the WTO, and forces for reform inside China."
Soong also took the occasion yesterday to rebut criticism from his opponents that he had been vague in his China policy.
"I am not ambiguous. I am neither for hasty unification nor for hasty independence, both of which are not mainstream ideas in Taiwan," Soong said. "My cross-strait policy is unambiguously aligned with mainstream public opinion in Taiwan."
While candidates try to pick holes in their rivals' China policies and to promote their own as somehow different, analysts said that all three of the main candidates' positions are virtually the same.
"In essence, all three are no different in their China policy," Wu said. "But this is good. It shows that people in Taiwan have built a strong consensus on the issue."
See Also:
Editorial
Comments will be moderated. Keep comments relevant to the article. Remarks containing abusive and obscene language, personal attacks of any kind or promotion will be removed and the user banned. Final decision will be at the discretion of the Taipei Times.