Japanese Buddhist priest counsels elderly scam victims
In a serene temple in the countryside near Tokyo, the sound of a priest's mobile phone breaks the silence.
On the other end of the line: a woman in her 70s who says she was swindled out of tens of millions of yen (tens of thousands of dollars), becoming the latest elderly victim of fraud in ageing Japan.
"The bad guy is always the scammer, not you," Eiichi Shinohara tells the woman. "You're a kind person. Never blame yourself."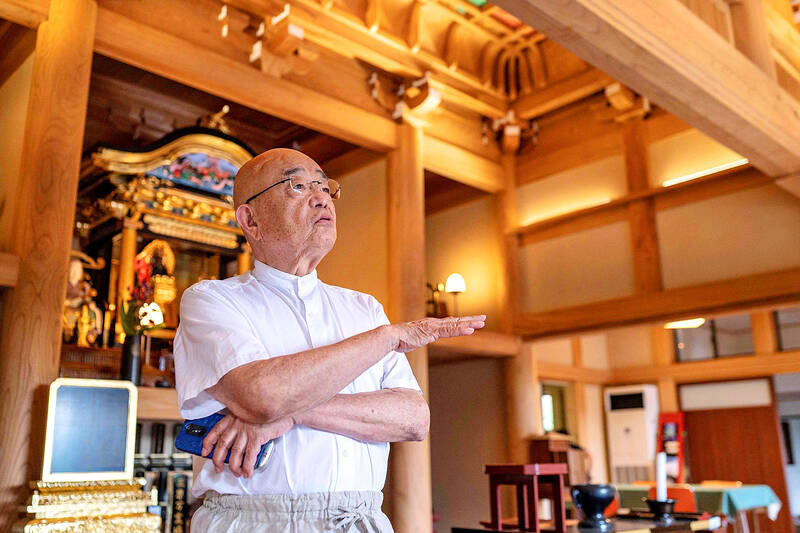 Chief Buddhist priest Eiichi Shinohara speaks in September at his temple near the city of Narita, Chiba prefecture. Shinohara coordinates a network of about 50 fellow Buddhist monks who offer people counselling.
Photo: AFP
The 78-year-old grew up surrounded by monks, studied Buddhism at university and travelled abroad to Cambodia to work in a refugee camp before finally returning home to lead the temple in Narita, in Japan's Chiba region.
Now, he coordinates a network of about 50 fellow Buddhist monks who offer counselling to those who have fallen into deep despair, including after being scammed.
Few realize "how devastating a toll fraud takes on its victims and that it can even drive them into suicide," Shinohara said. "I would say it's tantamount to murder," he said.
GREY PREY
In a nation with the world's second-oldest population, Japanese scammers find plenty of lucrative prey.
Last year, organized fraudsters did more than 37 billion yen (US$250 million) in damage, up 30 percent from 2021 and the first increase in years.
Elderly people account for nearly 90 percent of victims, according to the National Police Agency.
Multiple factors are believed to be at play, including the advent of yami baito — black-market part-time jobs — advertised on social media by criminal gangs.
'THANK YOU GRANDMA'
Part of the silver-haired generation's vulnerability to scams stems from its lack of familiarity with new technology.
But Shinohara, who says he has fielded thousands of calls from distraught victims over the years, believes isolation is also at play.
A growing number of older people in Japan live by themselves, and dying alone and unnoticed has become common enough that there is a Japanese term for it: kodokushi.
So when scammers call, sometimes pretending to be relatives in dire need of money, elderly people are often receptive.
These calls seem to promise old people "a great chance to break out of isolation", Shinohara says.
"They dream of being told, 'thank you grandma, you're my lifesaver,'" he said. "Just when they feel they've been all but abandoned by the rest of their family, they come upon this chance to be useful again and win back respect — that's the desire those scammers exploit."
'TOO GREEDY'
But once they have been defrauded, older people often wind up feeling even more isolated. Family members, upset at the financial loss, sometimes turn against them, the priest said.
Akiko Ando was swindled out of nearly 30 million yen (around US$200,000 today) in 2014, when she was in her late 70s. Afterwards, her family froze her out, furious that she had been so gullible.
Ando fell for a phone call informing her that she won a lottery jackpot worth hundreds of millions of yen. The scammer told her she needed to pay hefty advance "fees" to receive the bonanza, sending her scraping together funds from friends.
Once she finally realized it was a scam, her son and siblings cut off contact.
REGRET
Up until her death from an illness this year, she was racked by regret.
"I caused trouble to my family and disgusted them," she wrote in a diary that was entrusted to Shinohara. "I was too greedy... I'm no longer seen as a parent but a sinner," she wrote.
"But I deserve it, and I'll have to endure the punishment until I die."
It was exactly the kind of self-loathing that Shinohara is determined to save elderly fraud victims from feeling.
"Come visit us anytime," he says to the distraught woman on the phone, breaking the tranquility of a September afternoon in Narita. "We can talk about it all day. A meal is waiting for you."
Comments will be moderated. Keep comments relevant to the article. Remarks containing abusive and obscene language, personal attacks of any kind or promotion will be removed and the user banned. Final decision will be at the discretion of the Taipei Times.