Can Taiwan avoid the abyss of overtourism?
Certain parts of the country already suffer from having too many visitors. But there are viable solutions
Taiwan has never attracted as many visitors as Thailand or Spain, and neither Taipei nor Tainan are nearly as popular as Amsterdam or Paris, yet certain parts of the country already suffer the downsides of mass tourism.
So far, things haven't got as bad as in Hallstatt, the Austrian lakeside community where up to 10,000 people per day pass through a village with just 700 inhabitants. Or in Barcelona, where demand for tourist accommodation is blamed for real-estate prices that make it almost impossible for young people to establish their own households.
But overtourism already impacts the quality of life for those who reside near attractions like Fort Zeelandia in Tainan's Anping District (安平), yet don't benefit from the inpouring of sightseers and their dollars.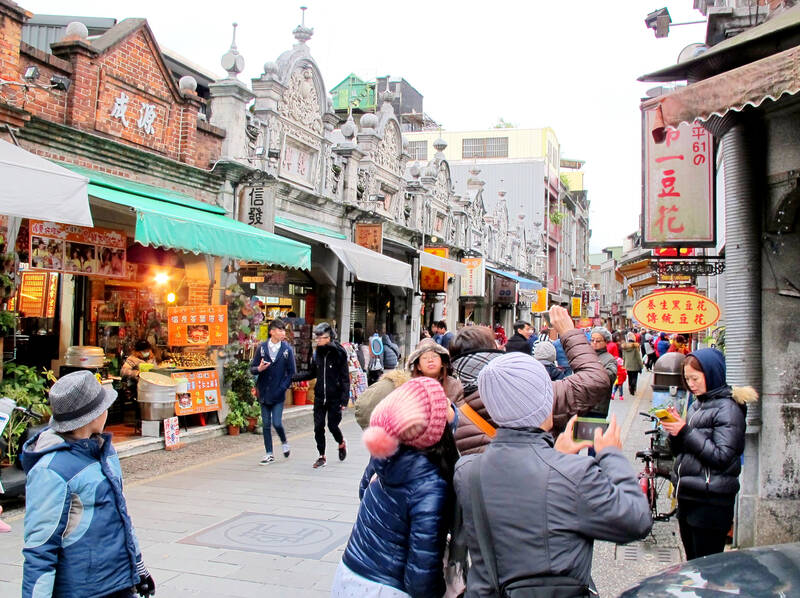 Tourists take photos at Daxi Old Street, a perennially popular attraction in Taoyuan.
Photo: Steven Crook
There are also environmental consequences. On Oct. 19, the Chinese-language United Daily News reported that five intertidal zones on Pingtung County's Siaoliouciou Island (小琉球) have seen significant declines in marine life "due to the trampling of tourists."
LACK Of VISION
Raymond Ko (高力文), a Taiwanese-American freediving instructor based in Siaoliouciou, says that when tourists arrive in large numbers, "the traffic gets bad, especially as Taiwanese like to travel in packs. You often see 20-odd scooters following each other."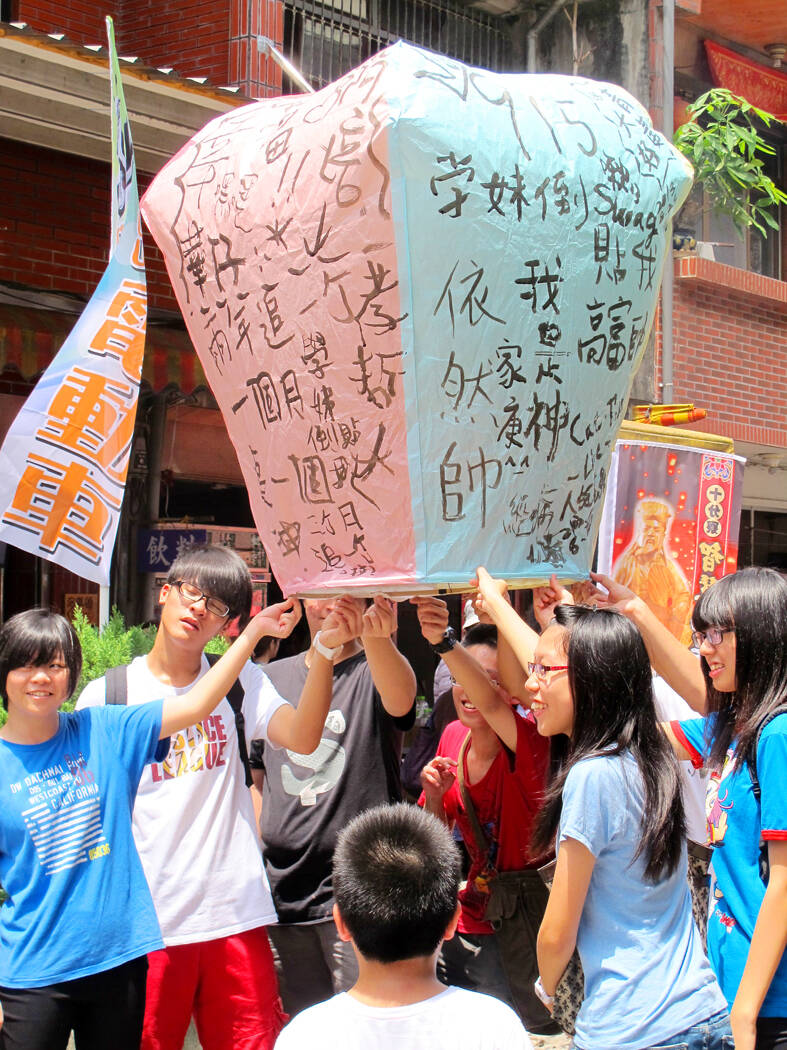 The little towns along the Pingxi Branch Railway in New Taipei City are often packed with daytrippers.
Photo: Steven Crook
Some visitors can be loud very early in the morning, to the annoyance of residents. "I get that they're having a good time," Ko says, adding that he hasn't noticed any official effort to get tourists to behave in a more considerate manner.
According to Ko, the most serious overcrowding occurs at Dafu (大福) on the island's southeastern coast.
"It's a tiny beach, and there can be a lot of freedivers, a lot of scuba divers and a lot of SUPers [standup paddleboarders]," he says.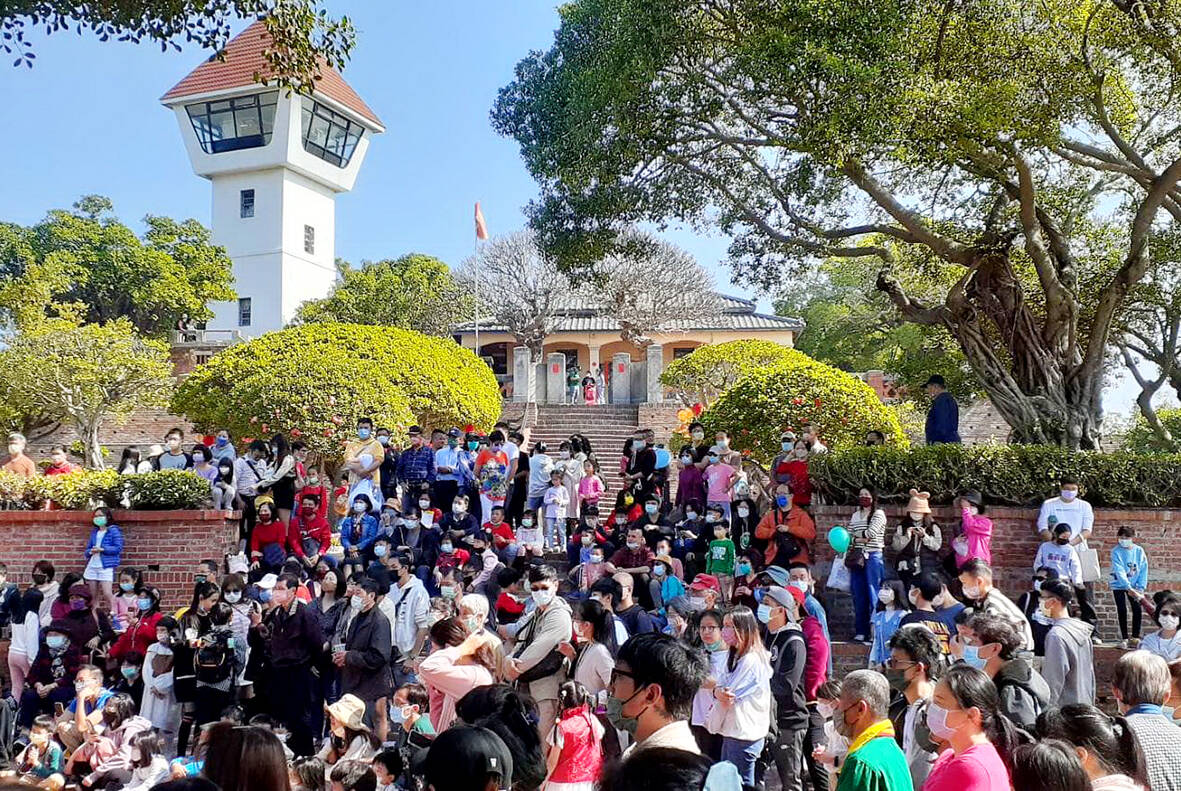 Visitors gather outside Fort Zeelandia in Tainan's Anping District during this year's Lunar New Year break.
Photo: CNA
Ko doesn't want to see restrictions introduced, but if they're deemed necessary, he says perhaps there should be a limit on the number of SUPers, because each one takes up more space than a freediver or a scuba diver.
Ko says tourism on Siaoliouciou suffers from a lack of long-term vision and multiple layers of government. In addition to the township and county governments, the island falls under Dapeng Bay National Scenic Area, a division of the Ministry of Transportation and Communications' Tourism Administration. What's more, the local fishermen's association is very influential.
TOUR GROUP MAGNETS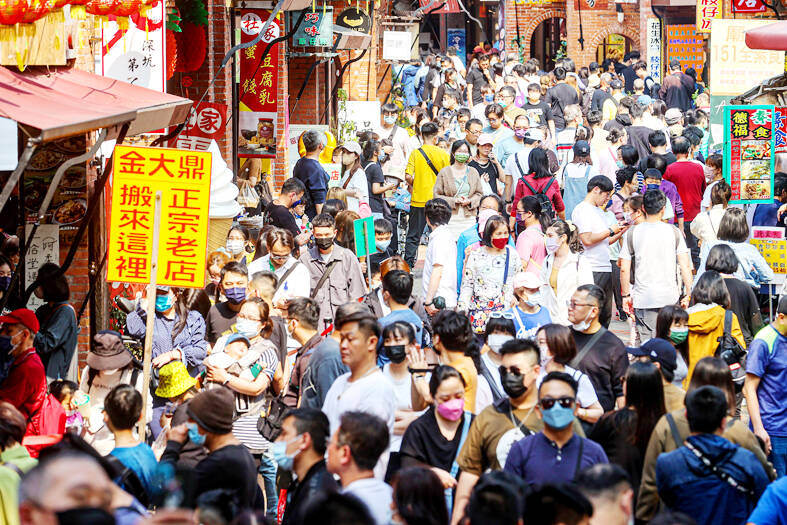 Visitors pack Shenkeng Old Street during this year's Tomb Sweeping Day long weekend.
Photo: CNA
Kenting (墾丁) and Sun Moon Lake (日月潭) are the two places in Taiwan which have suffered most from overtourism, says Ian Rowen, an associate professor in the Department of Taiwan Culture, Languages and Literature at National Taiwan Normal University.
Rowen attributes Kenting's perennial popularity to a lack of alternative beach resorts that have both reliably sunny weather and a good range of amenities. Overtourism became a problem at Sun Moon Lake due to an influx of tour groups and the region having dozens of hotels and resorts with a spectrum of price points, he says.
In both places, "group-tour cartels herded Chinese tourists into resorts where they got good rates in order to channel them into commission-paying shops," Rowen says. Beijing's decision to "punish" Taiwan for electing President Tsai Ing-wen (蔡英文) in 2016 by tapering down the number of Chinese allowed to visit relieved the pressure on both destinations, he says.
Rather than take to the streets in protest, or communicate their unhappiness through anti-tourist graffiti, Taiwanese who live near major tourist destinations have tended to grumble in private about traffic, noise and littering.
However, in One China Many Taiwans: The Geopolitics of Cross-Strait Tourism, published by Cornell University Press earlier this year, Rowen speculates that if the 2016 presidential election had been won by someone more to China's liking, Taiwan might have witnessed more overt expressions of discontent. Misgivings over the direction of cross-Strait relations, compounded by overtourism, might well have led to protestors targeting tourists as "symbolic ambassadors of the Beijing regime," he says.
TOURIST TAX?
Taiwan looks to be on course to meet the Tourism Administration's target of six million overseas visitors this year. The authorities are hoping for a record-breaking 12 million international tourists next year. In 2019, the last full year before the pandemic, there were 11.84 million visitors.
Rowen says this number is overambitious, and not just because of the precarity of the global economy. If Taiwan welcomes evermore tourists, "locals will get priced out of hotels and traffic congestion will get worse. Some roads can barely handle the traffic, even in tourist lulls, so spending on infrastructure upgrades will probably be needed," he says.
Several popular destinations in Europe and the Caribbean impose a per-night tax on every tourist who books accommodation. Next year, Venice will start charging day-trippers aged 14 or older five euros (NT$170) each to enter the canal city.
If similar levies were introduced in Taiwan in an effort to reduce overtourism, Kenting would be an obvious candidate for a tourist tax, as would Sun Moon Lake, Rowen says.
"But I wouldn't do it this year, while tourism is still recovering from the pandemic, or even next year," he adds.
There are precedents for such fees. Until 2000, visitors to Sun Moon Lake had to pay an entry fee set by the Nantou County Government. But soon after the creation of Sun Moon Lake National Scenic Area — a division of what was then the Tourism Bureau, now the Tourism Administration — this admission charge was scrapped to encourage tourism and boost the area's recovery from the 921 Earthquake, according to an Apr. 1, 2014 report in Taiwan Review.
OTHER SOLUTIONS
Asked if there are other ways in which Taiwan can tackle overtourism and the problems that it brings, Rowen says he is in favor of people having more days off. In addition to increasing general well-being, more vacation time would also reduce the bottleneck-effect that jams roads and drives up prices during long weekends and the Lunar New Year period.
Rowen says the Tourism Administration should partner with smaller outfits that are already trying to develop high-value experiential tourism in less-congested areas. This kind of tourism, he explains, can "promote conservation and bring prosperity to more people, compared to the current model of facilitating yet more mass tourism to theme parks and other over-impacted destinations."
The rules which govern access to beaches, rivers and mountains have impeded the growth of adventure tourism, Rowen says. "Some of these places could be developed into high-value destinations. For example, in the east there are rivers that could be used for whitewater rafting."
Garrett Ball, a Californian who owns a surfing-oriented hostel and eatery in Yilan County, endorses Rowen's view that official attitudes to surfing verge on "suppression."
Rowen says that surfing could be one of the east coast's major draws if the sport's enthusiasts were encouraged to develop tourism products. But he laments the frequency with which people have been fined for hitting the waves at locations or on days that the authorities deem to be dangerous.
"We should be working with these people, not arresting them," he says.
Ko argues that Siaoliouciou's tourism businesses should "try to move up the value chain and make more money from fewer people." The best way to do this, he says, would be to focus on a single overseas market.
"People from Hong Kong love Taiwan, and for them it's so close and so cheap," he says. So far, however, Siaoliouciou hasn't featured much in promotional efforts aimed at the special administrative region.
Encouraging digital nomads to spend time on the island would help local tourism escape the feast-or-famine cycle.
"It could happen, if we had a coworking space and affordable and flexible short-term rentals. I'm sure we could attract digital nomads not only from overseas, but during winter also from Taipei, when the weather here is amazing," Ko says.
Comments will be moderated. Keep comments relevant to the article. Remarks containing abusive and obscene language, personal attacks of any kind or promotion will be removed and the user banned. Final decision will be at the discretion of the Taipei Times.