Degrowth or collapse: the choice facing humanity?
There is growing awareness that the only way to avoid climate catastrophe is to reverse unfettered growth. In Taiwan, the conversation has barely begun
If the world is to avert climate catastrophe without causing immense suffering, humanity must put the global economy into reverse gear, and begin serious and truly democratic discussions about resources and priorities, says Lu Chien-yi (盧倩儀), a research fellow at Academia Sinica's Institute of European and American Studies (IEAS).
Lu is a proponent of degrowth, a movement that seeks to knock GDP as the standard metric off its pedestal, save the planet's ecosystems and create a more just society. She and other degrowth thinkers contend that the eco-economic decoupling promised by supporters of green growth will not happen fast enough to stave off disaster.
Over the past decade, several developed countries have curtailed greenhouse-gas emissions while growing their economies. But none of them have achieved a rate of reduction that makes it at all likely that the target set by the 2015 Paris Agreement will be met. If the rise in global temperatures is to be kept to no more than 1.5 degrees Celsius above pre-industrial levels, Lu says, it's imperative that rich nations drastically cut their consumption of energy and materials.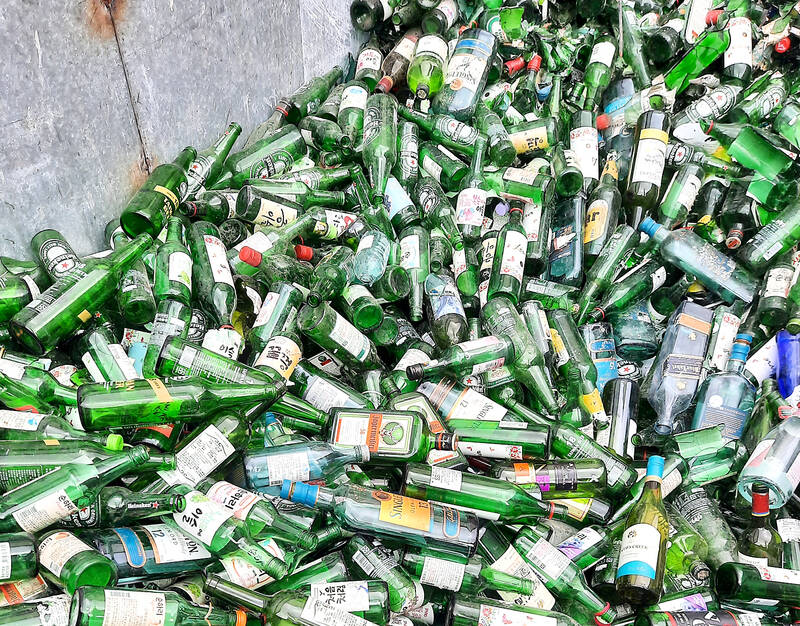 Despite progress in recycling materials such as glass, Taiwan's economy still depends on the extraction and exploitation of natural resources, doing great damage to the global environment.
Photo: Steven Crook
"A very important component of degrowth is that it has to be just," she says.
This doesn't only mean that the poorest parts of the world be allowed to grow their economies, so their citizens can have life's necessities. Within wealthier countries, Lu explains, there should also be a comprehensive economic reorganization to address the inequalities that neoliberalism exacerbates, such as soaring housing costs and dismally low salaries.
"We need a grassroots discussion to determine what parts of the economy should be shrunk. Do we need SUVs? So many airplanes? Do we need to change our cellphones so often? What about fast fashion? There are so many things we don't need," she says.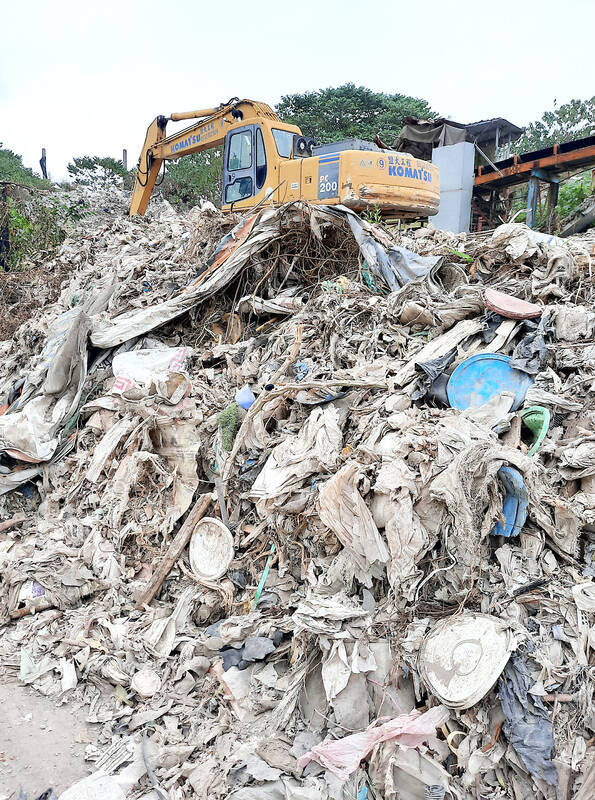 Degrowth advocates saw neoliberal capitalism has resulted in wasteful and unsustainable consumerism that is poisoning the planet.
Photo: Steven Crook
'BIOPHYSICAL DIET'
To use an analogy employed by Timothee Parrique, a French researcher at Sweden's Lund University who last year gave a presentation on degrowth at the IEAS, this restructuring would be a diet, not an amputation — a "massive biophysical diet" that would actually enhance wellbeing. And, obviously, this diet wouldn't apply to those who are malnourished.
Taiwan is one of the world's richer countries, so if global degrowth allowed poor nations to "level up," its GDP would shrink by a painful amount. Lu says she hasn't seen any studies or estimates of what the island's economy might look like following degrowth.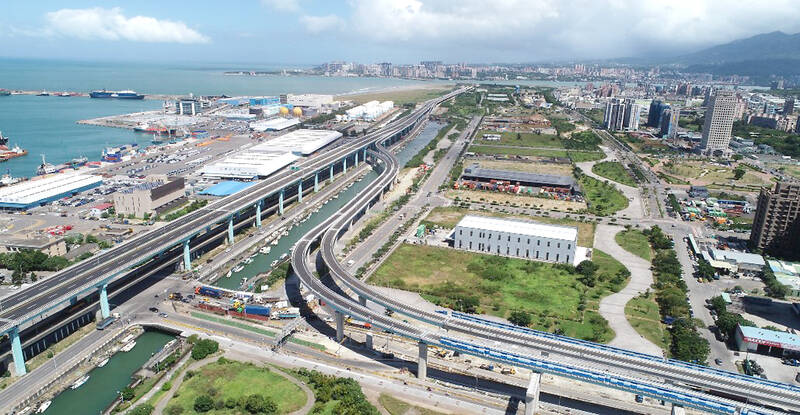 Elevated roads are constructed in October 2021 in New Taipei City's Bali District.
Photo courtesy of New Taipei City Public Works
Lu first encountered the concept of degrowth when reading This Changes Everything: Capitalism vs the Climate, a 2014 book by Naomi Klein. Like Klein, Lu argues that the neoliberal model of free markets and globalization is hobbling our response to the climate crisis. Another book that has influenced Lu's thinking is Less Is More: How Degrowth Will Save the World by Jason Hickel.
A local Chinese-language edition of Hickel's book was published early last year — but, Lu says, so far there hasn't been much discussion about degrowth in Taiwan, where it's sometimes referred to as quchengzhang (去成長). Two alternative terms are qichengzhang (棄成長, "abandoning growth") and feizengzhang (非增長, "non-growth"). She contrasts this situation with that in Western countries, where hundreds of peer-reviewed papers have been published since the 1970s.
The concept has made its way into recent reports issued by the Intergovernmental Panel on Climate Change's (IPCC) working groups. Dave Gardner, an independent candidate for US president, is running on a degrowth platform.
Few people expect big business to endorse a degrowth agenda. According to a Feb. 27 article on ABN AMRO Bank's Web site, decoupling data show there is "a strong argument that economic growth is an important and perhaps crucial condition for further sustainable development." However, the sentence that follows acknowledges that this finding, "does not take away from the fact that a strong rationalization of our consumption behavior for further sustainable development is eminently a good way to contribute" to future cuts in carbon emissions.
"I haven't seen any other real solutions proposed. When we consider the planet's carrying capacity, we're living well beyond our means," says Lu, author of Surviving Democracy: Mitigating Climate Change in a Neoliberalized World, published in 2020.
Since the early 1970s, the world as a whole has been consuming ecosystem services and outputs faster than nature can regenerate them. This year, Earth Overshoot Day fell on Aug. 2. In just 213 days, humanity used up an entire year's worth of resources. For the remaining 152 days, we're deepening the accumulated deficit.
Degrowth advocates say humanity has a simple choice: We can begin a planned and equitable contraction, or we can go on as before, and await the inevitable global economic collapse. The latter would be sudden, massive and lethal for many millions of people.
Critics of degrowth include Noam Chomsky and Robert Pollin, who co-wrote a 2020 book titled Climate Crisis and the Green New Deal. In a September 2020 interview with Vox, Chomsky responded to Klein's assault on consumer capitalism by saying that, if global warming "is an automatic consequence of capitalism, we might as well say goodbye to each other. I would like to overcome capitalism, but it's not in the relevant time scale. Global warming basically has to be taken care of within the framework of existing institutions, modifying them as necessary. That's the problem we face."
In the same interview, Pollin elaborated that "we have to think about ways through which we can incentivize this transition that will also be egalitarian [and] open up opportunities for small-scale enterprises…all within the institutions of capitalism."
This year, Jacobin, a socialist magazine published in the US, has run two pieces attacking degrowth. The magazine interviewed Leigh Phillips, who said: "If absolute decoupling is too slow to deal with climate change, what makes [supporters of degrowth] think that convincing all the electorates and autocracies of the world that they need to abandon economic growth will be any faster?"
Lu says that none of these criticisms have dissuaded her, and she's found that youth grasp the concept easily.
"Because they care about the environment, they're not so shocked by the idea. In my experience, people in government and business are more attached to 'growth,'" she says.
INTERGENERATIONAL CONFLICT
Some say there's an intergenerational conflict at the heart of the climate debate, with young people taking a more radical stance than their elders. Lu instead characterizes the struggle as "a class thing…it's the 1 percent versus the rest of us. The CEOs, the big polluters, they take everything."
Asked if the demographic crunch faced by East Asian countries including Taiwan will bring about degrowth, albeit unplanned, Lu says that low birthrates are nothing to celebrate. The despair many young people feel is a consequence of neoliberalism. As a result, "they don't have the courage or resources to build a family, so they lose their natural right to enjoy a family," she adds.
She laments the lack of local left-wing intellectuals who can critique the current system, and expresses zero confidence in Taiwan's media. In her opinion, "it doesn't provide an environment in which we can discuss fundamental things, so awareness about the system we're in, and that it's a scam, is very low in Taiwan. We live in a bubble created by those with vested interests. That's why people don't question 'green growth' or carbon capture."
Building awareness has to be the first step on the road to degrowth and a fairer post-growth or "steady state" economy, Lu says. "Climate activists by themselves can't do much to overturn the neoliberal order. We need to build a coalition that includes labor unions and others," she adds.
Parrique, writing early last year on his personal Web site, takes heart from a shift he noticed within the IPCC's 2,913-page AR6 WGIII report. Rather than starting from an assumption that green growth is possible, "now it seems the burden of proof has changed camp. Decoupling is unfeasible, unless proven so — this in itself is already progress."
Steven Crook, the author or co-author of four books about Taiwan, has been following environmental issues since he arrived in the country in 1991. He drives a hybrid and carries his own chopsticks. The views expressed here are his own.
Comments will be moderated. Keep comments relevant to the article. Remarks containing abusive and obscene language, personal attacks of any kind or promotion will be removed and the user banned. Final decision will be at the discretion of the Taipei Times.