Slow train coming
North Korean leader Kim Jong-un's preferred mode of transport is a slow-moving but luxuriously appointed train that features pink leather armchairs and bomb-proof floors
Joe Biden has Air Force One; Rishi Sunak a fleet of RAF jets and helicopters. But when Kim Jong-un makes one of his rare journeys outside North Korea, he has an armoured train in which to while away the hours.
The North Korean leader's dark green train crossed the Russian border on Tuesday in advance of talks between Kim and Vladimir Putin on supplying the Kremlin with munitions for the war in Ukraine.
The trip is Kim's first outside North Korea since the COVID-19 pandemic forced the country to close its borders, and his second meeting with Putin since the leaders held talks in Vladivostok in April 2019.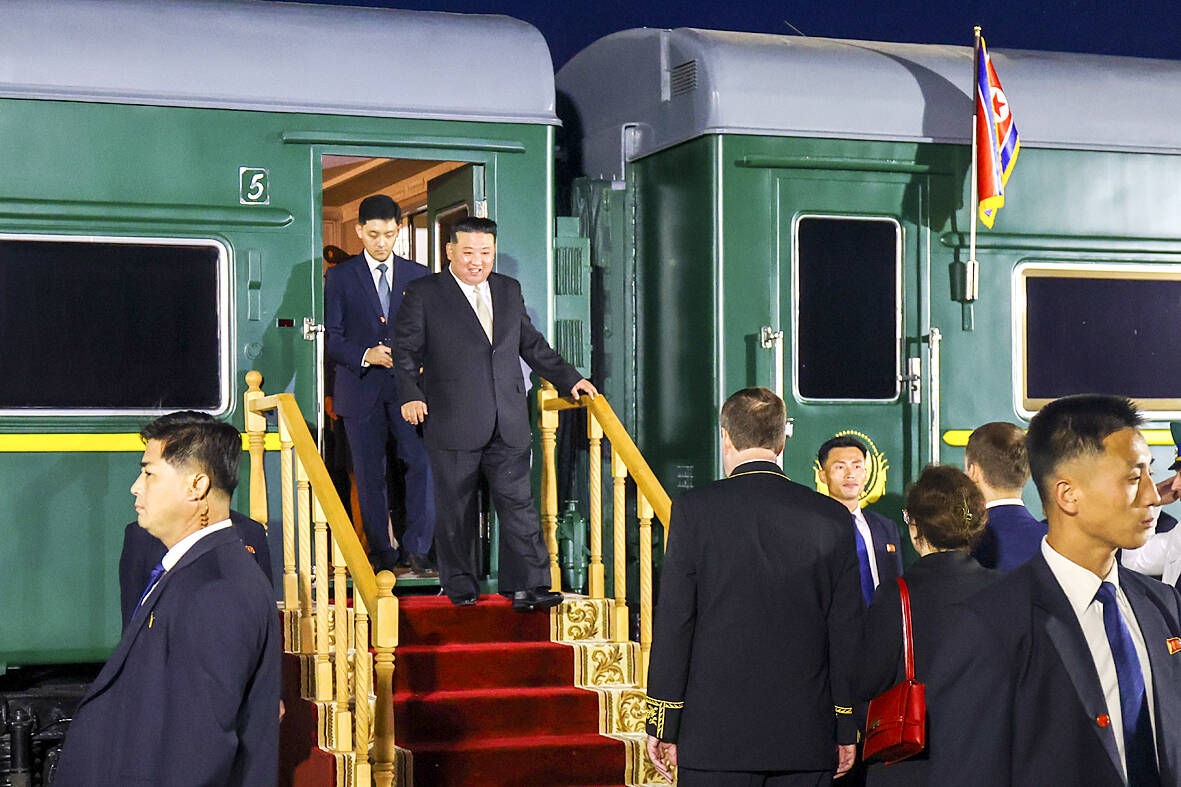 In this photo taken on Tuesday and provided by the Press Office of the Primorsky Krai Region Administration, North Korea's leader Kim Jong-un, center, steps down from his train after crossing the border to Russia at Khasan, about 127 kilometers south of Vladivostok, Russia.
Photo: AP
The summit will come at the end of a journey from the North Korean capital Pyongyang lasting an estimated 20 hours, during which Kim will have prepared and rested in luxuriously decorated carriages that moved at a snail's pace through North Korea.
Kim does not reportedly share the fear of flying that forced his father, Kim Jong-il, to travel long distances exclusively by rail — he flew to his 2018 summit in Singapore with Donald Trump and to a meeting with the Chinese leader, Xi Jinping, the same year in the Chinese city of Dalian.
But the armored train, which includes bedrooms and a meeting room fitted out with wall-mounted lighting and reddish-pink leather armchairs, appears to be Kim's preferred mode of transport. It took him 4,500km through China for his second summit with Trump, in Hanoi in 2019 — a journey that lasted two-and-a-half days.
Only a select few have seen the inside, including a Russian official, Konstantin Pulikovsky, who in his book Orient Express recounted fine-dining menus during a trip across Russia's Far East with Kim Jong-il.
Passengers could choose from an eclectic range of dishes, including those from Korea and Japan, and a wine list that included Bordeaux and Burgundy, Pulikovsky wrote, adding that entertainment was provided by young female singers referred to as "lady conductors."
Protection for the line of North Korean dynastic leaders — who are reportedly paranoid about their personal security — comes from plates of armor installed beneath carriages used as living quarters and meeting venues.
According to South Korean media reports, North Korea has 90 special carriages in total and operates three trains in tandem when a leader is traveling — one in front that handles security checks, one carrying the leader and his immediate entourage and another behind for bodyguards and other personnel.
About 100 security agents are sent to stations en route to sweep for bombs, the newspaper said, citing information provided by South Korean and US intelligence, and testimony from North Korean defectors. As Kim's train nears a station, the power on other tracks is shut off to halt the passage of trains in the area.
The train's sheer size and the additional weight from armored reinforcements keep its average speed to a leisurely 60kph, giving Kim ample time to decide what he wants in return for the North Korean artillery shells and antitank missiles that have caught the eye of the Kremlin.
Kim is not the only official to have travelled abroad from North Korea by rail, however; in 2021, a group of Russian diplomats and their families made the journey home on a hand-powered rail trolley.
Comments will be moderated. Keep comments relevant to the article. Remarks containing abusive and obscene language, personal attacks of any kind or promotion will be removed and the user banned. Final decision will be at the discretion of the Taipei Times.