Housing Taiwan's abandoned deities
As beliefs change and fewer people worship folk deities, they are often left at temples or discarded in landfills. But doing so comes with risks, as the gods may seek revenge
It's a fairly common scenario: A property has been foreclosed and sold at auction on behalf of a bank, but it remains occupied.
The former owner may be refusing to leave, because he has nowhere else to go. Humans or animals may be squatting inside. Or — and this happens often enough that many foreclosure specialists have come across it — the stay-ons are gods.
On June 1, 2020, ETToday reported on one such case in New Taipei City. Following the sale of a foreclosed apartment in Sinjhuang District (新莊), a second auction, to dispose of movable items left inside, was announced.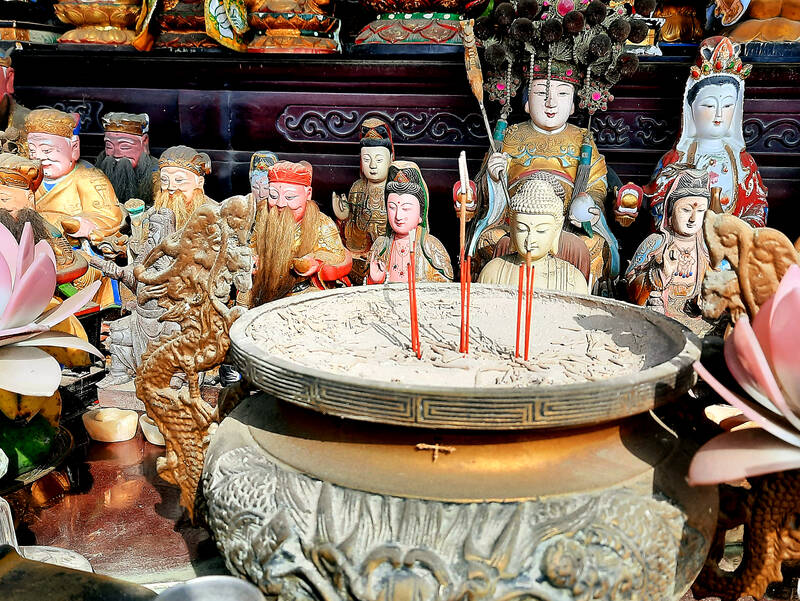 Some of the 700-plus deity images housed by a man surnamed Liang in Sinhua District, Tainan.
Photo: Steven Crook
The bidders' guide listed two air-conditioning units, two TVs, four wardrobes, some other furniture — plus seven god effigies, an ancestor tablet and the altar on which they stood. As is usual in such situations, all 21 pieces were offered as a single, indivisible lot.
The inclusion of sacred icons raised eyebrows, as such issues are usually resolved swiftly and without publicity, so as not to impact a property's value. Many people expressed doubt that a buyer would be found, because the idea of taking possession of discarded religious or ancestor-worship paraphernalia under any circumstances, even a court-approved transaction, is widely regarded with horror.
BEWARE OF THE GODS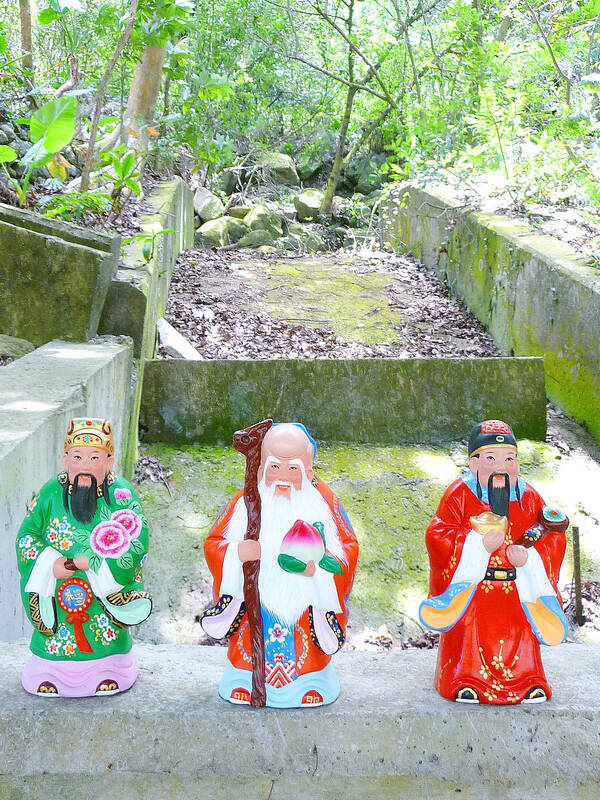 Carefully positioned or callously abandoned? Ceramic icons in a rural part of Miaoli County's Gongguan Township.
Photo: Steven Crook
A June 9, 2015 article in the Liberty Times (the Chinese-language sister newspaper of the Taipei Times) touched on this taboo, and contained a warning from Chuang Yen-yu (莊研育), a scholar of local customs and culture. Those with the best of intentions shouldn't pick up an effigy they find abandoned by the roadside, he said. If the god's spirit has left the idol, taking it home and worshiping it "may have counterproductive effects."
It would be best, Chuang advised, "to seek out a professional" capable of handling the icon appropriately.
Kaohsiung-based numerologist Feng Yan-zhu (馮巖筑) advertises himself as such a person. And, as he explains on his fengteacher47 blog, dumping or incinerating unwanted sacred items isn't an option, either.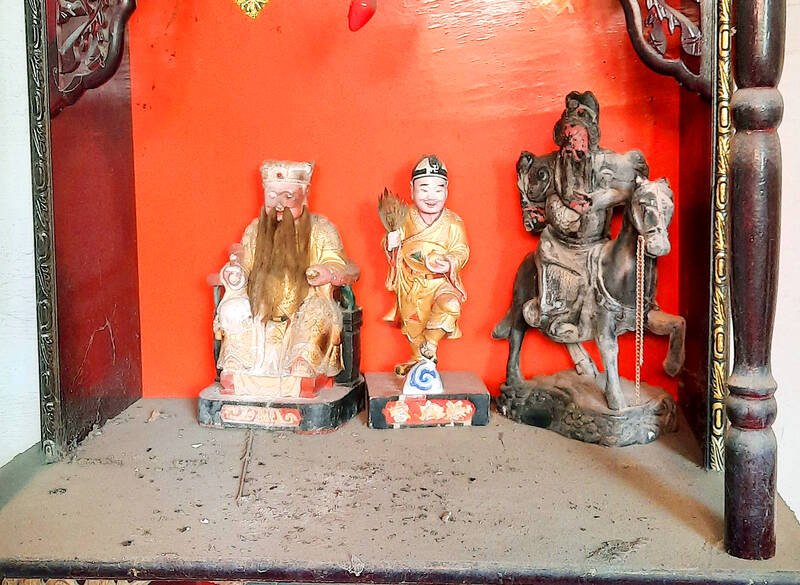 Three god effigies, left behind in abandoned housing for government employees in Douliu, Yunlin County.
Photo: Steven Crook
Even if it's obvious that the effigy hasn't been worshiped for a long time, it shouldn't be assumed that the divine or supernatural entity that inhabited it has left of its own accord. If the spirits "haven't returned to their place of origin, burning or throwing away their bodies will make them even more unhappy" and invite problems of a supernatural nature, he writes.
The blog mentions people purchasing houses at auction, only to find ancestor shrines or god icons inside once they take possession. In some cases, it seems, the former occupant has left those items behind hoping they can extort money from the buyer. A request to come and remove effigies or dismantle a shrine is met by a demand for cold, hard cash — sometimes as much as NT$200,000, according to Feng.
BAD LUCK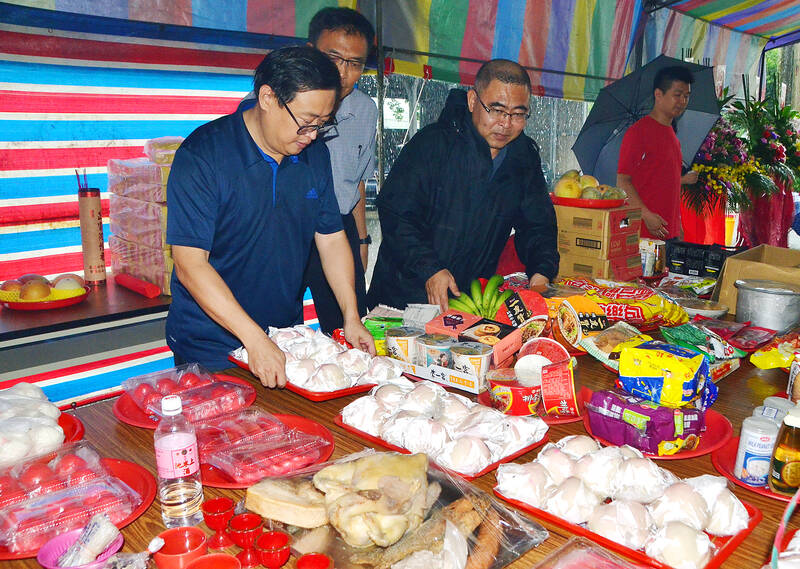 Police in Tainan prepare a ceremony to thank an abandoned deity, which helped them solve a crime.
Photo: Wu Chun-fong, Taipei Times
Relocating left-behind sacred material in a way that'll not bring misfortune to any party is one of the services Feng offers. He can also, on behalf of people about to lose their homes to foreclosure, store effigies until they get back on their feet.
There are other reasons why someone might wish to get rid of icons or other accouterments of popular religion, converting to Christianity being one. In the mid-1980s, a spate of idol abandonments was linked to the popularity of illegal lotteries. Disappointed individuals who'd asked deities for help picking numbers, but ended up winning nothing, are said to have tossed effigies into creeks and landfills.
The possibility that a particular representation of a god may become ineffective is one reason why there's never a shortage of effigies for aficionados who see them as works of art (see "The God Collector" in the Jan. 14 issue of this newspaper). In his book Gods of Taiwan: A Collector's Account, Neal Donnelly explains: "Families who sense their personal gods are no longer ling (靈, "efficacious") may ask a woodcarver to fashion another and have a Taoist priest 'open its eyes.' Temples undergoing renovation have been known to replace all statues, leaving the old ones for the craftsman to dispose of. The sale of statues that are no longer ling makes sense to the practical-minded carvers who are, after all, businessmen."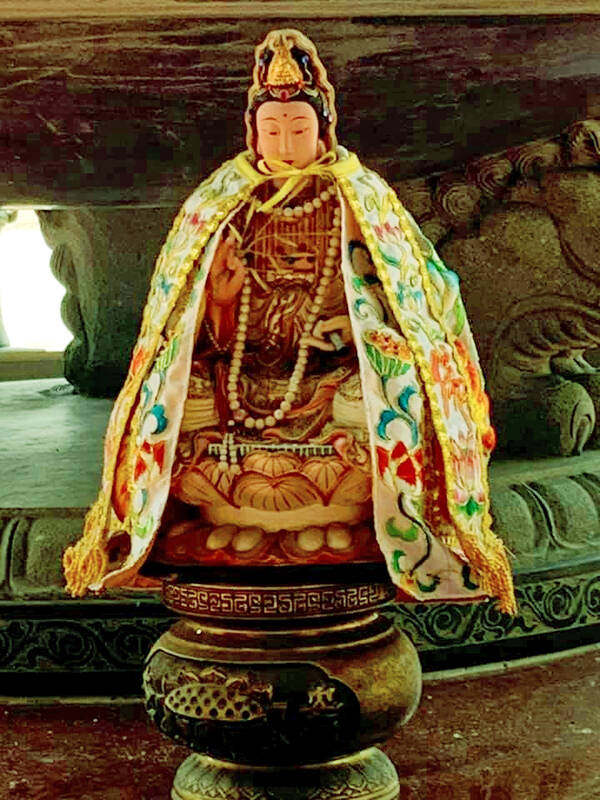 This deity was abandoned in front of Jhenling Temple in Pingtung County.
Photo: Yeh Yong-chien, Taipei Times
A GOOD HOME
Whether an idol has been cautiously retired or callously abandoned, Feng stresses the importance of finding a good home for it.
He warns that, while quite a few temples are willing to accept an unwanted spirit image, it's imperative to confirm they'll not burn it as soon as they've conducted a tuishen (退神, "withdrawing the spirit") rite to ensure its divine element leaves on good terms. The mandatory donation for permanent deposit being lower than that for temporary deposit is a red flag, he explains, as "it means that the body of the god is often burned or discarded within a few days of deposit. This will have an unfavorable impact on the family, career, wealth, and health of its original owner."
Some houses of worship have no interest in such "gifts."
According to a Sept. 23, 2020 report in the Liberty Times, the management of Jhenling Temple (真靈宮) in Pingtung County's Wandan Township (萬丹) asked the police to review security-camera footage and find a man they thought had left a statuette of Guanyin, the Buddhist goddess of mercy, by the exterior censer. They hoped the man could be traced, and persuaded to take the goddess back. (It seems no media outlet followed up on this story; nor has this reporter been able to find out what eventually happened to the Sinjhuang icons mentioned at the beginning of this article.)
RENTAL FEES
Feng's team told the Taipei Times that they'd respectfully remove and store "forever" a single unwanted effigy for a flat fee of NT$3,600, or six for NT$12,000.
A resident of Tainan's Sinhua District (新化) surnamed Liang (梁) has been taking in abandoned deities for more than half a century, China Daily News, a Tainan-based Chinese-language newspaper, reported on March 1. Liang's shelter is beside a main road, and dozens of the icons he's accumulated are kept outdoors. On Feb. 23, Liang told this reporter that he's currently caring for between 700 and 800 effigies.
Stephen Flanigan, who has studied popular religion in Taiwan for more than a decade, describes establishments like Liang's as "retirement homes for unworshiped spirit-images."
"The majority were once enshrined on domestic altars. As older generations pass on and their children move away from old family homes, most younger people find maintaining an altar to be inconvenient or burdensome. They typically have someone deactivate the altar and take the deity-image away. Such unworshiped images are often called luonanshenming (落難神明, "deities fallen onto hardship,") says Flanigan, who holds a PhD in the history of ritual-master texts and ceremony from the Song dynasty to modern Tainan.
DEALING IN DEITIES
There's a marketplace for icons that are historic or otherwise notable, but Flanigan doubts that anybody is getting rich by dealing in such artifacts.
On Feb. 11 last year, the Liberty Times reported on the activities of a Changhua man who told the newspaper that he's bought thousands of god images, some for as little as NT$50, and resold many of them, after cleaning, for NT$5,000 or more. A newly-carved statuette, he pointed out, may easily cost twice that.
Bearing out Flanigan's assertion as to the main source of redundant deity images, the man said that many of the potential sellers who contact him are people who've left the countryside and who don't share their parents' and grandparents' piety.
Dealers in and collectors of religious items are active on social media, with Feng Yan-zhu administrating a Chinese-language Facebook group that has 17,400 members. If you've got deity images you need to dispose of, or you're planning to start a collection, it could be a good place to start.
Comments will be moderated. Keep comments relevant to the article. Remarks containing abusive and obscene language, personal attacks of any kind or promotion will be removed and the user banned. Final decision will be at the discretion of the Taipei Times.