Notes from Central Taiwan: Who is William Lai?
As the vice president throws his hat into the ring of the DPP presidential primary, he has to balance domestic issues with his cross-strait bonafides. Is he up to the task?
Last week Vice President William Lai (賴清德) announced that he would be a candidate in the party's presidential primary. As Democratic Progressive Party (DPP) chairman, Lai is widely understood to have the inside track on the presidential nomination.
Lai's comments consisted of the usual DPP noise in national elections, focusing on China.
"We must be united to strengthen Taiwan, stick to the democratic camp and ensure Taiwan's security" in the face of increased Chinese "saber rattling" and "unscrupulous diplomatic bullying," he said.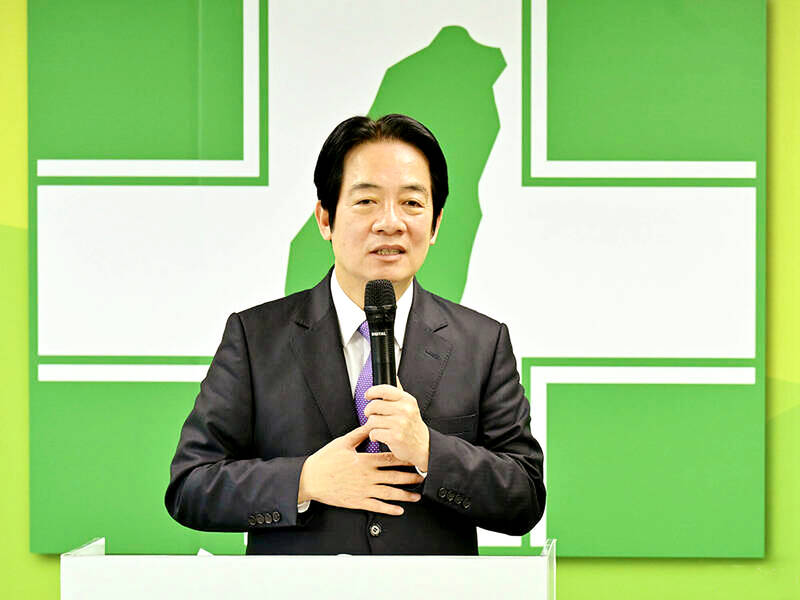 Vice President William Lai announced on Thursday last week that he'll run in the Democratic Progressive Party (DPP) presidential primary.
Taipei Times File Photo
He also made a vague nod to the economy, the environment (green energy) and supply chains.
Whenever his name is mentioned, there is an immediate media frenzy about his illusory "hardline" pro-independence position. For example, at present, his Wiki page is largely a compendium of Lai's adventures in independence politics. In reality, his position is bog-standard mainstream DPP, perhaps a little to the right of it. In 2017 he even floated the concept of "being close to China while loving Taiwan."
The obsessive media focus on Lai's imagined crazed independence warrior persona has obscured his stance on crucial domestic issues. Who is William Lai?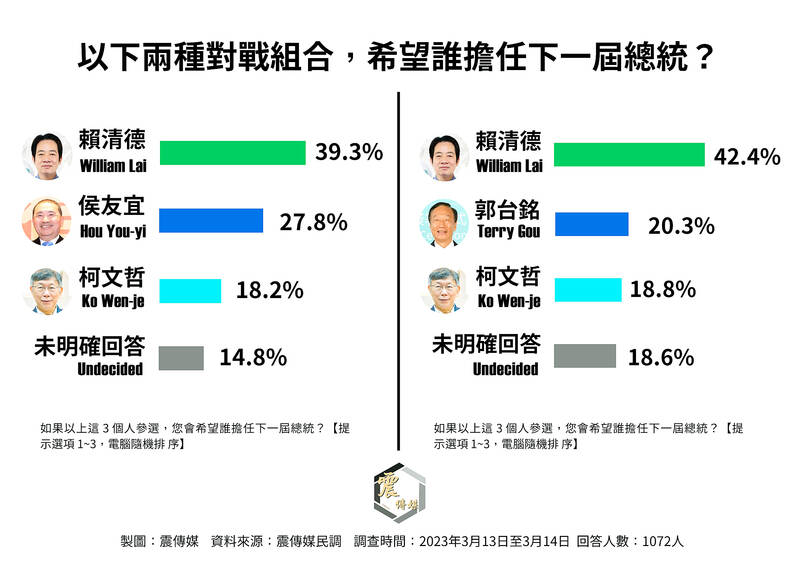 The results of a poll of 1072 people conducted by Z.media on March 13 and March 13 puts Vice President William Lai as the frontrunner for next year's presidential election.
Photo courtesy of Z.media
POPULAR POLITICIAN
On the surface, he is a success. He served 11 years as a legislator, was re-elected three times, and was named Taiwan's best legislator by Citizens Congress Watch four times. As a former doctor, he immersed himself in health issues. Notably, he was re-elected legislator in 2008 during the Chinese Nationalist Party (KMT) tsunami. It's forgotten now, but he was the DPP caucus whip, a position requiring personal and political skills, and he led legislative delegations to both the US and Japan. This is experience our last two presidents have lacked.
Though he has no serious foreign policy experience, during his legislative years he was involved in the lobbying effort for WHO membership, and visited 22 countries.
After Tainan became a municipality he was elected its mayor, and quickly became the most popular mayor in the country. In the 2014 municipal election he barely ran a campaign, yet crushed his KMT opponent by 45 points.
In 2016, a TVBS poll gave him the highest approval rating of any politician, 76 percent, thanks in part to a strong performance in response to the earthquake in Tainan that February. In the 2016-2017 period, polls showed repeatedly that he was a leading choice for the DPP candidate for mayor of New Taipei City and Taipei, and an obvious presidential challenger at some point. In 2017 he was made premier, getting him the experience necessary to be president.
Lai's performance as Tainan mayor may offer clues as to what kind of President he would be. A 2012 CommonWealth magazine piece explained his popularity in terms of his "horizontal coordination" abilities: "He frequently seeks the advice of non-governmental organizations, demonstrating a strong awareness of politically sensitive issues."
HONESTY, INTEGRITY
Lai's political model is Chen Ding-nan (陳定南), the popular Yilan county commissioner who as justice minister established the Black Gold Investigative Center (查緝黑金行動中心) and was known as "Mr Clean." Lai, who worked on Chen's failed campaign for provincial governor in 1994, has said that he is carrying on "the spirit of Chen Ding-nan" in his politics.
For example, in 2015 Lai sparked controversy over his refusal to attend city council meetings as long as Lee Chuan-chiao (李全教) of the KMT, then Tainan council speaker, held that position. Lee had been indicated for buying the votes of council members to become speaker. Lee was convicted the following year.
Lai argued that his refusal to attend meetings was a personal moral act and that the "presumption of innocence" applied to court actions, but that he need not personally adhere to that principle. Moreover, Lai averred, he knew five DPP council members were involved, meaning that he had the certainty required to take action.
He also contended that this move helped shine a spotlight on the issue of city council vote buying.
"All politics begins at the local level; national politics will never be corruption-free as long as local politics is not clean," he told the Taipei Times in an interview.
Given this background, it is hardly surprising that Lai began his DPP chairmanship run by condemning the plagiarism issues that harmed the party in the local elections last year. Moreover, after he became chair, the DPP Central Evaluation Committee cracked down on vote buying, suspending the membership rights of Tainan City Council Speaker Chiu Li-li (邱莉莉) and Deputy Speaker Lin Chih-chan (林志展) for three years.
ECONOMIC EQUALITY
Under Lai, perhaps we can look forward to a cleaner DPP, for what it's worth. His noises on bread and butter economic issues, however, appear to reflect the recent DPP party line, a party now so terrified of business it cannot even win easy public opinion victories like doing away with the idiotic Saturday make-up work days.
As the Taiwan-based Singaporean activist and commentator on economic issues Roy Ngerng (鄞義林) noted on Twitter, his remarks on entering the primary did not mention "adequate wages, housing justice…, or social welfare for Taiwan's workers."
Hopefully he will come out with concrete proposals on those issues. Cleaning up the DPP is nice, but it's not the kind of issue that gets a man elected president. Chen Ding-nan was also known for preserving Yilan's pristine environment. He rejected the petrochemical and steel nightmare complex that the Yunlin county government permitted to be built in Mailiao. He was also a famous figure in the early anti-nuclear movement. Perhaps Lai will let himself be inspired by Chen's environmentalism.
CROSS-STRAIT
Lai's China approach appears to be little different from the standard DPP model. He has said his policy is "seeking common ground while shelving differences (求同存異)," a meaningless formula deployed by speakers on both sides of the Taiwan Strait. Lai's reach for such pablum suggests that his China policies are going to remain well within the mainstream.
This is further indicated by his response to the visit to China last month by KMT Vice Chairman Andrew Hsia (夏立言). He reiterated the DPP's basic stance that cross-strait exchanges should not be defined by preconditions and added that their stable development depended on "peace, reciprocity, democracy and dialogue."
Lai's stint as premier included finishing the pension reform, one of the few wrenching system changes the Tsai government proposed. His policies as premier to address the "five shortages" of water, electricity, land, blue-collar and white-collar workers evinced no great imagination. Notably, when he attempted to resign to "take responsibility" for the 2018 election loss, there were widespread demands from senior party officials and businessmen that he stay on.
Lai's experience and abilities suggest that an administration led by him will surprise everyone by how well it handles conflicts, especially within the party, and disappoint everyone by how the DPP once again almost completely fails to meaningfully address any of the nation's urgent problems.
Notes from Central Taiwan is a column written by long-term resident Michael Turton, who provides incisive commentary informed by three decades of living in and writing about his adoptive country. The views expressed here are his own.
Comments will be moderated. Keep comments relevant to the article. Remarks containing abusive and obscene language, personal attacks of any kind or promotion will be removed and the user banned. Final decision will be at the discretion of the Taipei Times.