Movie review: U Motherbaker : The Movie
This heart-warming and enjoyable screwball comedy, starring beloved television matriarch Tsai-hsiang, is perfect light-hearted fare to distract during LNY
Chock full of language puns, cultural references and so many celebrity cameos that a few had to be shown in a mid-credits "deleted scenes" sequence, one needs to be quite ingrained into local life to fully understand U Motherbaker: The Movie (我的婆婆怎麼把OO搞丟了). There were many bits that went over my head, but the plot is so fast paced and rowdy that it didn't affect the overall enjoyment of the film.
Hyper-locality is exactly what this bawdy yet heart-warming screwball comedy aims for, though, as typical of Hoklo-language (also known as Taiwanese) films screened during the Lunar New Year break. They're not meant to be taken seriously nor win awards. There was a time when the snob in me looked down on these productions, but they're actually fun to watch and are easier to sit through than some of those slow-burning arthouse dramas of gloom and despair. For foreign residents, it's a curious window into Taiwanese pop culture and what's funny for the masses, even if you don't quite get what's going on.
What keeps surprising me is the solid plots that drive the silliness, as mentioned in my review for Hanky Panky (大釣哥, Jan. 19, 2017). There's nothing groundbreaking or any mind-bending twists, but there are almost no plot holes and the multiple storylines are resolved neatly in a way that makes sense. Sometimes, it's better not to try too hard.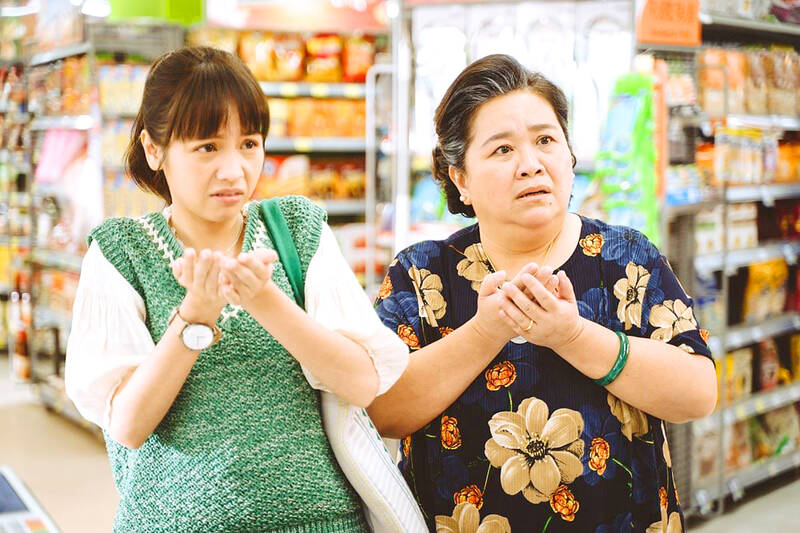 Huang Pei-jia, left, and Chung Hsin-ling star in U Motherbaker: The Movie.
Photo courtesy of Vie Vision Pictures
U Motherbaker is based on the wildly popular 2020 television series of the same name, starring the beloved traditional bakery matriarch Tsai-hsiang (Chung Hsin-ling, 鍾欣凌). I did not watch the series, but it's immediately understable why the Tsai-hsiang character is so appealing and won Chung a Golden Bell for best actress in a television drama. She's loud, overly dramatic, scatterbrained and often conniving, but also self-deprecating, caring and innocent, serving as a wonderful, wholesome character to get into various mishaps.
For her big screen debut, Tsai-hsiang finds herself in deep trouble. Posing as a waitress, she sneaks into a movie wrap party to meet her idol, the dashing young singer OO (Aaron Yan, 炎亞綸), but a series of mishaps leads to OO's disappearance. Her director son Ping-jen (Johnny Yang, 楊銘威), who helped her with the scheme, goes missing after the incident, and with Tsai-hsiang being the last person to see OO, the rest of the family launches an all-out manhunt with the police on their tails.
The search party consists of Hsiao-ou (Huang Pei-jia, 黃姵嘉), who was once married to Tsai-hsiang's deceased youngest son, her baker boyfriend Fa-kuei (Joe Chang), Tsai-hsiang's self-centered and constantly bickering children (Sam Wang, 王少偉, Jill Su, 蘇晏霈 and Darren Chiu, 邱凱偉) and Ping-jen's sexually-liberated lover Ta-mei (Ruby Lin, 林筳諭). All of them are dealing with personal or relationship issues, and are forced to confront them, and each other, as the plot moves forward.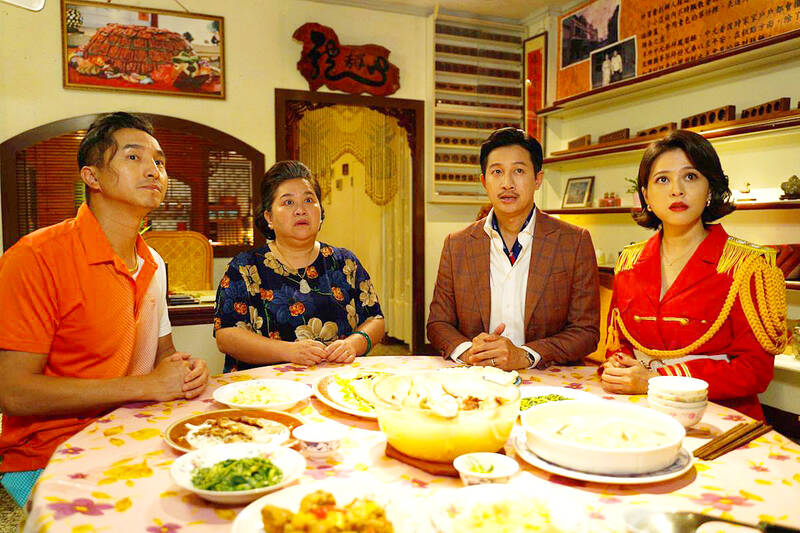 From left, Sam Wang, Chung Hsin-ling, Darren Chiu and Jill Su star in in U Motherbaker: The Movie.
Photo courtesy of Vie Vision Pictures
In a parallel side story, Tsai Hsiang's pineapple farmer boyfriend Brother Yi (Hsu Chieh-hui 許傑輝) loses the engagement ring (O-shaped like the missing singer's moniker) on the latest of numerous proposal-gone-awry, and also enlists a number of characters to help search for it.
Wackiness aside, the film examines many emotional issues, especially modern family dynamics and romantic love, presenting them in a moving yet reasonable way that avoids being too sappy or overbearing. There are some cringey moments but the attitudes are generally healthy, and it's good to see that these mainstream films are employing fewer toxic tropes that have for years negatively affected societal expectations on relationships.
The goofy, kind-hearted Tsai-hsiang perhaps represents the new generation of matriarch and mother-in-law who does not have to be stern and demanding. Although she inevitably butts heads with the younger generation, she is able to earn their respect in her own way.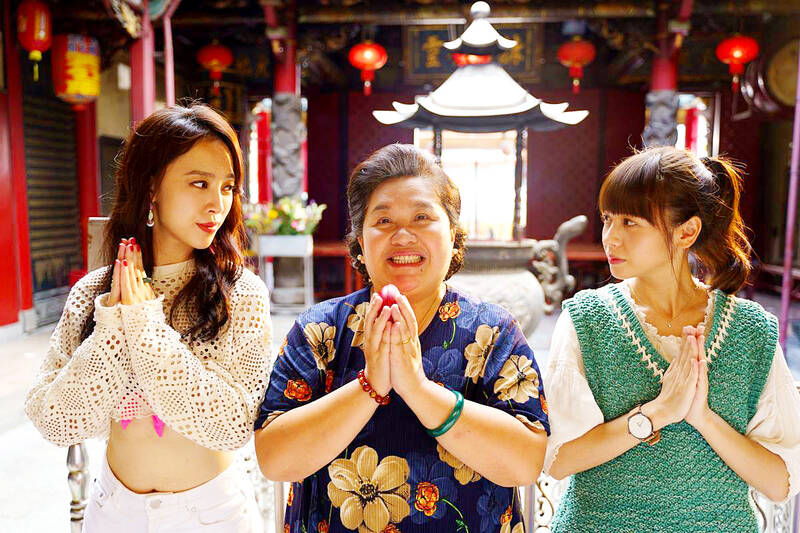 From left, Ruby Lin, Chung Hsin-ling and Huang Pei-jia star in U Motherbaker: The Movie.
Photo courtesy of Vie Vision Pictures
Publication Notes
Film Notes
U Motherbaker:The Movie 我的婆婆怎麼把OO搞丟了 Directed By: Teng An-ning (鄧安寧) Starring:Chung Hsin-ling (鍾欣凌) as Tsai-hsiang, Huang Pei-jia (黃姵嘉) as Hsiao Ou and Aaron Yan (炎亞綸) as OO Running Time:114 minutes Languages: Taiwanese and Mandarin with English and Chinese subtitles TAIWAN Release:In theaters
Comments will be moderated. Keep comments relevant to the article. Remarks containing abusive and obscene language, personal attacks of any kind or promotion will be removed and the user banned. Final decision will be at the discretion of the Taipei Times.