Highways and Byways: The scars of 228 in Chiayi
Some of the most notorious events connected to the 228 Incident occurred in Chiayi City, where the most famous victim was artist and politician Chen Cheng-po
Next Wednesday will be the 72nd anniversary of a confrontation that snowballed into a large-scale uprising against the regime that ruled Taiwan after World War II.
On Feb. 27, 1947, bystanders intervened when they saw agents of the Taiwan Province Monopoly Bureau (臺灣省專賣局) beat a middle-aged widow on what is now Lane 185, Nanjing West Road in Taipei. By itself, the functionaries' treatment of the woman — who had been caught selling contraband cigarettes — might not have provoked such a reaction. But, after 16 months of Chinese Nationalist Party (KMT) misrule, many Taiwanese were seething with anger. When a civilian was shot dead, things soon boiled over.
228 INCIDENT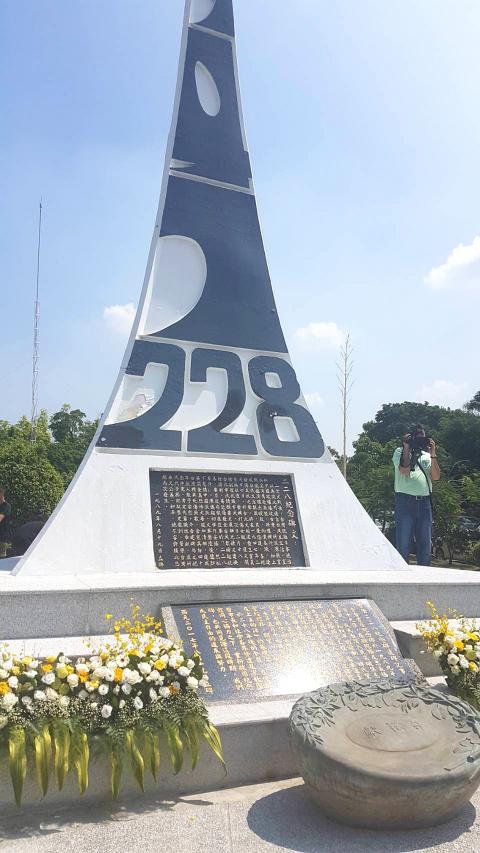 The 228 Memorial plaque is pictured in Chiayi last year in commemoration of the 228 Incident.
Photo: Ting Wei-chieh, Taipei Times
As news of the disturbance spread, there were riots throughout Taipei. The following day, protesters attacked government officers, which is why the uprising is known as the 228 Incident (二二八事件). Police fired on demonstrators, while Taiwanese mobs murdered those who had just escaped from China, also known as waishengren (外省人, Mainlander). After KMT reinforcements began arriving from China on March 8, the regime massacred thousands of people, many of whom had played no role in the uprising.
The spark that ignited the 228 Incident occurred in Taipei, and in the capital the episode is commemorated at the 228 Peace Memorial Park (二二八和平紀念公園), and by a plaque on Nanjing West Road (南京西路). But some of the most notorious events connected with the incident occurred more than 200km away in Chiayi City, where the most famous victim was Chen Cheng-po (陳澄波).
Born in Chiayi in 1895, Chen is remembered as the first Taiwanese painter to have a work displayed at the Imperial Art Exhibition, a prestigious art exhibition in Japan at the time; his oil painting, Street of Chiayi, was featured in the 1926 event. After 1946, he was a member of Chiayi City Council. He joined the KMT around this time, but that didn't protect him during the 228 Incident.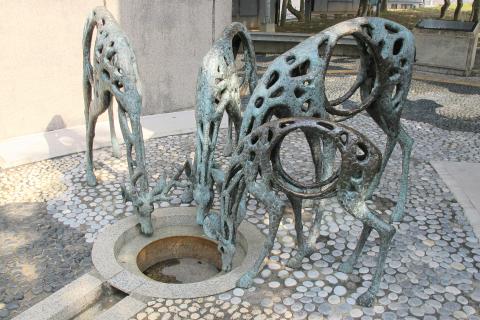 Deer sculptures at Chiayi's 228 Memorial Park represent Taiwan's ethnic groups drinking peacefully from the same spring.
Photo: Steven Crook
In the first week of March, KMT units based at what's now Chiayi Airport (嘉義航空站), 5km southwest of the city center, began looting residential neighborhoods. Locals fought back, and in Lioucuo neighborhood (劉厝) more than a dozen civilians were massacred on March 10. Throughout the city, it's thought that at least 300 people died during three weeks of violence.
Chen and other worthies established an ad hoc committee to mediate between the military and the population. Yet as soon as they approached the KMT forces encamped around the airport on March 11, they were detained. Two members of the committee were freed, but a fortnight later, Chen and the other three were taken to the plaza in front of Chiayi Railway Station. All four were executed without trial.
Few English-language accounts include the names of the three who died alongside Chen. They were: Pan Mu-chih (潘木枝), a Japanese-educated doctor and city councilor; dentist Lu Ping-chin (盧炳欽); and Ko Lin (柯麟), the owner of a movie theater.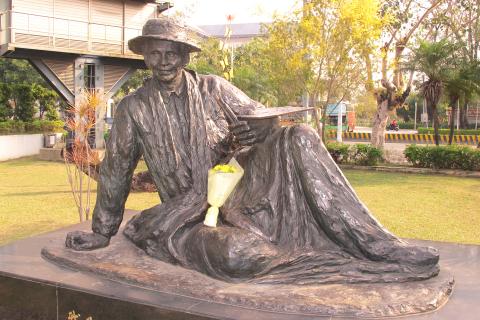 Even several decades after his death, people leave flowers at the bronze statue of Chen Cheng-po outside Chiayi Municipal Museum.
Photo: Steven Crook
Surprisingly, nothing — not even a small plaque — marks the spot where the men were killed. However, for several years until 2017 a small, privately-run museum nearby celebrated Chen's life and work, and told the story of his untimely death.
The Chen Cheng-po Cultural and 228 Museum (陳澄波/二二八文化館) was located at 228-12 Guohua Street (嘉義市西區國華街228-12號). Did its founders go out of their way to find a building numbered 228, or was it an appropriate coincidence?
When I went there in 2013, the visitor book implied I was the first visitor to set foot inside for several days. The museum displayed reproductions of more than 30 of Chen's paintings, but no originals, plus some Chinese-only information about the 228 Incident.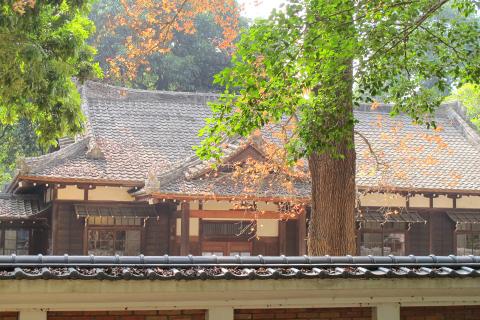 For a glimpse of Chiayi pre-228 past, visit the building now known as Showa J18.
Photo: Steven Crook
Two very different 228 memorials lie within the city limits, and there's no need to go out of your way to visit the first one if you plan to take Road 159A (159甲) to destinations in the hills such as Bantianyan (半天岩). The 228 Memorial Park (二二八紀念公園) is at the intersection of Daya Road (大雅路) and Ciming Road (啟明路). Built by the city government, it includes a memorial hall completed in 1996.
The most photogenic feature in this medium-sized park is a set of four metal sculptures. Inspired by the sika deer, which once roamed Taiwan's plains, they represent the four categories into which the island's human population is usually divided: Taiwanese of Fujianese descent, Hakka, Mainlanders and indigenous people. They are depicted as drinking peacefully from the same spring, symbolizing the interdependence and co-prosperity of all Taiwanese, regardless of ethnic background.
The plain obelisk which bears the numbers "228" was moved here a couple of years ago because a road-widening project made its original site untenable. Sited on the southern outskirts of the city between 1989 and 2017, it was Taiwan's first official 228 memorial. (An earlier and entirely unofficial memorial in Taipei, installed by dissidents, was immediately destroyed by the authorities.)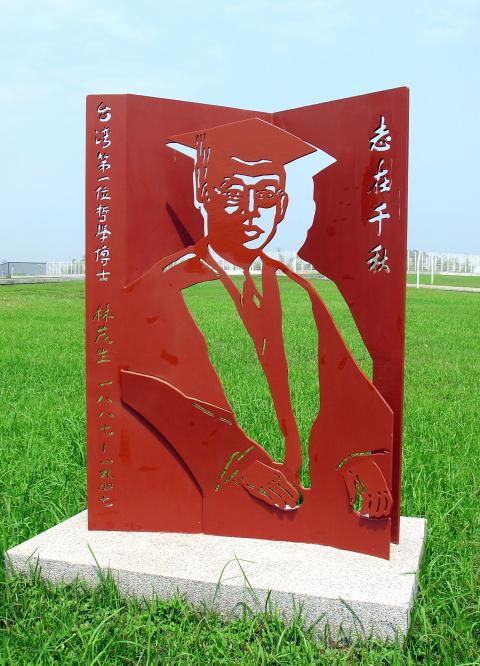 US-educated scholar Lin Mosei disappeared in the aftermath of the 228 Incident.
Photo: Steven Crook
From the 228 Memorial Park, it's an 800m walk to a gorgeous old building that received a new name earlier this year. The former Historical Data Relic Museum (史蹟資料館), now called Showa J18 (昭和十八J18), was built late in the Japanese colonial period as part of a Shinto shrine complex. I've not been inside since it was revamped, but externally this structure rates as one of the city's most photogenic.
Covering 6.1 hectares, the 228 National Memorial Park (二二八國家紀念公園) is much larger than the older memorial near the downtown, and in some ways more interesting. Unfortunately, the national memorial (established 2011) is far out in the city's western suburbs — a location chosen for its proximity to the site of the Lioucuo massacre.
At least you'll have no problems parking. If you approach from Dafu Road (大富路), you'll first notice a row of brick-red memorials to notable victims of the 228 Incident. Among them are Chen Cheng-po, Lin Mosei (林茂生) and Tang Te-chang (湯德章). Lin, the first Taiwanese to earn a doctorate from a US university, was dean of arts at National Taiwan University when he disappeared on March 11, 1947; his body has never been found. Tang, a lawyer in Tainan, was arrested on the same date, then executed two days later.
If you start off on Dasin Street (大信街), you'll be near the dense, manicured grove of short bamboo that makes up for a lack of trees. On a hot day, you're likely to retreat to the semi-underground exhibition area (open Wednesday to Sunday, 9.30am to 4.30pm) where there's a considerable amount of bilingual information. The displays go well beyond the 228 Incident itself; they describe how the taboo surrounding the events of 1947 was broken, as well as the intentions and concepts behind this memorial. Taken as a whole, the 228 National Memorial Park is sobering, saddening, educational, and enlightening — just as this kind of place should be.
Steven Crook has been writing about travel, culture, and business in Taiwan since 1996. Having recently co-authored A Culinary History of Taipei: Beyond Pork and Ponlai, he is now updating Taiwan: The Bradt Travel Guide.
Comments will be moderated. Keep comments relevant to the article. Remarks containing abusive and obscene language, personal attacks of any kind or promotion will be removed and the user banned. Final decision will be at the discretion of the Taipei Times.