Ballet delights and strong modern works by Taiwanese
Anyone who thinks that ballet is old fashioned, stuffy and full of swans should have been in the audience at the Taiwan Traditional Theatre Center in Shilin District (士林) for Hong Kong Ballet's (香港芭蕾舞團) Taiwan debut on Friday and Saturday.
Hong Kong Ballet artistic director Septime Webre's ALICE (in wonderland), created for his previous company, the Washington Ballet, has lost none of its freshness or appeal with its transfer to his new troupe, which premiered it in August.
Not truly a story ballet, as it is a composition of famous scenes and characters from two of Lewis Carroll's books — Alice's Adventures in Wonderland and Through the Looking-Glass — ALICE nevertheless has a satisfying narrative arc and plenty to delight youngsters, their parents and seasoned balletomanes.
The Hong Kong Ballet's ALICE (in wonderland) production at the Taiwan Traditional Theatre Center in Taipei was a delight.
Photo courtesy of Conrad Dy-Liacco
The show opened with Cuban-born dancer Venus Villa, as Alice, sitting in a white armchair on an all-white stage, daydreaming. She is joined by her bookish father, domineering mother, twin siblings, grandparents and butler, plus Lewis Carroll, who soon whisks her off for a boat ride and picnic in the countryside and gives her a book.
Alice falls asleep and soon she is dreaming of a trip down the rabbit hole.
There were lots of musical references to Swan Lake and choreography from other ballets, as well as the hints of the original Wizard of Oz film, including the appearance of Alice's family as key characters such as the queen and king of hearts and the Dormouse.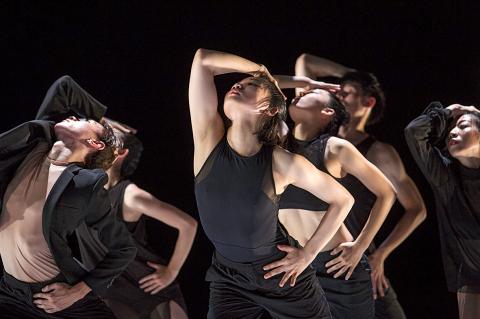 T.T.C. Dance performed founder Chang Ting-ting's newest work, 2018 Deja vu at the National Experimental Theater in Taipei last weekend.
Photo courtesy of Michel Cavalca
The entrance of the corps de ballet as flamingos, whose appearance was presaged by a giant cloth flamingo dropping from the rafters, was a clear nod to the Act 2 entrance of the Willis in Giselle, albeit with upraised arms ending in bent hands to resemble the long necks of flamingos.
The baby flamingos, all local ballet students, were great — with a nod to the Dance of the Cygnets from Swan Lake — as were the other children in the small doors sequence, as piglets and hedgehogs.
Kudos to Li Lin (李林) and Chen Zhiyao (陳稚瑤) for some terrific solos throughout the show, as well as Villa and Wang Qingxin (汪慶欣) and Vanessa Lai (黎諾詩).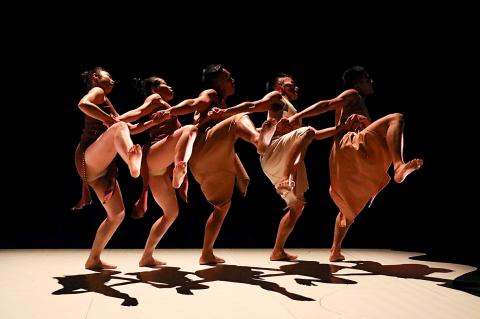 The Tjimur Dance Theatre's five dancers delivered a strong performance in choreographer Baru Madiljin's newest work, Calisi at the National Experimental Theater last month.
Photo courtesy of Huang Jhao-lun, Tjimur Dance Theatre
The sets and props by James Kronzer and costumes by Liz Vandal were a visual smorgasbord of delights.
Hopefully, the company's appearance at the start of this year's Hong Kong Week will herald more visits to Taiwan in the future.
The previous weekend, I caught the Tjimur Dance Theatre (蒂摩爾古薪舞集) to see its latest production, Calisi (斜坡上的婚禮), at the National Experimental Theater.
It proved to be yet another well-developed work by Baru Madiljin, but with more visual elements than he has used before.
The show, which explores Paiwan wedding customs, began with a video projection onto the stage floor of a bride, dressed in full traditional finery, being pulled back and forth on a swing as part of a wedding ceremony, a tradition in Paiwan and Rukai communities.
The five dancers, three men and two women, entered one by one, carefully treading along a path around the stage and then around a white Marley cutout on the right-hand side of the floor, almost as if they were following paths along the mountains and hills of Pingtung County.
Like last year's Varhung — Heart to Heart (Varhung — 心事誰人知) or As Four Step (似不舞[s]) from 2015, Madiljin built his piece by carefully layering step and movement patterns and motifs that shift and grow almost imperceptibly, mixing Aboriginal dance steps with post-modern techniques.
His sister, artistic director Ljuzem Madiljin, appears and disappears as a mysterious woman in red, her face tilted toward the floor and hands clasped together below her waist.
While not as emotionally satisfying as some of the company's other dances, Calais is still a strong piece from one of the nation's hardest working and well-traveled small troupes.
T.T.C. Dance's (張婷婷獨立製作) 2018 Deja vu (既視感) at the National Experimental Theater last weekend was a revelation, largely because it was almost completely different from founder and choreographer Chang Ting-ting's (張婷婷) Deja vu production of two years ago.
Not only were all seven dancers different, the music, much of the choreography, and the lighting and design were too.
However, France-based multimedia artist Lin Pingyao (林經堯), who did the visuals for the 2016 work, created the soundtrack for the current piece.
Chang said the more she developed the initial piece, the more she realized that it had to change, and the more it became about the chaos she has experienced readjusting to life in her hometown after many years in the US. She added that it could change again.
However, there were elements from the original, especially the hand to face and wrenching the head around movements, often repeated, while the metronomic sweeps of the arms were progressions of moves seen in other of Chang's works.
While I had been looking forward to seeing the original piece again, I really liked the strong drive and vision of the 2018 version.
Comments will be moderated. Keep comments relevant to the article. Remarks containing abusive and obscene language, personal attacks of any kind or promotion will be removed and the user banned. Final decision will be at the discretion of the Taipei Times.