Eating their way through Taiwan's complex culinary history
Katy Hui-wen Hung and Steven Crook discuss their latest book about the nation's food history, touching on the sparse attention paid to its delicacies, interesting food trends and, inevitably, politics
Katy Hui-wen Hung (洪惠文) was growing tired of Taiwan being hailed as the "new food destination" every year for more than a decade. It meant that Taiwan was somewhat on the map, but always treated as a sort of novelty, with writers constantly revisiting the same foods such as stinky tofu and touting them as the next big thing.
She was again disheartened four years ago when she learned that the Tourism Bureau had provided an all-expenses paid nationwide tour to a number of prominent European food writers on condition that they write an article about Taiwan.
"I thought, 'How sad … that we have to literally pay for people to write about us,'" she says, while noting that the situation has improved.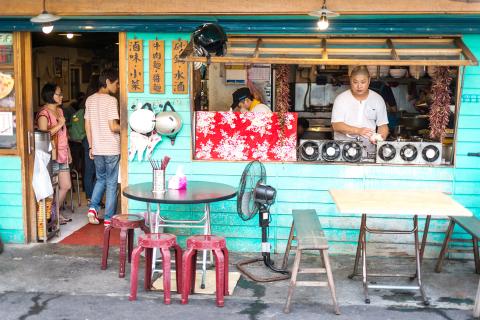 An eatery selling luwei, a type of soy-sauce marinated braised snack food.
Photo courtesy of Rich John Matheson
She got in touch with one of the writers, Marlena Spieler, who confirmed her concerns by telling her that she had no idea about Taiwan's vibrant food culture and thought it was "no more than a regional Chinese food" before she visited. But what Spieler suggested next was unexpected: Hung should write a semi-academic book on Taiwan's foodways.
Hung panicked. She wasn't a writer or a foodie. But earlier this month, her book, Culinary History of Taipei: Beyond Pork and Ponlai, co-authored with longtime Taiwan resident, prolific writer and Taipei Times contributor Steven Crook, hit the shelves. It is a comprehensive and immensely-detailed look at Taiwan's foodways from prehistoric times to modern high-end cuisine.
Crook doesn't expect the book to become a bestseller, but he hopes it becomes a useful resource that gives visitors and residents more insight into Taiwan's culinary delights.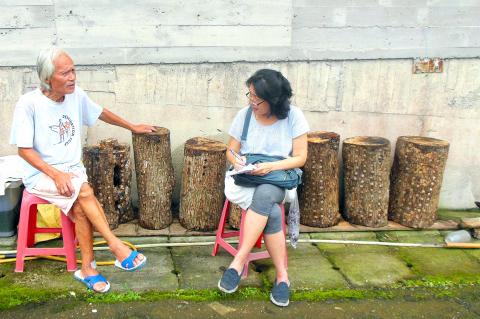 Katy Hui-wen Hung conducting an interview in Wulai.
Photo courtesy of Katy Hui-wen Hung
"Hopefully the next time someone is sent by a magazine or publication to write about Taiwan, whether it's specifically about food or a general thing … if they pick up our book beforehand, then I'd be very pleased," he says.
BIRTH OF A BOOK
Hung says that while writers who visit Taiwan are generally pleasantly surprised, very few make it back because it's simply not a popular destination for international editors.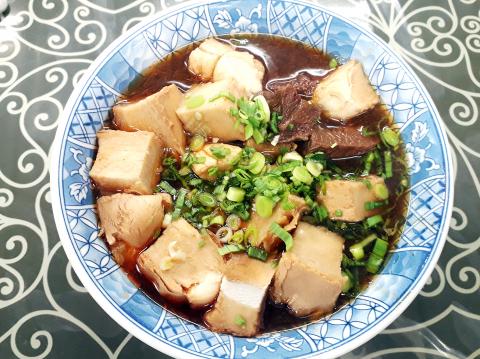 A bowl of Taiwanese beef soup.
Photo courtesy of Steven Crook
US food writer Robyn Eckhardt, who once spent three years convincing the New York Times to include Taipei in its annual "52 places to go" feature, told Hung that a reputable editor once laughed in her face when she pitched Taipei for a food assignment, asking, "Why does anyone want to go to Taiwan when they can go to China?"
Hung agreed with Spieler that the book should be semi-academic, wanting to provide something for the serious visitor. Spieler put Hung in touch with Ken Albala, who edits Rowman and Littlefield's Big City Food Biography series, which covers gastronomically-famous metropolises in the Americas, Europe and Australia, but had yet to expand into Asia.
As expected, Albala knew nothing about Taiwan. But he was happy to give Hung a chance to make Taipei the first Asian city in the series. She eventually found Crook, also a novice in food writing (he typically writes about Taiwan's culture, sights and religion), and the two submitted the proposal for the book in January 2016.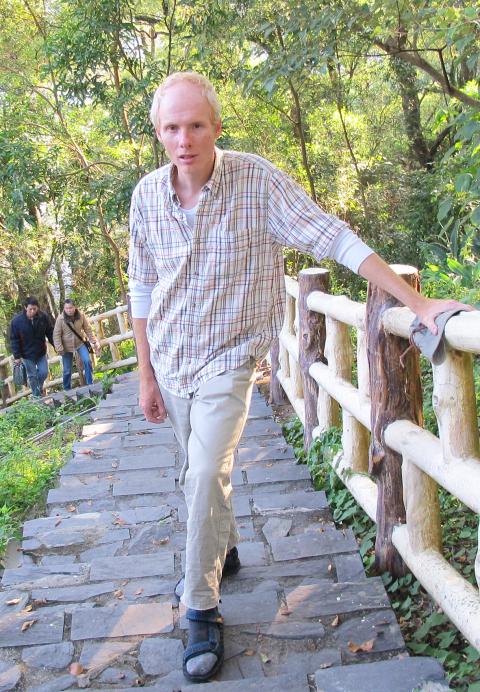 A photo of Steven Crook in Kaohsiung's Maolin District.
Photo courtesy of Steven Crook
Having lived abroad since the mid-1980s, for Hung it was an opportunity to reacquaint herself with her native country, especially after the dramatic political and societal changes that had taken place since her departure. The mission to promote Taiwan would come later.
Crook, who has lived in Taiwan since the early 1990s, admits that when Hung first approached him, he was more interested in the history portion than the food. But he was curious, and he also thought it would benefit his writing career to expand his expertise.
"Nobody writes about Taiwan to make money," he says. "It was more that I'd learn a lot, and it would be a step up career-wise [to write a book for such a major publisher]. If I got a good grasp of the food scene, we could also get a lot of articles out of it."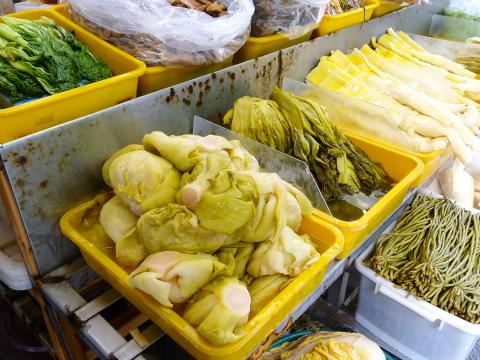 Pickled vegetables are displayed at a traditional market in Chiayi.
Albala couldn't promise anything at first, as he acknowledged US editors' reluctance to publish just about Taiwan. But the proposal went through.
NEW DISCOVERIES
The two started out simply pursuing areas they were interested in — for Crook it was the prehistoric foodways and the rise and fall of agriculture, while for Hung it was offerings and festival foods and the people who work to promote Taiwanese cuisine.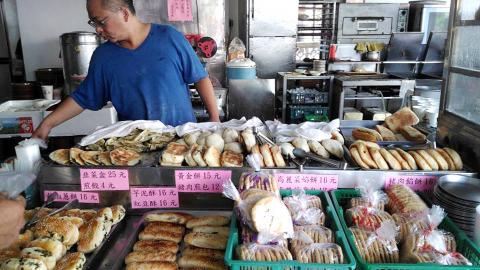 The Cheng Huang breakfast shop in Yilan.
Photo courtesy of Katy Hui-wen Hung
"We would follow our interests and compare notes," Crook says. "That sounds very inefficient but it worked out well. I don't think we overlapped much ... It wasn't systematic."
Crook says that about 90 percent of the material was either new to him or something that he had heard about but had never confirmed.
Hung enjoyed connecting food to history, such as which fruits and plants were brought in by Dutch colonizers. After she learned that Hungarians boast a pork-heavy cuisine due to the ruling Muslim Ottomans taking away all the meat except for pork, it brought her back to the question of why Taiwan shares the same features. Apparently, goat meat was too stinky and cows were used for farm labor instead of consumption.
Crook liked to analyze food trends, such as the drastic decline of rice consumption despite rice being one of the few crops Taiwan is self-sufficient in, and how people are willing to shell out to buy more expensive foreign fruits even though Taiwan has a rich variety of native ones.
Another phenomena he found was that while food is very important to Taiwanese culture, those who do the cooking often go unacknowledged — although this is starting to change with the rise of "superstar chefs" such as RAW's Andre Chiang (江振誠).
"People are very passionate about food, but they don't really think that the skill in producing the food is worthy of respect. In Japan, there's a culture of apprenticeship and craftsmanship," he says. "All the elements were already in my knowledge, but I just didn't make this connection."
FREE FROM POLITICS?
When Albala reviewed the final draft, he was completely lost because he didn't have any understanding of Taiwan's complicated politics and history. So the two had to put together a brief history of the nation, which isn't included in most of the other books in the series.
One has to take a political stance here — for example, they refer to Taiwan as a country that has never been controlled by the People's Republic of China — but Crook says the interesting thing is that while people are able to politicize just about anything in Taiwan, food is one of the areas where it's not so much, at least in recent years.
"We didn't go out of our way to minimize Chinese influence on Taiwanese cuisine because there are so many non-Chinese influences anyway," Crook says. "But it's something accepted by every Taiwanese. As far as I can tell, even people who would never consider voting blue (pro-China politicians) are happy to eat Chinese food. They can, however, refuse to speak Mandarin."
Of course, it wasn't always this way. As the book notes, when Chiang Kai-shek (蔣介石) was president, state banquets would be entirely Chinese, down to the menu, furniture and decoration. Decades later, Chen Shui-bian's (陳水扁) 2004 banquet included ingredients from every part of Taiwan, from Chinese to Hoklo to Hakka to Aboriginal, while diners downed kaoliang from Kinmen.
Crook feels that he pretty much included everything he wanted in the book, but there's one area of interest that he hopes to do further research on in the future: how many traditional restaurants today mostly employ Vietnamese or Indonesian labor.
"I'm curious about how new immigrant labor is sustaining these traditions," he says.
Comments will be moderated. Keep comments relevant to the article. Remarks containing abusive and obscene language, personal attacks of any kind or promotion will be removed and the user banned. Final decision will be at the discretion of the Taipei Times.