The five lights to stardom
Launched on Oct. 9, 1965, the 'Five Lights Award' ran for 33 years and 1,701 episodes, becoming Taiwan's most enduring television program outside of news programs
Oct. 8 to Oct. 14
Armed with a powerful voice, the 19-year-old Aboriginal girl stepped into a Taipei television studio for the first time in mid-1992. After her stunning performance, she became the latest sensation of the popular singing competition, the Five Lights Award (五燈獎), knocking off four opponents to reach the final round.
However, she had caught a cold on the day of the final competition and was unable to focus, forgetting the lyrics and losing the contest. At her father's encouragement, she would return two years later and finally claim the throne.
A scene from the early days of the singing competition, Five Lights Award.
Photo courtesy of TTV
Today, this singer is known throughout Taiwan and beyond as pop megastar Chang Hui-mei (張惠妹), or A-mei, one of many celebrities who launched their careers through the Five Lights Award, the longest-running television program in Taiwanese history outside of the news.
PHARMACEUTICAL BEGINNING
The show was launched on Oct. 9, 1965 on Taiwan Television (台視, TTV) by Taiwan Tanabe Seiyaku Co Ltd, a subsidiary of a Japanese pharmaceutical firm. The show's idea was born after the company president watched a similar amateur talent show in Okinawa. The "five lights" idea came from the company's logo, which consisted of five red circles.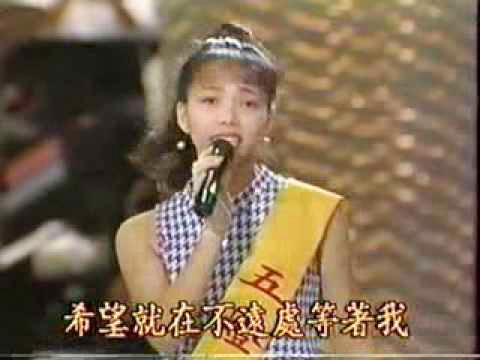 Pop diva Chang Hui-mei launched her career through the Five Lights Award in 1992.
Photo courtesy of YouTube
In the beginning, the program was called Tanabe Club — Weekend Theater (田邊俱樂部—周末劇場) and was produced by a local advertising firm. It went through many early iterations until settling on the final name of Five Lights Award in 1978.
The show settled on its classic format that year as well: two performers would compete against each other, with the winner staying on for the next show, where he or she would face a new challenger. Participants who lasted five shows would win the grand prize of NT$50,000, which was later upped to NT$100,000. The performers could earn up to a maximum of 25 points, which corresponded to the lights — for example, a score between 18 and 22 would result in four lights.
An 1993 CommonWealth magazine article described a typical backstage scene: "You won't find any stars here. A little girl who had just put on makeup is tugging on her mother's sleeve, whining that she needs to use the bathroom; a young woman in hot pants is concentrating on her dance moves while her grandmother watches; in another corner, the staff is instructing participants on their stage presence and reminding everyone to remember their lines."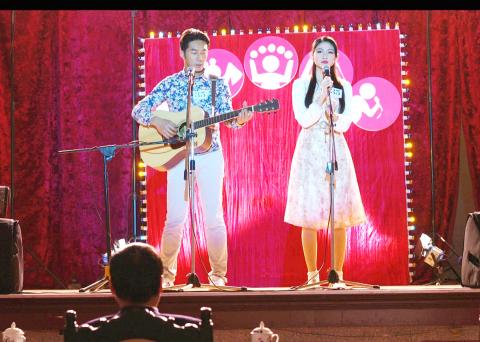 A recreated Five Lights Award stage seen in the 2014 TV drama, Once Upon a Time in Beitou.
Photo courtesy of SET TV
Award-winning bamboo flute player Chen Chung-shen (陳中申) was the first participant to reach the full marks of 25 points in 1979. But he's probably better remembered for getting married on the episode he took home the grand prize, reportedly sending out wedding invitations beforehand that read, "We're getting married. On July 1, 1979 at 7pm, if you have time, please tune in to TTV's Five Lights Award to watch the ceremony and give us your blessings!"
In addition to A-mei, the show also saw an 18-year-old Jacky Wu (吳宗憲), who is now 56 and considered one of Taiwan's top variety show hosts. Early 1990s boy band L.A.Boyz also got their start on the Five Lights stage.
TEARY FAREWELL
The CommonWealth article, published in the show's 27th year, explored the program's longevity, noting that most Taiwanese variety shows would only last about five or six years.
First of all, it was one of the first shows that could make the audience feel they were participating — the article notes that people would typically give their own ratings in front of the television. The show's format was simple and easy to digest, but it also took on different themes to add flavor — such as having having contestants sing only in Hoklo (also known as Taiwanese), Japanese or even sign language, and put on special programs that limited contestants to twins, fathers, hairdressers, foreigners, Aborigines and so on.
Of course, they didn't let just anybody appear on stage — the audition process often took between two and three months, guaranteeing the quality of the performances. The show continued to diversify over the years, even adding sports challenges and other non-singing competitions. At one point, it invited famous stars to perform between breaks.
"In an increasingly competitive media industry, can the Five Lights Award persevere for another 27 years?" the article asks in the end.
It didn't. By the late 1990s, the show could no longer compete with China Television's (中視) Dalu Xunqi (大陸尋奇) program exploring cultural oddities in China, or the wildly popular Japanese anime Detective Conan on Chinese Television System (華視), both of which aired at the same time as Five Lights Award.
On July 19, 1998, many alumni returned to the TTV studio for the 1,701st and final episode. Golden Melody-winning singer Tsai Hsiao-hu (蔡小虎) even pushed back his flight to Japan to attend, shedding tears in front of the camera.
Longtime producer Yang Jui-hsing (楊瑞興) told the press that the show had been losing money for quite a while, and that he felt stuck between staying true to the old format to retain his loyal fans or innovating to keep up with the trends. He announced that this was just a hiatus, and he would bring forth a new program soon — whether it featured five lights or not.
Two months later, Yang launched Taiwan Very Super (台灣非常SUPER), but it only lasted two months before it was canceled due to massive losses.
"I'm old, and I can't keep up with the times anymore," Yang said in an interview with the China Times (中國時報) newspaper. "It's time to retire."
Taiwan in Time, a column about Taiwan's history that is published every Sunday, spotlights important or interesting events around the nation that have anniversaries this week.
Comments will be moderated. Keep comments relevant to the article. Remarks containing abusive and obscene language, personal attacks of any kind or promotion will be removed and the user banned. Final decision will be at the discretion of the Taipei Times.