The ones who hope: the journey of an artificial language
Taiwan's Esperanto-speaking community tries to grow its presence
A French-language learner visiting the country for three weeks would likely find it ridiculous to dial the Academie Francaise and ask for a free hotel room; not so for devotees of the artificial language Esperanto and members of its unusually tight-knit community.
"If I telephone the Vietnamese Esperanto association and say that I'm an Esperantist in Taiwan, and I'm able to give a lecture about Vietnamese in Taiwan, someone will arrange that I get free lodgings. And while I'm in Vietnam, almost every day someone will show me around and have meals with me," says Abengo Cho (卓照明), the compiler of an extensive Esperanto-Chinese Dictionary. "I spent 20 days in Vietnam. I didn't speak any Chinese or English. I spoke only Esperanto."
Though the Esperanto community was well-established in Taiwan in the early 20th century, its strength has since waned. Now, the few remaining Esperantists are trying to cultivate a new generation of speakers, connecting Taiwan to a far-flung network of enthusiasts committed to a language untied to any particular nation or ethnic group.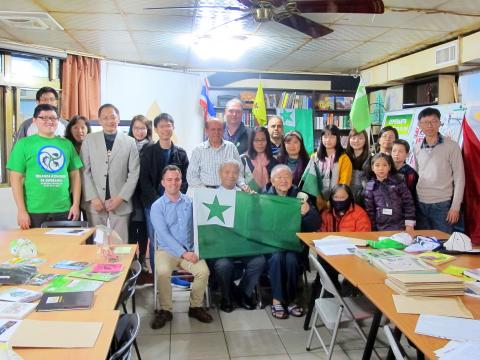 Reza Kheirkhah, center standing, Abengo Cho, center seated, and Teddy Nee, far left, participate at an Esperanto seminar last year in Taoyuan.
Photo courtesy of Reza Kheirkhah
ESPERANTO'S HISTORY
Esperanto was constructed in 1887 by L.L. Zamenhof, a Polish-Jewish ophthalmologist who believed that a global lingua franca could help create a world without war. Its is currently spoken by roughly 2 million people, and derives its grammar and vocabulary primarily from a range of European languages. With only 16 grammar rules, no exceptions and words pronounced exactly as spelled, the language is designed to be easy to master.
Taiwan's hub of Esperanto is Pingtung, where most Esperantists live and where most classes, clubs and other activities take place. Cho estimates that of the roughly 30 fluent speakers in the nation, around two-thirds reside in Pingtung.
During the Japanese colonial era, Esperanto, which has historically maintained a strong presence in Japan, easily put down roots in Taiwan. The Taiwanese Esperanto Association, initially the Taiwanese branch of its Japanese counterpart, published a monthly magazine, The Green Shade, distributed in more than 80 countries.
After the end of Japanese rule, the Chiang Kai-shek (蔣介石) regime associated Esperanto with Communism, creating a taboo against learning the language that only lifted in 1988 upon Chiang Ching-kuo's (蔣經國) death.
Throughout its history, the growth of Esperanto has often been subject to the whims of political leaders, even though the Universal Esperanto Association has strictly maintained political neutrality since its founding in 1908. This is unsurprising for a language that is firmly attached to a values system — a utopian egalitarianism that celebrates peaceful cross-cultural exchange. That Esperanto is a language with an ideology is reflected in the Esperanto slang word samideano, or "like-minded person," used to refer to a fellow Esperantist.
LIKE-MINDED PEOPLE
Why learn a language so few speak? One draw is its accessibility: Exhaustive resources are available online, and the language is simple enough for autodidacts to succeed. For avid language learners like 28-year-old Teddy Nee, who hails from Indonesia and says that he practices five to 10 languages a day, there is the novelty of an artificial language.
"The more I explore about conlang [constructed languages], the more interesting it is for me. It shows how much the languages we know affect our way of thinking, how languages work, and how we can make better languages," Nee said.
Whatever their reasons for learning Esperanto, what unites the community is its internationalist spirit.
"Esperanto is based on the idea that humans should come together and know each other," Cho said. Describing his attendance at international Esperanto conventions, he added, "[w]e make Taiwan known to other countries. Maybe my function is even better than a diplomat or a government official."
It is this spirit that makes fluent Esperantists willing to welcome strangers from foreign countries into their homes with open arms.
The World Esperanto Youth Association maintains a directory of Esperanto speakers willing to host other Esperantists in their homes for free for up to three nights, a service known as Pasporta Servo.
REVIVING ESPERANTO IN TAIWAN
There is no single person more responsible for the recent revival Esperanto in Taiwan than Reza Kheirkhah. Kheirkhah settled in Pingtung in 2000 after meeting and marrying his Taiwanese wife in Japan. As his parents were from Azerbaijan, Kheirkhah grew up comfortable among a multitude of languages. He used Turkish at home and Farsi at school. Arabic, the language of the Quran, was essential, and his diaries were written in English. He began learning Esperanto in college, at a time when Esperanto's widespread adoption seemed near.
"That dream I now understand is not that easy to achieve," he said.
In the midst of the turmoil of the 1979 Iranian Revolution, Kheirkhah left his job as a translator and accepted the Universal Esperanto Association invitation to work in the Netherlands. Since then, he has taught Esperanto in over 10 countries, finding a home with local Esperanto associations wherever he traveled.
"If you are an Esperanto speaker, you feel less lonely, you feel less homesick," he said.
When Kheirkhah stepped foot in Taiwan, he found that, unlike Japan, Esperanto was nearly nonexistent: There were a few scattered speakers in the north, and none he knew of in the south. So he soon set to work, setting up a class at the Pingtung Community College, and started an extracurricular club at Pingtung High School.
"Only in Pingtung do we have classes and clubs," he said. "There are Esperantists elsewhere in Taiwan but they are isolated."
Every year, Esperantist gather in the city for an annual festival, where they teach classes for non-Esperantists, perform songs and other activities.
OBSTACLES AHEAD
The number of Esperanto speakers in Taiwan has increased significantly in the 18 years since Kheirkhah arrived, but much progress remains to be made.
"One problem I found is that people are too focused on English. They think that the international language is English and the international culture is American culture," Kheirkhah said.
Knowledge of Esperanto's existence remains low among Taiwanese. He added, "You say 'shijieyu' (世界語, world language) and they think: 'oh, English.' You say 'Esperanto,' and they ask, 'Is that an actress?'"
As the current key figures in the Esperanto community age, finding strategies to appeal to the next generation is becoming a more urgent dilemma. When asked what Esperanto lacks compared to natural languages, Nee listed two shortcomings: no good music and few young people.
"I have seen photos and videos of Esperanto [conferences] from [every]where," he said. "There are always seniors."
This year, the Pingtung Community College class closed due to a shortfall of interested students, leaving only extracurricular clubs in operation. Nee speculated that learning constructed languages such as Esperanto may seem like a frivolous pursuit, deterring outsiders.
"Maybe conlang looks more like a game that doesn't bear a serious function," he said. "I know many people that prefer learning natural languages than conlang."
Fostering interest in such an abnormal language may be difficult, but the Esperantists are undaunted. Kheirkhah's personal collection of Esperanto books double as a bookstore and library, and his home is perpetually filled with foreign Esperanto-speaking visitors.
He and other Esperanto speakers in Taiwan will continue teaching and translating and traveling, nurturing this small and idealistic language community. They will continue holding festivals and handing out flyers, and they will continue hoping—because, as Kheirkhah said, "The word 'esperanto' means in our language, 'one who hopes.'"
Comments will be moderated. Keep comments relevant to the article. Remarks containing abusive and obscene language, personal attacks of any kind or promotion will be removed and the user banned. Final decision will be at the discretion of the Taipei Times.