Bountiful South: Soaring sky high:Taiwan-Vietnam ties
With the support of Taiwan's New Southbound Policy, the dynamic relationship between the two countries is expanding through tourism, education and exchanges
When then-President of South Vietnam, Nguyen Van Thieu, flew into Taipei's Songshan Airport on April 25, 1975, the flight not only symbolically ended his 10-year tenure as leader of the now extinct country, but was the last plane to fly between Taiwan and Vietnam for almost two decades. The fall of Saigon heralded the end for Taiwan's closest Southeast Asian ally, and with Vietnam united under its new communist government, relations between the countries froze over. Today, however, with the cold war long over, airplanes are now propelling ties between the two nations forward again.
Last month, Vietjet said that it had carried over one million passengers between the two countries since it first began flights between Ho Chi Minh City and Taipei in December, 2014. It has since opened another five flights to accommodate the soaring tourism demand, which saw a rise last year of 117 percent.
Tourism is just the latest area where Taiwan and Vietnam are experiencing ever-strengthening ties, building on three decades of exchange in areas of business and investment, spousal migration and language education.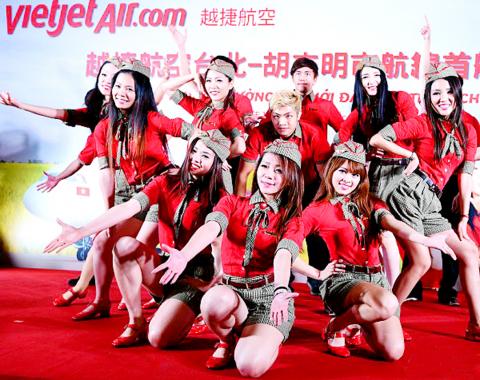 A performance troupe donning Vietjet flight attendant uniforms performs at the opening ceremony of the airline's first flight path between Taiwan and Vietnam in December 2014 at the Taiwan Taoyuan International Airport. The airline has since opened five more flights between the two countries.
Photo: Chu Pei-hsiung, Taipei Times
FIRST IN THE DOOR
The freeze in trade ties thawed quickly soon after the Vietnamese government began implementing its 1987 policy of Doi Moi or "opening the doors."
Taiwanese enterprises were among the first to take advantage of the country's low-cost labor pool and latent market potential, initially clustering in Ho Chi Minh City's industrial hub, before spreading further northward over the following years.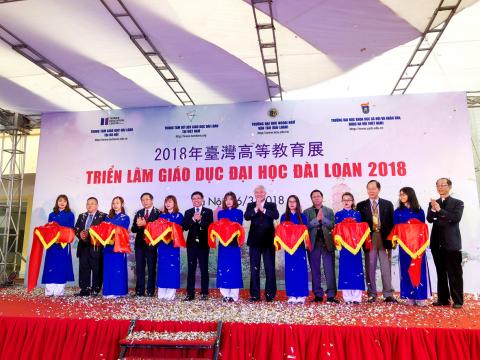 Representative to Vietnam Richard Shih, seventh from right, last month joins local education officials and other Taiwanese diplomats at the ribbon cutting ceremony for the 2018 Taiwan Educational Expo at Hanoi's University of Humanities and Social Sciences. The event promoted Taiwan as a education destination for young Vietnamese.
Photo courtesy of the Taipei Economic and Cultural Office, Hanoi
Typical of Taiwanese investment patterns, it was mostly driven by small and medium-sized enterprises, with the highest concentration in chemical product and construction material manufacturing.
In order to better facilitate import-export links, the Taiwan External Trade Development Council (TAITRA, 外貿協會) opened offices in Hanoi and Ho Chi Minh City in March 1991, as bilateral trade continued to skyrocket.
The Vietnamese government were particularly keen to learn from Taiwan's success in labor-intensive, export-oriented industries, and commercial ties between the countries were enhanced further when Taipei Economic and Cultural offices were opened in both cities the following year.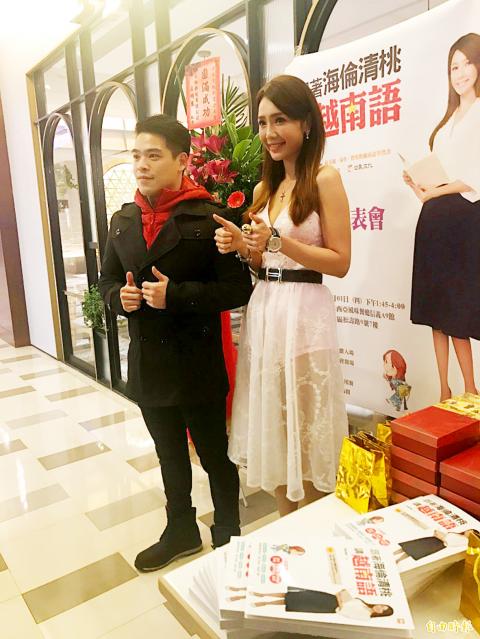 Helen Tanh Dao, right, in February launches her new Vietnamese text book, Learn How to Speak Vietnamese with Helen Tanh Dao.
Photo: Tzeng Te-rong, Taipei Times
By 1997, total bilateral trade had grown over a thousand-fold, reaching US$1.7 billion. Over the same period, Taiwan's investments in Vietnam reached over US$4.7 billion, cementing its position as the largest foreign direct investor for the country well into the 2000s.
Current initiatives under the New Southbound Policy are now building upon the business networks that have continued to develop since, with the nation's state-owned enterprises taking a lead role.
Last year, Taiwan Tobacco & Liquor Corp (TTL) made their debut in the Vietnamese beer market, the largest in Southeast Asia. With Vietnam's beer consumption reaching 3.8 billion liters last year, TTL aims to market its flagship pineapple-flavored beer to differentiate the Taiwan brand, and offer the local market something unique.
State-run oil refiner CPC Corp, Taiwan's (CPC, 台灣中油) new jointly-run lubrication plant is under construction in Dong Nai Province and is due to begin operation next year.
And just last week, Truong Nam, CEO of Vietnamese water supply company HueWACO, called for deeper collaboration with Taiwan Water's A-Team (台灣水資源 A-Team), a group of 26 of Taiwan's top irrigation engineering enterprises, as he led a delegation to tour Taiwan's renewable water system.
Yet, deeper than business ties, over the last 30 years, Vietnamese have become part of Taiwan's kin.
TIES THAT BIND
According Ministry of the Interior data, starting in 1996, Vietnamese became the largest contingent of foreign spouses, a trend that has continued to this day. As of last August, there were 100,000 Vietnamese spouses married to Taiwanese, contributing greatly to the nation's cultural life.
Vietnamese cuisine has now become ubiquitous around the country. Evolving from simple family-run eateries to a mainstream food court staple, with restaurant conglomerate Wowprime launching its new Mu Viet (沐越) chain last year.
Entertainers such as traditional opera singer Annie Nguyen and actress Helen Thanh Dao (海清清桃) from Formosa Televisions' hit drama series Tan Nuong Gia Dao (新娘嫁到), have become household names.
Yet possibly the most influential cultural asset Vietnamese migrants have brought is their language, raising a new generation of bilingual children.
According to data from the Ministry of Education, since 2011, children of Vietnamese nationals have been the highest group of second generation migrants, making up roughly 40 percent of the total.
Each year approximately 10,000 of these students graduate from middle high school, some entering the workforce. This cohort is now reaping the benefits of their Vietnamese cultural and linguistic background with a great number of opportunities across a range of industries, under the New Southbound Policy, of which tourism is the latest to boom.
TOURISM
Thanks in part to the introduction of visa-free travel, the number of Vietnamese tourists traveling to Taiwan as of November increased by 101 percent, or roughly 350,000 Vietnamese visitors.
Around the country, second generation Vietnamese speakers are involved in tour operations, marketing and acting as tour guides for the booming number of Vietnamese tourist groups coming to sightsee. Vietnamese speakers are now highly sought out by the Tourism Bureau to accommodate the growing number of tourists.
Short-stay tours may just be the beginning. Last week, in response to the growing labor shortage in the agricultural sector, the Council of Agriculture announced it is planning to extend Working Holiday visa programs to several Southeast Asian nations, with an eye to allotting Vietnam the largest quota. It is reported the Vietnamese government has responded positively to the idea.
Over the last 30 years, ties between Taiwan and Vietnam have gone from strength to strength, broadening into a wider range of fields.
Rather than the cheap labor, Taiwanese companies now aim to tap into Vietnam's booming consumer market, while educational exchanges are also increasing.
The greatest asset Taiwan has for developing its relations with the country further is the demographic dividend of its own Vietnamese diaspora, whose contribution to bilateral ties will only increase as they age and take on higher positions in both the public and private sector, as well as civil society. Add to this the latest efforts of the New Southbound Policy to foster greater cooperation across these areas and the upward trend between the countries seems set to continue into the years ahead.
Bountiful South is a fortnightly column that covers Taiwan's cultural, diplomatic, business and tourism connections with New Southbound Policy nations. Liam Gibson is a freelance reporter based in Taipei, where he researches regionalism as a postgraduate student at National Taiwan University's Graduate Institute of National Development. You can reach him at liamtaipei@gmail.com
Comments will be moderated. Keep comments relevant to the article. Remarks containing abusive and obscene language, personal attacks of any kind or promotion will be removed and the user banned. Final decision will be at the discretion of the Taipei Times.