Misappropriation of Aboriginal art
Australian artists are turning the spotlight on to the widespread sale of unauthentic indigenous art and artifacts as souvenirs, a practice they say is deeply harmful
"We're not making those. Indigenous people, even Australians, we're not making those. Who is making this?" says Yolngu artist Banduk Marika.
Marika, a board member of the Indigenous Art Code, and former board member of the Australia Council, is part of a team of artists, curators, and arts and legal organizations lobbying the federal government to take action on the scourge of fake art and cheap, touristy tack that has no connection and gives no benefit to indigenous Australians.
"The main thing that makes us angry is that when you travel and you go to Darwin and you go to Alice Springs, even Cairns or elsewhere, you come across a tourist shop with everything: Australian koalas, kangaroos, those dolls with the hat and the corks, and Aboriginal ceramics or whatever standing on one leg, and the boomerangs, and all saying how they're authentic designs," says Marika.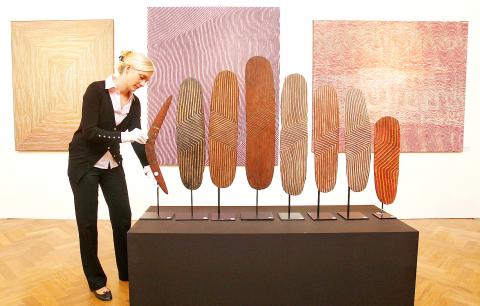 Lala Moebius of Sotheby's places a boomerang next to some Aboriginal shields.
Photo: AFP
"When you know how some things are being made and where, that's what makes you angry. Things are done in commercial numbers overseas just to sell."
Next weekend, dozens of art centers will converge in Darwin for the city's annual Aboriginal Art Fair. Thousands of visitors will walk through the doors to meet artists and learn more about where the art — which they can often find cheaper than in southern galleries — comes from and what it means.
FAKE ART HARMS CULTURE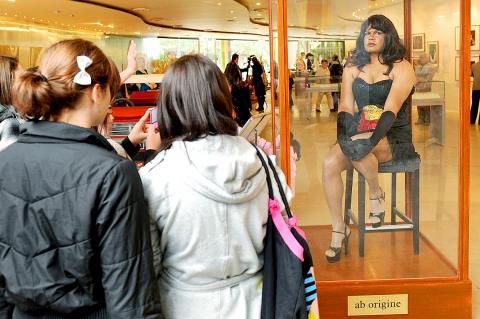 Constantina Bush, an alter-ego of male Aboriginal performer Kamahi King, poses in a museum display case in a project that challenges audiences to reconsider their perceptions of indigenous Australia as an anthropological curiosity.
Photo: AFP
A week earlier, many others made their way to the Garma festival in northeast Arnhem Land — the birthplace of the yidaki, or didgeridoo — for a celebration of art and culture, and an exploration of indigenous affairs.
While these groups might reasonably be expected to have a decent understanding of indigenous art and its origins, millions of other visitors to Australia don't, yet all go through international airports and tourist shops selling yidakis, boomerangs and other "Aboriginal" souvenirs with no legitimate connection to indigenous communities, cultures or stories.
The Fake Art Harms Culture campaign, launched last year, estimates that up to 80 percent of stores that sell apparently indigenous products are selling fakes, many made in and imported from Asian and Pacific countries such as Indonesia and China.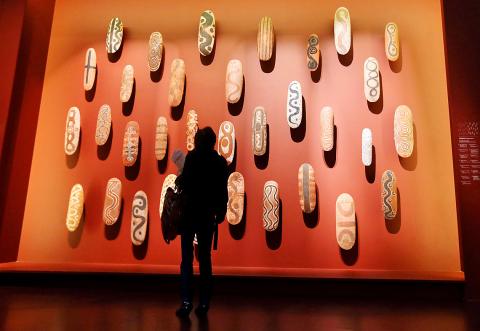 A woman looks at Aboriginal shields displayed at the Quai Branly museum for indigenous art.
Photo: AFP
Researchers say that it is next to impossible to quantify the impact of shops selling fakes instead of ethically sourced products from indigenous artists.
Edwina Circuitt, coordinator of the Buku-Larrnggay Mulka arts center in Yirrkala, says consumers need to be more aware about the authenticity of what they are buying, and the impact their purchase choices make.
Dr. Denise Salvestro, chair of ArtbackNT, says, "There's no reason why they can't be getting it from the communities, from the art centers, and it's almost diminishing the art and its meaning because for the Yolngu their art is their way of telling their stories, passing on knowledge."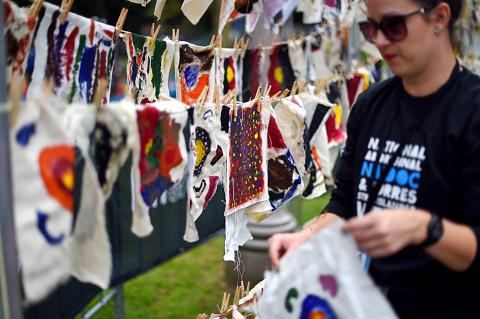 A volunteer hangs traditional Aboriginal art, painted by school children, up to dry at Sydney's Hyde Park during a week-long annual event that celebrates Aboriginal and Torres Strait Islander culture.
Photo: AFP
"It's wrong to paint someone else's story — it's misappropriation and abuse of copyright and intellectual property [theft]."
Salvestro, who has a PhD in Yolngu printmaking, says it is an abuse of indigenous rights and has an impact on culture and economic advancement.
"For a lot of people, especially the people living in the homelands, they're remote and there aren't a lot of opportunities for employment," she says.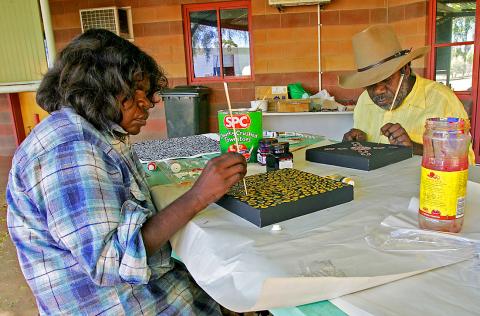 Aboriginal artist Elizabeth Beasley, left and partner and artist Dan Jones paint at the Tangentyere Council for the Artists Center in Alice Springs.
Photo: AFP
"If people aren't buying their artwork they aren't making any income. [The government] is always saying we want to improve the situation in remote communities. Well, you're not helping them much if you're allowing fakes in that take away from these people's source of income and employment."
CULTURE FOR EMPLOYMENT
There are few tourists to Gapuwiyak, a community on Elcho Island, a place renowned for its cultural contributions to wider Australia. Lucy Malirrimurruwuy Wanapuynga, a well-known Wagilak weaving artist, was instrumental in establishing Gapuwiyak's art center, which largely acts to support artists and distribute their products.
She says her community's art is important for keeping the culture strong through generations, but also for employment.
The proceeds from art sales help the economy of the small community where there aren't many jobs — particularly for young people — outside of work-for-the-dole programs.
"We teach to the young people for the future. We talk in Yolngu Matha ... putting your hand to the paint, the weaving, selling something and you get money to buy food for the kids," she says.
"If you can't do anything, if you can't put your hand on this stuff, painting, and you've got children, you're thinking — where are we going to find the tucker?"
Aboriginal and Torres Strait Islander social justice commissioner June Oscar says she doesn't think there is enough of an understanding about the enormity of the responsibility held by indigenous people to maintain, protect and pass on their culture through art — or what that means to them.
"It's a huge issue for artists who are connected to images connected to ceremonies that are connected to songlines, places, and generations that go back hundreds and hundreds and hundreds of decades," she says.
Oscar says the impact of it has to be more widely discussed. While intellectual property and cultural knowledge experts have been working on the issue, "we're not seeing enough of the penalties that come with that misappropriation."
CRIMINAL BEHAVIOR
Peter Yu, who previously sat on the Australia Council and worked for the peak art center body, Ankaa, says that it should be criminal behavior.
"Certainly I think critically what's important is that on-the-ground support for art centers and artists themselves — if they're empowered to be able to monitor and be vigilant about the danger of the misuse of their art," he said.
While breaches of consumer law can attract penalties upwards of a million dollars, the misappropriation of indigenous designs and styles is complicated, not necessarily illegal, and difficult to police in any case.
Following a 2007 inquiry into misconduct in the indigenous art trade which found significant unethical and exploitative treatment of indigenous artists in the industry, the Indigenous Art Code was established — a voluntary commercial code of conduct.
In 2012, the administrators of the Indigenous Art Code reported that there was still "significant unethical and unfair treatment and exploitation of indigenous artists" in the industry, but the federal government decided it would not pursue "alternative regulatory options" and would like the code to continue operating.
A private members bill by independent MP Bob Katter, calling for restrictions on imported "Aboriginal-style" art, with all products sold as indigenous original licensed and labeled, will lapse early next month.
Marika and others are at Canberra this week to discuss the campaign and meet with government representatives. A spokeswoman for the federal communications minister, Mitch Fifield, says the government is committed to ensuring indigenous art and culture is protected, and takes the concerns of Katter and the campaign seriously. She says government agencies have been instructed to meet regularly and coordinate efforts to support authentic indigenous art.
Comments will be moderated. Keep comments relevant to the article. Remarks containing abusive and obscene language, personal attacks of any kind or promotion will be removed and the user banned. Final decision will be at the discretion of the Taipei Times.