The play's the thing
A Lithuanian Hamlet is in town, and despite the clownish costumes, he is not clowning around in Oskaras Korsunovas' meditation on identity, theater, self-analysis and society's 'programming'
It seems fitting that as Taiwan heads into a long weekend to mark Children's Day and Tomb Sweeping Day, a production of Hamlet is being staged at the National Theater in Taipei.
After all, what is Hamlet if not a musing on dead ancestors and the roles of parents and children — like Gertrude and Hamlet, Ophelia and Polonius.
However, the OKT/Vilnius City Theatre show is not your average production of Shakespeare's tortured Dane. For one thing, he is Lithuanian. For another, the leads are all middle-aged.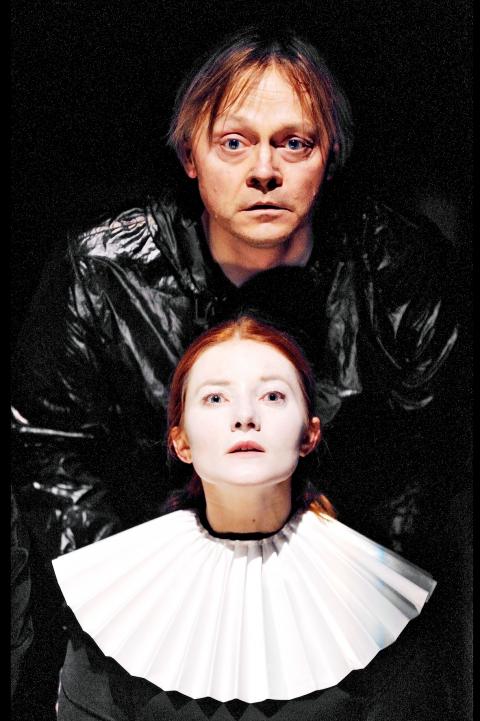 Darius Meskauskas, top, will play the prince in Oskaras Korsunovas' production of Hamlet, with Rasa Samuolyte as Ophelia, at the National Theater in Taipei this weekend.
Photo courtesy of Dmitrij Matvejev
This version, by acclaimed stage director Oskaras Korsunovas and produced by the OKT/Vilnius City Theatre, is in Taiwan as part of the Taiwan International Festival of Arts (TIFA). It has traveled widely since its premiere on Nov. 20, 2008.
Korsunovas, 48, is something of a theatrical wunderkind.
He has directed more than 60 plays since his first at age 21, launched the repertory-based Oskaras Korsunovas Theatre — now known as the OKT/Vilnius City Theatre — with some like-minded colleagues when he was just 29 and became the youngest winner of Europe Theatre Prize for New Realities in 2001 when he was 32.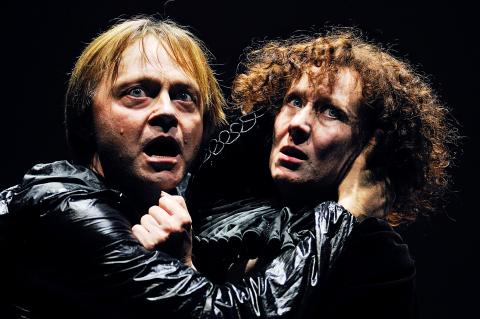 Darius Meskauskas, left, plays the title role in Oskaras Korsunovas' production of Hamlet at the National Theater in Taipei for three performances, beginning tomorrow night, with Nele Savicenko as his mother, Gertrude.
Photo courtesy of Dmitrij Matvejev
He won the prize again five years later, just one of the dozens of awards that he or his works have collected in the past two-and-a-half decades.
TOPICAL MATERIAL
Korsunovas believes that Hamlet "is the most topical play for our times"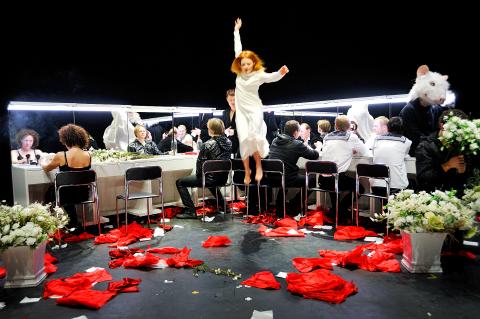 Oskaras Korsunovas's production of Hamlet is at the National Theater in Taipei for three performances as part of the Taiwan International Festival of Arts.
Photo courtesy of Dmitrij Matvejev
"For a director, staging Hamlet is a bit like getting married. It is something you feel you'll have to do, when the time is right. And sooner or later the time will be right," Korsunovas told Swedish art curator and writer Anders Kreuger in an interview posted on the Europe Theater Prize Web site.
"The life of any younger person in the early 21st century is Hamlet-like in a fundamental sense. All answers to what is happening to us now are to be found in our recent past."
He has also been quoted as saying that the only reason he stages Shakespeare's plays "is the opportunity to talk about nowadays, about my personal experience within his plays."
In Korsunovas' production, Hamlet is a play within a play, with Darius Meskauskas, who plays the melancholy prince as the director — although sometimes he is also just an extra, and at others more of a puppet.
The actors are seated at a line of nine mirrored dressing tables as the audience enters the theater. The mirrors play a crucial role throughout the production, as the actors/characters are forced to confront their own reflections and illusions, as well as serving as mobile walls to delineate new scenes.
No surprise that Korsunovas is also credited with the set design, along with Agne Kuzmickaite.
He has tinkered quite a bit with the Bard's script, cutting out huge bits and speeding up the plot, while having one actor play two or more roles, such as Dainius Gavenonis, who plays Claudius and the ghost of Hamlet's father.
The show runs about three hours, with intermission. It will be performed in Lithuanian, with Chinese and English surtitles.
It comes with an advisory that it is not suitable for those under the age of 18 and contains scenes of violence and smoking.
Probably as a result of the long holiday weekend, there are still seats available in all prices ranges for all three shows, a rarity for TIFA productions.
There will be a pre-show talk (in Chinese) in the theater lobby starting 30 minutes before curtain and a post-show talk after Sunday's matinee.
Publication Notes
Performance Notes
What: Hamlet
When: Tomorrow and Saturday at 7:30pm, Sunday at 2:30pm
Where: National Theater (國家戲劇院), 21-1 Zhongshan S Rd, Taipei City (台北市中山南路21-1號)
Admission: NT$500 to NT$3,000; available at NTCH box offices, online at www.artsticket.com.tw and at convenience store ticketing kiosks.
Comments will be moderated. Keep comments relevant to the article. Remarks containing abusive and obscene language, personal attacks of any kind or promotion will be removed and the user banned. Final decision will be at the discretion of the Taipei Times.