Theater review: The LAB Space's 'I, Claudia' provides humor and pathos
Lab Space kicks of this season with an engaging Theater Ignite production of Kristen Thomson's challenging I, Claudia. This one actor tour-de-force will leave you laughing sympathetically for the lost dreams of each character.
Derek Kwan (關顯揚) stars as the one who must pull off four different roles (two male and two female). Each requires a different voice, mood and emotion as all subtly or not so subtly reveal their "shit luck" experiences with life.
The main protagonist is Claudia, an emotional pre-teen who draws most of our sympathy. Her life is on overload as she copes with puberty, her parents' divorce, lack of popularity at school and a failing science project.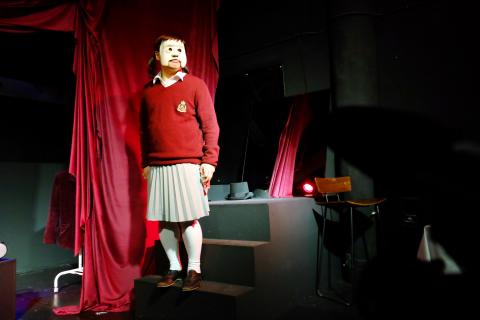 The character Claudia, as played by Derek Kwan, ponders life in a school basement in a scene from The LAB Space's production of I, Claudia, which ends its two-week run on Sunday.
Photo courtesy of JJ Chen
The school custodian, Drachman, allows Claudia to use the basement as a hideaway to sort out her troubles. Before he immigrated to Canada, he dreamed of being an actor, but premature baldness at age twenty-two cut that short. He closes the play with a folk tale of wisdom gained through tears of disappointment.
As Douglas, Claudia's aging grandfather, Kwan has to slow down. Douglas loves Claudia but is lost in his own grief over the recent death of his wife.
And then there is Leslie, the party girl, who after dating several assholes lands David, Claudia's father. She has bounced through life with little heed for the destruction in her wake but she feels her upcoming marriage will be a way to thumb her nose at her relations and show them she got it right in the end.
Separate masks for each character along with simple costume changes allow Kwan to masterfully focus on the required multiple changes of temperament.
Claudia's parents are unseen but like any child who has experienced divorce, she hopes to bring them back together. We delight in her honesty and simple judgment yet feel for her pain.
Publication Notes
Performance Notes
What: I, Claudia Where: The LAB Space (實演場) 3F, 9, Beitou Rd Sec 1, Taipei City (台北市北投路一段9號3樓), tel: 02-2898-5382 When: Tomorrow, Saturday and Sunday at 8pm Admission: NT$650 Available through www.accupas.com On the NET: www.thelabtw.com/go/Claudi
Comments will be moderated. Keep comments relevant to the article. Remarks containing abusive and obscene language, personal attacks of any kind or promotion will be removed and the user banned. Final decision will be at the discretion of the Taipei Times.