Food & Drink: Honing the craft
The craft beer scene in Taipei is booming, with bars and restaurants offering more local brews on tap, as well as atypical food and beer pairing
Gone are the days of chugging Taiwan Beer on the stoop of a 7-Eleven. The craft beer revolution is sweeping Taipei with much of the same fervor as the coffee shop fad in 2010 and the speakeasy craze in 2013.
Brewers and pub owners attribute this in part to the slow food movement, where consumers with disposable income want to know how the ingredients are sourced. Craft beer offers an opportunity for customers to take a step back and appreciate the process that it takes to make a light, hoppy ale or a dark, frothy stout. Also increasingly popular is food and beer pairings — something practically unheard of only two years ago. You won't just be finding finger food in the four establishments listed below. While burgers and wings understandably make their way on to most menus, others offer Taiwanese sausages or luwei (滷味, soy sauce-marinated snack food) — both of which pair surprisingly well with most beers.
CHUOYINSHI (啜飲室)
Ho'dala Craft Brewery on Yongkang Street serves over 60 types of craft beer — many of which are their own brews. Warning: Excessive consumption of alcohol can damage your health.
Photo courtesy of Ho'dala
Chuoyinshi's (啜飲室) main Da-an branch is more co-working space than it is craft beer bar. The brainchild of five entrepreneurs hailing from backgrounds as diverse as finance, apparel and food and beverage, the establishment boasts a vibe that is both intellectual and industrial. The minimalistic design is accentuated by simple wooden tables for patrons to stand at and 20 un-labeled taps behind a wood-paneled bar top.
The Chinese character chuo (啜), which means "to sip," is traditionally used within the context of drinking tea. As craft beer is relatively new to Taiwan, the co-founders wanted to cultivate an atmosphere that was more akin to tea-tasting — a calm and relaxed space that breeds conversation and contemplation. For this reason, the beers are served in small, bulb-shaped glasses so that customers can slowly dissect and relish the flavors as they would with tea.
Chuoyinshi keeps at least one or two local brews on tap every day. A good brew to start with is Taiwan Head Brewers' Jasmine IPA (大暑). The brewers use local ingredients from various teas to flowers. In this case, the jasmine gives it a naturally sweet and refreshing aroma. If you are more of a stout drinker, try the Lakefront Fuel Cafe. The coffee beans used to brew it are clearly evident in the final product, which is a frothy blend of coffee and dark chocolate.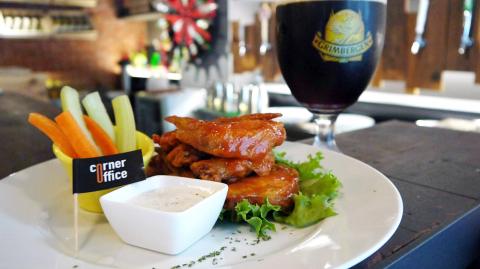 The Corner Office has an extensive menu with food that pairs well with different types of craft beer. Warning: Excessive consumption of alcohol can damage your health.
Photo courtesy of Corner Office
As for food pairings, Chuoyinshi prides itself on not serving American-style bar food. Instead, they offer their own rendition of a Taiwanese luwei. Traditionally known as a roadside delicacy — you choose your meat and vegetables and the vendor throws it into a giant pan and boils it all up — Chuoyinshi's take on it is slightly more refined, offering braised egg, tofu, pigs ears and plenty of other delicacies which patrons can pair with various beers.
Their latest branch, which opened late last year in Xinyi District (信義), is an outdoor standing area with a similar decor — minimalistic-style wooden tables and an industrial, high-ceiling bar. Much of the same beers are served though there is the option of a platter of cold cuts (no pig ears).
Chuoyinshi 啜飲室 — The Tasting Room (Da-an branch)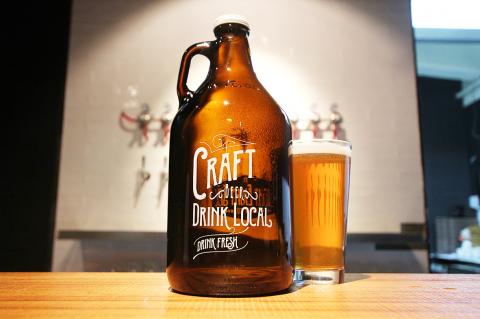 Beer & Cheese hosts "Growler Mondays," when beers are served in a 1.89-liter growler. Warning: Excessive consumption of alcohol can damage your health.
Photo courtesy of Up Against the Wall
Address: 14, Alley 5, Ln 107, Fuxing S Rd Sec 1, Taipei City (台北市復興南路一段107巷5弄14號)
Telephone: (02) 8773-9001
Open: Sundays to Thursdays from 5pm to 11pm, Fridays and Saturdays from 5pm to 12am
Average drink: NT$200 to NT$250 for a glass
On the net: www.facebook.com/chuoyinshi
Chuoyinshi 啜飲室 — Landmark (Xinyi branch)
Address: 68, Zhongxiao E Rd Sec 5, Taipei City (台北市忠孝東路五段68號)
Telephone: (02) 2722-0592
Open: Sundays to Thursdays from 5pm to 11:30pm, Fridays and Saturdays from 5pm to 1am
Average drink: NT$200 to NT$250 for a glass
On the net: www.facebook.com/cyslandmark
HO'DALA
Yongkang Street (永康街), famous for its beef noodle soup and mango shaved ice, has been seeing more coffee shops and tea houses, and lately, neighborhood pubs popping up. If you are looking for something a little more upscale but still laidback, forget the throngs of tourists lining up for shaved ice and try Ho'dala Craft Brewery instead. The interior is compact but cozy, with red brick walls and sacks of malt creating the feel of a microbrewery. Beakers, test tubes and droppers are arranged on top of barrels which are also scattered with grains to create a sense of edgy experimentation.
Ho'dala was opened last summer over the simple idea of introducing local consumers to various types of craft beer from Taiwan and overseas. They believe that options are paramount to the tasting experience, and as such, they stock over 60 craft beers — many of which they brew themselves — that are rotated around their 16 taps. Customers also have the option of ordering a sample flight of four beers.
Heavy hop drinkers will appreciate Ho'dala's Seventy Four IPA for its herbal, fruity flavor. For those with lighter palates, Ho'dala recommends their Thunder God (not to be confused by Moonzen Brewery's Thundergod pale ale), a wheat beer with a slightly sour but delightfully citrus undertone. As for dark beers, try their Smoked Porter made with smoked malt. The scent of cured meat is highly discernible along with a slightly acidic finish.
Patrons will find Ho'dala's pairing menu to be quite useful. For their sour and spicy chicken wings, they suggest a Blonde Ale, Belgium Dubbel or Munich Helles while their beef burgers and churros go well with porters and stouts. Also on the menu are traditional Taiwanese-style sausages which suit any type of craft beer.
Address: 10, Ln 4, Yongkang St, Taipei City (台北市永康街4巷10號)
Telephone: (02) 2395-2366
Open: Sundays to Thursday from 1pm to 12am, Fridays and Saturdays from 1pm to 1am
Average drink: NT$250 to NT$280 for a glass
On the net: www.facebook.com/Hodala-精釀啤酒吧-永康店-727584950684617
CORNER OFFICE
Although technically an American restaurant, Corner Office, which opened in November 2014 near Sun Yat-sen Memorial Hall (國立國父紀念館), boasts an impressive selection of craft beer on tap.
The decor is modern industrial, with large windows, wooden tables and a mixture of gray walls and red brick. Posters of old movies such as Back to the Future, King Kong and The Breakfast Club hang on the walls, while little trinkets with humorous sayings (mostly about drunkenness) keep the atmosphere light. At the back of the restaurant is a "trophy wall" of tap handles and beer bottles collected from around the world. Put simply, Corner Office manages to make American expats feel at home while introducing to local customers authentic American food paired with craft beer.
Nestled in a corporate building, the Corner Office appeals to local office workers due to its large space and considerable natural light. According to the co-owners, the idea was to create a neighborhood restaurant, a place where colleagues can gather after work. Surrounded by mostly old buildings, they envisioned something that was a little more chic but not too high-brow, as they adhere to the belief that beer should not be pretentious.
Food-wise, Corner Office packs a hearty punch with their burgers, wings and lollipop-shaped corn dogs made with American corn bread. "Taco Tuesdays" have also been a hit — try the fish tacos which are done Southern Californian style. They rotate their beers, which includes everything from Mikkeller to local brews such as Redpoint, 23 Brewing and Jim & Dad's. However, they also recognize that not every customer is a "craft head," hence the selection of ciders, Carlsberg and Stella Artois as well. Indecisive drinkers can also play a game of "spin the wheel" at the bar to sample a few beers — and if they're lucky, a couple of shots — before ordering.
Address: 8, Ln 180, Fuxing S Rd, Taipei City (台北市光復南路180巷8號)
Telephone: (02) 2775-3637
Open: Tuesdays to Thursdays from 5pm to 12am, Fridays from 5pm to 2am, Saturdays from 10:30am to 2am, Sundays from 10:30am to midnight (closed on Mondays)
Average drink: NT$180 to NT$290 for a pint
On the net: www.facebook.com/cornerofficetaipei
BEER & CHEESE SOCIAL HOUSE
Beer & Cheese has been a staple of Taipei's craft beer scene since its inception in 2013, serving craft beers from their own brewery (886 Brewing) as well as a number of imported beers such as the Burnside IPA and Permafrost. Their new location between the Xinyi Anhe and Taipei 101 MRT stations may be much bigger, but it is still relaxed and intimate with burgundy booths to accommodate more couples and groups. Another addition is a pool table and a stand-up video game area.
The co-founders say that the second floor will be used for private events such as birthdays or business meetings, while keeping the first floor cozy, comfortable and more of a place to spend an evening with friends, rather than a gathering spot for a couple of drinks before a night on the town.
Foodies will be pleased to know that a new food menu will debut next month and it will expand beyond the classic cheese-tasting board. Look out for the mac 'n' cheese, pulled pork sandwich, meatball sub and buffalo chicken sandwich.
Beer & Cheese recommends the pretzel with IPA cheese dip to be paired with 886 Brewing's Hopped Up Pilsner (it's super dry and hoppy). Another recommendation is 886 Brewing's new Fireside Ale, which comes in an oversized smoked snifter glass served with a side of smoked salami, Gouda cheese and pickle garnish. This complements their new pulled pork sandwich, the smokiness from the beer accenting the rich BBQ sauce.
Stop by for growler hour on Mondays where beer is served in a 1.89-liter growler or for "Big Beer Tuesdays." If that's not enough, Fireside Ales and beer cocktails are served in 1-liter beakers for "Evil Thirstdays."
Address: 117, Keelung Rd Sec 2, Taipei City (台北市基隆路2段117號)
Telephone: (02) 2737-1983
Open: Sundays to Thursdays from 5pm to 1am, Fridays and Saturdays from 5pm to 3am
Average drink: NT$150 to NT$240 for a glass, $NT240 to $NT350 for a pint
On the net: www.facebook.com/beerandcheese
Comments will be moderated. Keep comments relevant to the article. Remarks containing abusive and obscene language, personal attacks of any kind or promotion will be removed and the user banned. Final decision will be at the discretion of the Taipei Times.