Live Wire: A brief history of (Taiwanese) punk
There are artists who reflect the time they live in, and those that change the time they live in. There are those who want the notoriety of Zeus, and those who simply want the ability to throw bolts of lightning.
Punk musicians stand somewhere in the middle. They simultaneously reflect and change. They gain both notoriety and ability, not necessarily in that order. Around the seemingly unlikeliest of places they sew the seeds of dime store anarchy and adolescent malcontent into the soundtrack to Armageddon.
In Taiwan, the punk scene is not yet 30 years old, going back to the founding of LTK Commune (濁水溪公社). LTK was one of Taiwan's first bands to incorporate elements of punk rock into their sound, melding it with the working class folk of the nakasi style at the tail end of the 1980s, just after martial law was lifted.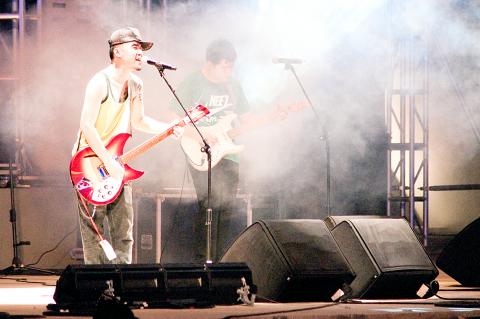 LTK Commune is widely credited as being Taiwan's first band to include elements of punk rock.
Photo courtesy of Saiday
The punks that have come along since have gone in one of two directions. Some have followed the politically-conscious opposition path laid down by the fathers of Taiwanese punk, Tsai Hai-en (蔡海恩) and Ke Jen-chien (柯仁堅), the guitarists and co-vocalists for LTK.
Others have gone the other way entirely, joining the largely apolitical Taiwan Happy Punk brigade, aping the pop hooks and musical aesthetics of the likes of Blink-182 and Green Day. In other words, the traditional lifestyle and politics of punk — those of the outsiders, the agitators — haven't always gone hand in hand here.
But there are those who have continued to carry the anarcho torch. Members of The Deposers (罷黜者) were some of the first to occupy the Legislative Yuan in the early moments of the Sunflower movement. Selfish Sucker (自私的混蛋) have kept up the street punk ethos almost single-handed since 2006, infamously snapping a promo pic with their singer perched triumphantly atop a Taipei City black and tan.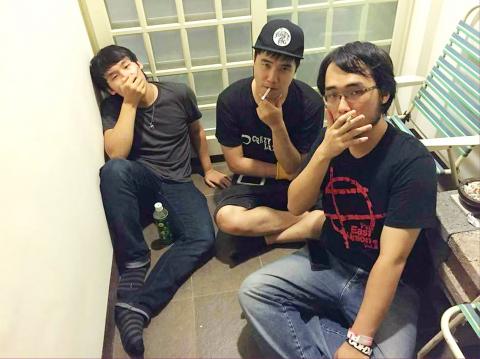 Today, Taiwan's newest generation of punk bands, including Taoyuan's Noise Book, continues to carry the punk rock torch.
Photo courtesy of Noise Book
The punk scene in Taiwan has always waxed and waned. In recent years there has never been more than a handful of active bands, none more so than 88 Balaz (八 十 八顆芭樂籽), which celebrates 20 years of punk, blues and rock this year. B.B. Bomb, notable not only for its music but for the fact that at one time it was comprised entirely of female musicians (rare now as it was then), is fast closing in on the 15-year mark.
Most punk bands in Taiwan gig sporadically, though, and eventually fade away into full or semi-obscurity for any number of reasons — from military service to band members simply leaving the punk phase of their lives behind. Former mainstays Children Sucker (表兒) dropped off the map in the fall of 2013. Semi-Con, members of the original Taiwan punk gang, the Feirenbang or Useless Motherfuckers (廢人幫), based out of Taichung and led by Anarchy's (無政府) Allen Liu (劉培倫), haven't been heard from in a good long while.
The Feirenbang was once Taiwan's largest punk collective with about a dozen bands under its banner at its high point. But it has largely disbanded as its original members have moved on to pursue other musical ventures, just plain moved, or both. Liu, for his part, now gigs as DJ @llenblow in the dub/reggae ensemble Taimaica Soundsystem (台買加環繞音效) in Taipei.
The most successful of the ex-pat punk bands have also packed it in. The Deported had a good run (until some of the members actually got deported). Consider the Meek considered their options and decided they were better elsewhere. Selling Us Everything sold everything and went home.
What those bands all had up until the summer of 2013, local and ex-pat alike, was a focal point. They had Underworld (地下社會), the Shida basement dive that for 17 years was Taiwan's answer to New York's CBGB.
Then the Shidahood Self-Help Organization (師大三里里民自救會) got a stick up its collective ass regarding Underworld and the surrounding night market. Thus began a campaign of harassment and political lobbying that eventually saw the venue shuttered for good and the park scene — a place where artists held tin can salons, bands, punk and otherwise, were formed, friendships were made and severed, relationships began and ended — was irrevocably tamed.
So what does a scene do when the Shidahood Self-Help Organizations of the world brashly defy the sacristy of their basement hovels and scream at them to leave? The scene heads out from the interior into the hinterland of the suburbs. They make tracks for Holy Land (聖地搖滾工作室) in Hsinchuang. They seek out alternative venues, as a group of punks, metal heads and other denizens of the alternative music community did last weekend, staging a show under a bridge in Taipei's Guting Riverside Park. They resist and survive.
Today there are those up and coming bands who are taking up punk's call. There's Noise Book, from Taoyuan, heavily influenced by the So-Cal skate punk scene. There's Accomplices (共犯結構), following squarely in Selfish Sucker's crusty, UK82 footsteps but adding their own melodic touches. Human Brutality (人類暴行) still heads up the hardcore contingent from Hsinchu and Taipei just as it has for the past nine years.
In short, punk's not dead in Taiwan. It's still here, seething beneath the surface. Reflecting and changing, throwing bolts and occasionally catching lightning in a bottle. Amusing, entertaining, and most crucially offending the delicate sensibilities of the establishment.
The political winds in Taiwan have recently changed direction yet again. And so begins another chapter in the Taiwan punk movement.
■ Noise Book plays tonight at Revolver, 1-2 Roosevelt Road, Sec 1, Taipei City (台北市羅斯福路一段1-2號). Sharing the bill are fellow punk bands Messyroom (梅西的房間) and SORA. Tickets are NT$300 at the door with a drink, and the first band hits the stage at 9pm.
Comments will be moderated. Keep comments relevant to the article. Remarks containing abusive and obscene language, personal attacks of any kind or promotion will be removed and the user banned. Final decision will be at the discretion of the Taipei Times.