Book review: The rise of the Asian online fashionista
Minh-Ha Pham's study provides scholarly insight into the world of Asian personal-style 'super bloggers,' but may be reading a bit too much between the racial lines
This is a book about a Filipino who calls himself "Planet Earth's favorite third-world fag" and a Chinese-American who hides her face in her photos because she thinks her eyes are ugly. Both have had their "signature" poses replicated by celebrities in advertisements for some of the world's fashion icons such as Marc Jacobs. Both have massive followings for, well, wearing clothes on the Internet. They are among an elite group of Asian personal-style "super bloggers," as Minh-Ha Pham calls them, in this study of race and gender in the world of online fashion blogging.
Pham says that Asians, especially females, occupy two extremes of the clothing industry: the numerous garment factory workers around the world often performing repetitive tasks under what we don't like to call sweatshop conditions, and the bloggers such as Susanna Lau (Susie Bubble), Aimee Song and Bryan Yambao (BryanBoy).
Pham's book, which takes a scholarly approach to phenomena we run across everyday on the Internet such as mirror selfies and fashion blogger poses, argues that, on the surface, the rise of Asian bloggers heralds a "racial democratization" of the fashion world and signifies that people of any background can have a piece of the (still) Caucasian-dominated industry. However, she says it's an illusion that obfuscates persisting racial stereotypes existing since Asians started moving to the West.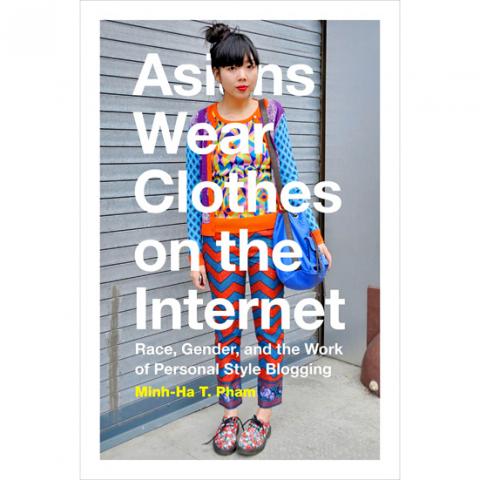 Asians Wear Clotes on the Internet: Race, Gender and the Work of Personal Style Blogging, by Minh-ha T Pham
What these bloggers are doing may be simple (hence the ultra-straightforward book title) but as the subtitle suggests, there is much to discuss and think about along racial, social and financial lines. Just as how the photos these bloggers produce of themselves completely conceal all the work that goes into making being fashionable seem "effortless," Pham writes that when race is "embedded in digital technology and practices," sometimes it becomes invisible to human perception.
The book starts from the global social, technological and financial conditions that led to this phenomenon, to how bloggers write, pose, assume certain gender and racial roles all while providing a look into the sociological mechanisms of the "participatory culture" of the Internet. The language, since it's an academic work, can be dense and repetitive at times as Pham tries to reinforce her points — which could be conveyed in much shorter length — but overall it's not a difficult book to understand.
Pham sees the Asian blogger phenomenon as one of many paradoxes. As much as it is an opportunity for Asians, she still finds parallels between the blogger and the garment worker, which loosely becomes the central theme of the book.
Is this phenomenon actually empowering Asians and giving them unprecedented opportunities, or are they still being exploited by the system under the guise of multiculturalism? Pham doesn't have all the answers, but she provides a pretty thorough analysis, as far as explaining why Asians have been successful in the field so far.
It's worth noting that despite their success, it's just a tiny add-on to the fashion industry as a whole, which is still Caucasian-dominated. Pham writes that while these Asians are able to use their racial differences (and even stereotypes) to their advantage amid the increasing global popularity of Asian culture and emerging Asian luxury markets, they still have to play by the rules.
One of the more intriguing points of the book is the degree of "differentness" that a minority can display without making the majority feel uncomfortable or threatened. While these bloggers look Asian and express certain traits that are perceived as Asian such as "cuteness," they are fluent in English, attuned to Western culture and are relatable enough that the majority would follow and even mimic them.
While the hows are explained well, some of the racial explanations for certain behavior feel like borderline over-analysis, especially when you're writing about a very select group of individuals. While most of Pham's arguments make sense on a logical level, at times it left me wondering if I am really that oblivious to certain racial injustices carried out by the majority or whether Pham is simply reading too much between the lines.
For example, she attributes certain phenomena to the bloggers being Asian — such as how they conceal the work that goes into making a blog post to counter the sweatshop stereotype — but really, this type of action is universal in the blogosphere regardless of race, as people in today's instant-gratification Web culture probably wouldn't want to see photos of them shopping or editing their photos. They just want the end product.
There are a few mainstream articles Pham sees as singling out Asian bloggers as tacky, unethical and trying too hard, but as she mentions throughout the book, the original and most prominent fashion bloggers are Asian, so they could naturally make for an easy target. If there were any counterexamples of Caucasian bloggers and media coverage of them, the argument would be stronger, but unfortunately the book barely mentions any, which is another glaring problem.
Comments will be moderated. Keep comments relevant to the article. Remarks containing abusive and obscene language, personal attacks of any kind or promotion will be removed and the user banned. Final decision will be at the discretion of the Taipei Times.