Art exhibition listings
Nature is Huang Kai-hsing's (黃楷馨) muse, particularly the subtle elements such as the curvature of a water droplet resting on a leaf, or the pattern that a flower petal makes when a gust of wind lifts it up in the air. It's not so much that Huang doesn't care about the bigger picture; it's more the case that she believes in relishing what we have at the present moment. Her paintings have a pastoral aura and they appeal to senses other than sight — it's almost as if we can hear the leaves ruffling in the breeze or taste the gushing stream. Thoughtful and lyrical, Huang's work has a feeling of being freshly minted and timeless at the same time. A collection of her work can be viewed at Taipei's In River Gallery in an exhibition entitled Between Grasp and Release (雲渡風行).
■ In River Gallery (穎川畫廊), 2F, 45, Renai Rd Sec 1, Taipei City (台北市仁愛路一段45號2樓), tel: (02) 2357-9900. Open Tuesdays to Sundays from 1pm to 8pm
■ Until Nov. 25
Zheng Lu, Shiosai (2015).
Photo courtesy of MOCA Taipei
Light and sound seem to be popular choices these days for artists who eschew traditional mediums. Bluerider Art's latest exhibition, Daydream, features light and sound installations by Nonotak Studio, which is a collaboration between illustrator Noemi Schipfer and architect-musician Takami Nakamoto. The duo creates an alternative universe with their hypnotizing videos which fill the entire gallery. Three-dimensional spirals, zigzags and squares twist, turn and jiggle in a neon-lit room as a sound system blasts futuristic beats. The idea is to transport us to a disoriented, dream-like state where we feel like we're hallucinating and thinking happy thoughts. It's cool, high-tech stuff, but what's the difference than going to a night club?
■ Bluerider Art (藍騎士藝術空間), 9F, 25-1, Renai Rd Sec 4, Taipei City (台北市仁愛路四段25-1號9樓), tel: (02) 2752-2238. Open Tuesdays to Saturdays from 9am to 6pm
■ Until Dec. 26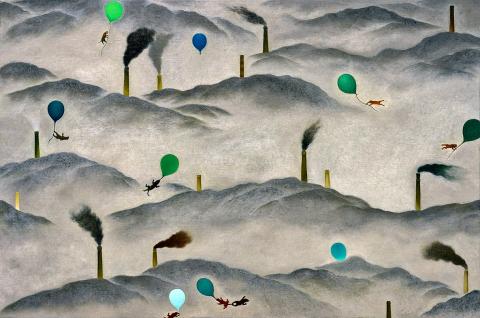 Su Wong-shen, Among the Mountains (2010).
Photo courtesy of Taipei Fine Arts Museum
Lu Zheng-yuan (盧征遠), who hails from China's Liaoning Province, is one of those artists who rebels against having a definitive style. While some of his paintings are realistic (a vase filled with flowers), others are wholly abstract (colorful paint splashed across a blank canvas). But even his realistic paintings are a little puzzling. Although Lu depicts everyday objects, there is always something in the frame that's out of place — for instance, a wine glass sitting in the middle of a pile of fruit. He does this to distort the viewer's idea of what to expect, very much like how an author might toy with linearity in narrative. Lu's paintings — and some of his sculptures — are currently on display at Taipei's Museum of Contemporary Art in the aptly named exhibition Oxymoron (替身).
Calligrapher-turned-sculptor Zheng Lu (鄭路), born and bred in Inner Mongolia, also has a riveting exhibition at MOCA. Zheng was trained in traditional Chinese calligraphy as a child, and it wasn't until graduate school that he started experimenting with three-dimensional forms. The exhibition is named Shiosai (潮騷) after a romance novel about a young fisherman and the daughter of a fishing boat owner written by Japanese author Yukio Mishima. The novel served as inspiration for Zheng's stainless steel sculptures which challenge preconceived notions of sculptures being solid. Although Zheng uses sturdy material, his sculptures — all of which allude to water — have a gentle and flowing feel. For instance, waves are suspended in mid-air and droplets look like they might trickle down onto the viewer. An appropriate exhibition for anyone who loves the ocean or anyone who loves optical illusions.
■ Museum of Contemporary Art, Taipei (台北當代藝術館, MOCA), 39 Changan W Rd, Taipei City (台北市長安西路39號), tel: (02) 2552-3720. Open Tuesdays to Sundays from 10am to 6pm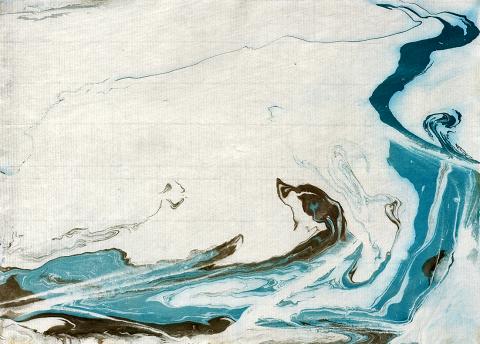 Huang Kai-hsing, 201207 hb9 (2012).
Photo courtesy of In River Gallery
■ Both exhibitions run until Jan. 3 and admission is NT$50
Animals evoke in us a wide range of emotions. While some are fuzzy and adorable, others can be repulsive or threatening. Su Wong-shen (蘇旺伸) takes a different approach in his paintings of animals. From afar, his paintings appear to resemble wallpaper with farm animal motifs — in other words, something that you would hang on the walls of your child's bedroom — but upon closer examination, it's evident that the cute animals are actually caught in bizarre situations such as being flung from a moving ferris wheel or holding onto balloons circling around smoke stacks. Moved by the dire situation of stray animals in Taiwan, Su initially set out to incorporate their plight in his artwork. Since then, animals have been his muse. His latest exhibition, Animal Farm: The Paintings of Su Wong-shen (動物莊園:蘇旺伸四十年繪畫展), is held at the Taipei Fine Arts Museum and features a vast collection of his paintings spanning a period of four decades. The title might be an allusion to George Owell's 1945 novel, but there are some differences. While the animals in Owell's novel were the perpetrators, the ones in Su's paintings are victims of abuse at the hands of human beings.
■ Taipei Fine Arts Museum (台北市立美術館 TFAM), 181, Zhongshan N Rd Sec 3, Taipei (台北市中山北路三段181號), tel: (02) 2595-7656. Open Tuesdays to Sundays from 9:30am to 5:30pm and until 8:30pm on Saturdays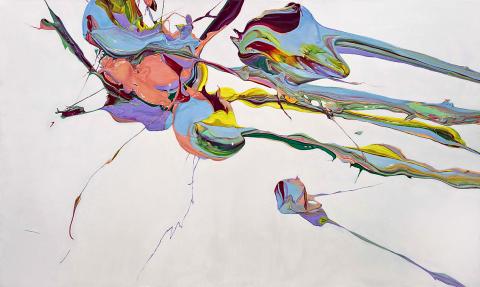 Lu Zheng-yuan, Untitled Series-2 (2015).
Photo courtesy of MOCA Taipei
■ Until Feb. 14
Comments will be moderated. Keep comments relevant to the article. Remarks containing abusive and obscene language, personal attacks of any kind or promotion will be removed and the user banned. Final decision will be at the discretion of the Taipei Times.