Fighting for right to be anti-party
Wuer Kaixi preached democracy to the communists in Tiananmen Square and he's still a believer
Just in case you thought Wuer Kaixi (吾爾開希) was going soft in his middling age, he insists that he would fight tooth and claw for Taiwan independence.
"If there was an invasion of the PRC [People's Republic of China] and given the chance, I would not hesitate to pick a gunfight with the PLA [People's Liberation Army]," Wuer Kaixi says.
Settled in Taiwan with family and campaigning for a seat in the legislature, the 1989 Tiananmen Square protest student leader and Uighur democracy activist seems right at home in his role of being the unrepentant democrat.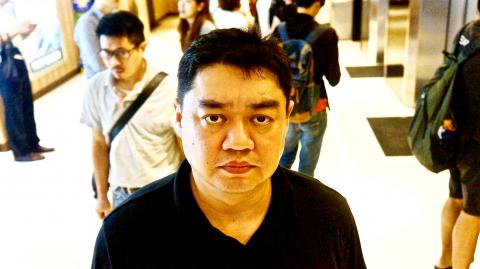 Wuer Kaixi, a 1989 Tiananmen Square protest student leader, Uighur democracy and legislative candidate in Taiwan, is pictured last month.
Photo: Jules Quartly
Obviously, a lot of water has flowed under the bridge since 1989 when Wuer Kaixi, in hospital pajamas, dressed down the former Chinese premier Li Peng (李鵬) on national TV because he arrived late for an interview. Not long after, Li's bosses sent in the tanks and soldiers. The rest is history.
Wuer Kaixi escaped China, studied at Harvard, and thereafter led a peripatetic existence exploring the US, Europe and Asia as an academic, financial consultant and political commentator. He is now an aspiring politician — which is probably what he always was.
So, I ask the 47-year-old: "Do you find it ironic that having fought for democracy you are now forced to enjoy it?" The question is a smidgen brutal, since it refers to the fact that he has on at least four occasions tried to return to China and visit his elderly and infirm parents. Beijing refused, and did not even feel the need to put him in prison, or give him US$200 for passing go. Which must be galling. As well as painful.
"Interesting, ironic, I don't know," Wuer Kaixi responds. It's a Sunday morning, the final question of an hour's talk and he is in reflective mode.
"None can argue I haven't had an interesting life. Democracy is the centerpiece of this interesting life and now I can enjoy democracy, by really practicing it, living it, getting a better understanding of it. There's no contradiction, but it is interesting," he says.
I remind him that he once told the New York Times that democracy in Taiwan "has exceeded the standard of Western democracies," by emphasizing collectivism, as opposed to individualism and libertarianism. It is an approach that has been (rather unfortunately to my mind) tagged as "Communitarianism," but is actually more Eastern/Confucian in style, in Wuer Kaixi's definition.
According to his interpretation of events, Western democracy made "astonishing achievements" in the early 20th century, while China tried to embrace liberalism.
"Taiwan was interrupted by wars but afterward was in a unique position to embrace collectivism and individualism," he says. "It's easy to think that they're not compatible but actually it's about the dignity of the individual, which is the same for the family, village and community …"
Asked about Naomi Klein's critique of Western-style democracy and neoliberal economics in The Shock Doctrine, including the idea that Chinese leaders used the massacre to usher in economic reforms, Wuer Kaixi says: "From a Western democracy point of view it's all about the money and the thought is, 'Why do you want power, if it's not to make money?' This is a very Western concept. In the East, power itself is an attractive proposition."
It's understandable, I guess, for Wuer Kaixi to be anti-communist, so I ask him if he thinks the CCP is evil, even if it appears to have been behind China's impressively rapid economic and social gains over the past 30 years or so.
"It's the oversimplification of a complicated question, but ultimately, yes, it's evil. It's not the party members, so much as the establishment itself. I would disagree that the world has fundamentally changed since 1949. There is still the communist world and the democratic world across the Taiwan Strait. We can do much better without them," he says.
He adds that all the CCP has done over the past 30 years is to lessen control to improve economic development. "But, in fact, in this regard, the less Communist party the better."
In Taiwan, the Chinese Nationalist Party (KMT) is Wuer Kaixi's monster in the headlights, which is at least one of the reasons why he is contesting a legislative seat for Taichung, with a purported agreement to support the Democratic Progressive Party (DPP) candidate if he fails to make gains.
"The KMT is a monster because it shouldn't have to win elections with 'black gold.' At a very local level of the regime the voting structure is corrupted and this has been going on for 67 years. They offer stability in exchange for votes. That kind of structure is sickening and this is the reason why Taiwan's political polarization is distorted," he says.
I wonder if Wuer Kaixi means the KMT should be dissolved or expelled to China.
"We are in a democracy so there are limited options. It's not about eliminating other parties, the only way and the right way is to take away party assets," he says.
He says democracy is also important to prevent the DPP becoming a monster; characterizes former KMT chairman Lien Chan (連戰) as having water on the brain because he wants to be Chinese; and adds, for good measure, "[former president] Lee Teng-hui (李登輝) thinks he's Japanese."
Taiwan identity is a tricky question for Wuer Kaixi. He is after all Chinese, or rather Uighur. And Taiwanese. But not American, though certainly a man of the world. He claims it is a "false question, and people who raise the term have fixed-mind doctrine."
"It may mean something in an election. Maybe I'm the only one who my opponent can legitimately claim is Chinese rather than Taiwanese," he cheerfully admits.
He continues by saying Taiwan is a young country and cites its history over the past 60 years or so.
"Reconciliation, understanding and growth, and collective memory" should be the determinants of national identity," he says.
This belatedly brings us to the big issue for Wuer Kaixi at this moment in time, which is his modest proposal. In "It's Time for Taiwan to Take the Initiative" he argues that Taiwan's diplomatic space has been steadily eroded by China since the 1970s. In response, Taiwan should belatedly recognize the PRC, thereby breaking the "one China" deadlock.
"How can China refuse to recognize recognition?" he says with a rhetorical flourish, adding the US would have a "crucial" supporting role.
Though he believes Taiwan's people have lost their voice and the "so-called independence movement" is really a protest against the KMT, Wuer Kaixi claims most Taiwanese do want independence, particularly the younger generation.
"Taiwan is a democracy so we have the right to hold a referendum on a constitution and territory. Ultimately it all comes down to the will of the people."
You can be sure Wuer Kaixi will fight for the right to be anti-Communist party.
Comments will be moderated. Keep comments relevant to the article. Remarks containing abusive and obscene language, personal attacks of any kind or promotion will be removed and the user banned. Final decision will be at the discretion of the Taipei Times.