The opposition party that never happened
This week's column looks at ex-KMT official and pro-democracy magazine publisher Lei Chen's attempt to establish the China Democracy Party during the Martial Law era
Taiwan in Time: Oct. 5 to Oct. 11
In March of 1960, former president Chiang Kai-shek (蔣介石) was nearing the end of his second term, the maximum allowed under the Republic of China (ROC) constitution. In order to allow Chiang to run again, the now defunct National Assembly on March 11 amended the Temporary Provisions Effective During the Period of Communist Rebellion (動員戡亂時期臨時條款) with a provision that froze the term limit.
Back then, there were no public elections and National Assembly members were the only voters. Chiang ran unopposed that year and was subsequently elected to fourth and fifth terms before he died in 1975.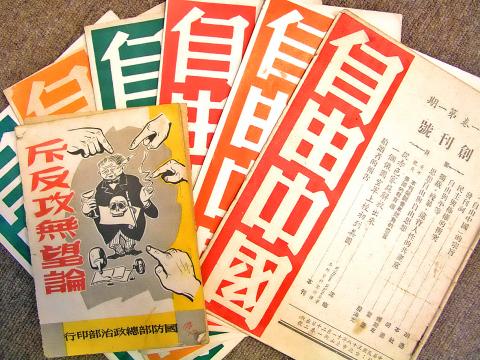 Issues of Free China are pictured in this undated photograph. The magazine was shut down by the Chinese Nationalist Party in 1954 when its publisher, Lei Chen, was charged with sedition after calling for the formation of opposition parties.
Photo: Chang Jui-chen, Taipei Times
About a month before the term limit was frozen, Free China (自由中國) magazine published on Feb. 1 an article "sincerely advising" Chiang not to run for a third term.
The magazine was founded by a group of intellectuals in 1949 in China as a pro-democracy, anti-communist publication under Chiang's support. After the organizers retreated to Taiwan with the KMT, the magazine gradually turned from bashing communists to criticizing the lack of democracy and freedom in Martial Law era Taiwan, especially with its call for opposition parties in a time of one-party rule.
Free China's co-founder and publisher Lei Chen (雷震) was a former high-ranking KMT official. He was expelled from the party in 1954 for running a reader-contributed editorial that criticized political interference in the education system.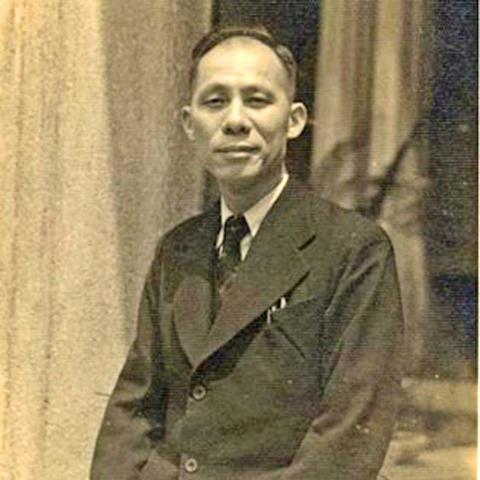 A portrait of Taiwan democracy activist Lei Chen, who attempted to form an opposition party during martial law.
Photo courtesy of Academia Historica
On March 1, Lei penned an editorial advising the National Assembly not to amend the constitution, but they did so anyway.
That May, Free China published a commentary stressing the need for a "strong opposition party." A few weeks later, Lei and other non-KMT reformers — notable for featuring an alliance between mainlanders and ethnic Taiwanese — met to form a new party: the China Democracy Party (中國民主黨).
On Sept. 1, Free China published an article comparing the formation of opposition parties to the Yangtze River flowing east — something that cannot be stopped. That seemed to be the last straw for the KMT, as on Sept. 4, Lei and three others were arrested and charged with sedition — though the government claimed that the arrests weren't related to opposition activities, instead accusing him of spreading communist propaganda and harboring communists. When a KMT politician spoke out against the verdict, his party membership was suspended for one year.
On Oct. 8, Chiang issued an order that Lei's sentence should not be less than 10 years, and that no appeal should be allowed. Several hours later, Lei was sentenced to exactly 10 years in prison by a military court. Free China was shut down, and Lei's collaborators attempted to push forward with the new party to no avail. Taiwan wouldn't see the successful establishment of an opposition party until the 1980s.
Upon his release in 1970, Lei immediately resumed his previous mission, presenting 10 political and military reforms to the presidential office and Executive Yuan, including renaming the country the Democratic Republic of Chinese Taiwan (中華台灣民主國). He reportedly received no response. He died in 1979.
DOUBLE TEN?
Obviously, this week in history cannot be mentioned without Double Ten National Day, which, like last week's Teachers' Day and August's Father's Day, is another carryover from when the KMT ruled China and doesn't actually pertain to Taiwan itself.
On Oct. 10, 1911, Chinese rebels started the Wuchang Uprising, which marked the beginning of the Xinhai Revolution that eventually toppled the Qing Dynasty, ending more than 2,000 years of imperial rule in China.
Even though the Republic of China was officially established on Jan. 1, 1912, later that year, the provisional government designated the anniversary of the uprising as its National Day.
Taiwan celebrated its first Double Ten in 1945 after China, then ruled by the KMT, took over following Japanese surrender. As a result of the KMT losing control of China in 1949, Double Ten became only celebrated as National Day in Taiwan.
Taiwan in Time, a column about Taiwan's history that is published every Sunday, spotlights important or interesting events around the nation that have anniversaries this week.
Comments will be moderated. Keep comments relevant to the article. Remarks containing abusive and obscene language, personal attacks of any kind or promotion will be removed and the user banned. Final decision will be at the discretion of the Taipei Times.