Smart suitcases for the connected age
Bluetooth-enabled locks, GPS tracking and USB ports are among the latest additions to your luggage
It wasn't long ago that the main selling point of a piece of luggage was its durability — think American Tourister and its rather excitable gorilla.
Not for Kevin Harwood.
Like many travelers today, he is looking for technology to go along with durability. He stumbled across a carry-on bag controlled by smartphone — with a Bluetooth-enabled lock, GPS tracking and a USB port for recharging a device. It has a built-in scale, too.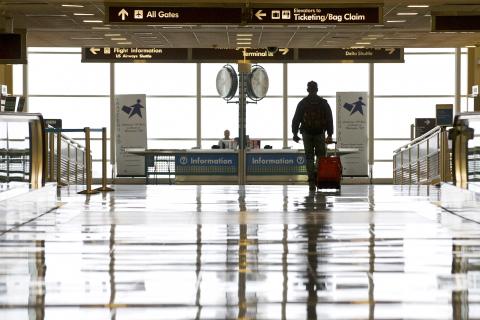 A traveler walks with his luggage through Ronald Reagan Washington National Airport earlier this month. Several startups are developing smart luggage that will make it more convenient for travel.
Photo: EPA
"I'm a little bit of a geek, always looking for products that extend from my phone, that connect my world and me," said Harwood, a 30-year-old software developer from Austin, Texas.
Why should luggage be any different?
At the crowdfunding site Indiegogo he was among the first to buy into a startup called Bluesmart that is developing a connected bag. Harwood has plenty of company. Bluesmart raised more than US$2 million from more than 10,000 backers, far surpassing its goal.
Bluesmart, which expects to deliver its first bags in October, is part of what has become a stampede of businesses — both startup and established — into the nascent connected luggage industry.
Samsonite just introduced a new line of GeoTrakR suitcases, containing a cellular-enabled baggage-tracking system from LugLoc, at the Travel Goods Association trade show in Las Vegas. Andiamo will introduce a new carry-on with a Wi-Fi hotspot, battery charger and other features.
Delsey has been soliciting feedback since late last year for its Pluggage line of smart suitcases.
Even telecom companies are interested. AT&T is researching development of a smart bag, described in a YouTube video posted last summer, that tracks a bag from airport to airport. Rimowa, a German luggage manufacturer, is jointly developing a smart suitcase line called Bag2Go with Airbus and Deutsche Telekom. The new bags, expected to be available next year, will interact with sensors in the cargo holds of Airbus aircraft to identify their location.
"Adding electronic capability and communications to baggage makes a lot of sense," said Frank Gillett, an analyst at Forrester Research. "What you're seeing is the first round of innovation that will take time to evolve. The goal is to improve the travel experience."
Hanif Perry, a 32-year-old New York-based marketing consultant who also participated in Bluesmart's Indiegogo campaign, said he liked its bag's laptop pocket. The carry-on, he said, "is more purposefully designed for the younger traveler who carries all devices."
Bluesmart is not the only luggage venture raising money through crowdfunding. Trunkster collected US$1.4 million from 3,500 investors through Kickstarter, easily surpassing its goal. Jesse Potash, a co-founder, said it would release a carry-on and a suitcase in late summer.
Trunkster's bags will have a tracking system, a scale and a battery with two USB chargers, Potash said, as well as a roll-top entry providing quick access.
The push for the connected bag solves one of the most vexing problems for travelers — lost luggage.
"The last thing that you want to have happen is an unwelcome surprise of a suitcase disappearing," said Henry Harteveldt, travel analyst for Atmosphere Research Group. "This is peace-of-mind technology."
Travelers who want to track their bags but not replace luggage they already own, or who are concerned about a suitcase's embedded tracking system possibly malfunctioning, have another option: free-standing devices.
Beside LugLoc — which uses Bluetooth and GSM technology and costs $70, plus additional search fees — there is Trakdot, whose GSM device texts and emails users the location of their checked suitcase when their plane lands and costs $50, plus an annual service fee of $20.
Franck Dubarry, founder of Lev Technology, said his company would introduce a Smart Unit device this summer that will tell users where their bags are after flights. It will cost $99, plus activation and other fees.
To comply with regulations governing personal electronic devices, the tracking systems are generally designed to automatically shut down once they are stored and to automatically turn back on once a plane lands.
Experts say this new smart baggage represents just the first wave of this equipment.
"Products that make travel easier and better for customers quickly spread throughout the market," said Michele Marini Pittenger, president of the Travel Goods Association. "To use recent examples, we've seen lightweight bags, expandable cases and four-wheeled luggage rapidly become the new normal," she said.
And what about that American Tourister commercial with the gorilla (actually, a man in a gorilla suit)? Those commercials lasted 15 years, ending in 1985 — quite durable, as ad campaigns go.
Comments will be moderated. Keep comments relevant to the article. Remarks containing abusive and obscene language, personal attacks of any kind or promotion will be removed and the user banned. Final decision will be at the discretion of the Taipei Times.