Taiwan's Cafe Philo debuts in New York
The Big Apple experiences a bite of Taiwanese politics with the expansion of Cafe Philo @NY, based on the Friday night salons which started in Taipei in 2010
St. Marks Place in lower Manhattan is infamous for being the stomping grounds of hardcore hipster bar-hoppers and shisha smokers. But a different kind of concoction was brewing nearby on the first Friday night of last month at 440 Studios on Lafayette Street.
A few dozen attendees, mostly Taiwanese and Taiwanese-Americans, were settling into the studio for the first ever English-language forum organized by Cafe Philo @NY (哲學星期五 @NY). Modeled after 19th-century Parisian salons, the civic forum started in August 2010 at Taipei's Cafe Philo (慕哲咖啡) on Shaoxing North Street (紹興北街). Since then, Cafe Philo @Taiwan has provided a space to debate topics from philosophy to social issues for those seeking an alternative high on Friday nights.
GLOBAL EXPANSION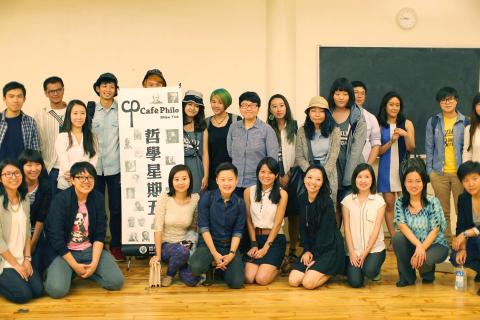 Organizers and attendees at the inaugural Chinese-language forum of Cafe Philo @NY on Aug. 15.
Photo Courtesy of Cafe Philo @NY
On its fourth anniversary and in the wake of the Sunflower movement, Cafe Philo expanded to London, Hong Kong and New York, as well as other US cities, to facilitate transnational conversations about social, cultural and political issues in Taiwan.
The topic on that particular New York evening was on the evolution of US-Taiwan relations, featuring guest speaker Julia Famularo, a doctoral fellow in East Asian political history at Georgetown University. There was a good mixture of artists, lawyers and scientists present in the audience. In addition, there was a sizeable portion of graduate students from Columbia University who were noticeably jet-lagged from the 16-hour flight from Taiwan after the summer break, but were nonetheless enthusiastic about the evening's discussion.
The Taipei Times sat down with the Taiwanese organizers of Cafe Philo @NY to discuss various reasons and goals for the forum's expansion to the US, and communicated through e-mail correspondence with organizers based in Seattle and Taipei.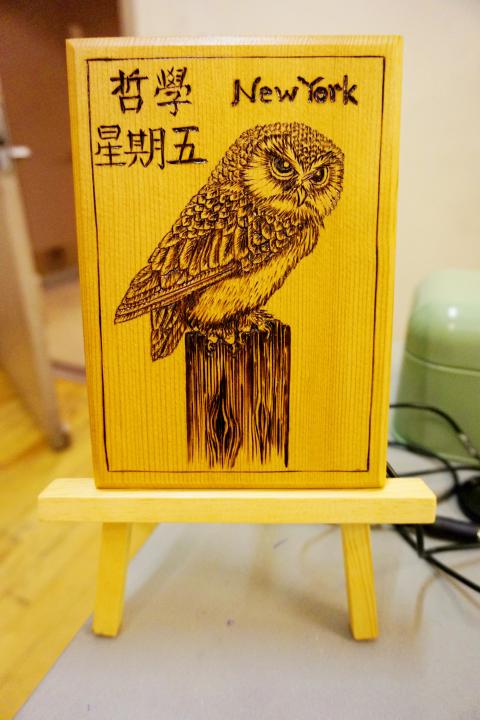 Cafe Philo's mascot, the owl on the wood etching resembles the one that lies in the original Cafe Philo on Shaoxing North Street in Taipei.
Photo: Dana Ter
The New York team stressed the fact that they wanted to invite people who are experts in a variety of fields ranging from politics and international affairs to art and design. As Alysa Chiu (邱雯莉) said on behalf of the group, "we don't want to limit ourselves to academic discussion with scholars, but hope to make social issues more accessible and interesting to the audience."
There was an overwhelming consensus that young Taiwanese are taking the initiative to promote Taiwan-related causes internationally, and that Cafe Philo is stepping up as a platform for overseas Taiwanese to make their voices heard and to instigate social change.
SALON BEYOND BORDERS
The strong links between Cafe Philo organizers in Taiwan and the US is what keeps the salon thriving in both places. Participants are in constant communication with each other through various social media, keeping each other up to date on local developments while working collectively towards common goals.
As Sophia Liao (廖健苡) from Taipei said, "each local branch has their own topics to discuss which affects them on the ground."
She added that "slowly, we can grow in strength and convert these related topics into discussion series."
The most pressing issue to date has been centered on the cross-strait service trade agreement and, in general, on China's increasing encroachment into Taiwan. America's role in cross-strait relations was also an important topic, especially for Cafe Philo organizers in New York and other US cities.
"Taiwan's marginalization in international relations by China's economic and political adventurism makes it important for us to regroup and rebuild a space for generating intellectual conversations among young Taiwanese people in New York and in the US at large," says Wen Liu (劉文), who spoke on behalf of Cafe Philo @NY.
Chiu added that they were receiving requests to stream the New York salons to other places around the US like Washington and Maryland via Skype or Google Hangout.
"My priority is to make sure the New York one runs smoothly for at least a couple of times and equip myself with more experience before expanding to other states," Chiu said.
THE US ROLE
The lack of coverage in the American media during Taiwanese students' occupation of the Legislative Yuan in March and April has compelled Cafe Philo organizers to hasten their pace in raising awareness to American audiences about the Sunflower movement and Taiwan's democracy.
"Before today's event, I was confused as to why the US government saw Taiwan as a troublemaker," said Hsin-Hui Hsu (徐歆惠), one of the New York organizers.
Hsu added that Famularo's talk helped to clarify her questions. Famularo stressed that it wasn't the case that US policymakers are anti-Taiwan but rather, that they do not understand Taiwan despite its cultural similarities with the US.
"We can't expect people who don't have connections to Taiwan to innately understand Taiwan," Famularo said.
She suggested that Taiwanese in the US reach out to members of congress at Capitol Hill, since Washington policymakers often lack the time to conduct in-depth policy research and are grateful to have reliable sources guide them.
In the meantime, Cafe Philo @NY organizers are working on attracting more Americans and people from other countries to attend their bi-monthly salons in lower Manhattan. Liu mentioned that language was an issue, thus their decision to alternate between Mandarin and English forums. She was also pleased to see that a handful of people from China had attended their first Chinese-language salon last month.
Ciwang Teyra, who is working on setting up a Cafe Philo branch in Seattle, mentioned that one way to make Taiwan seem more relevant in the eyes of US policymakers is through highlighting its current issues within the framework of human rights.
"The goal is to connect agencies, activists and scholars in the greater Seattle area, especially those who are familiar with transnational justice and human rights issues," Teyra said.
The fact that Cafe Philo-style civic forums are spreading amongst overseas Taiwanese communities shows how young people are deeply concerned about Taiwan's future. Not only do they want other countries to take notice but they are also striving to affect policy change. St. Marks Place, historically a hotbed for New York's so-called progressive counterculture, was certainly a fitting place to start.
Comments will be moderated. Keep comments relevant to the article. Remarks containing abusive and obscene language, personal attacks of any kind or promotion will be removed and the user banned. Final decision will be at the discretion of the Taipei Times.