Restaurant review: Genghis Khan Mongolian Bar-B-Q (成吉思汗蒙古烤肉餐廳)
Mongolian barbecue is not really Mongolian cuisine, and Genghis Khan of the Mongol Empire probably never had it while trying to conquer the world. And it has little to do with barbecue. The dish was developed in Taiwanese restaurants more than half a century ago, and the term was coined by legendary crosstalk performer Wu Zhao-nan (吳兆南) in 1951 when he opened a barbecue eatery in Taipei.
Established in the 1960s, Genghis Khan Mongolian Bar-B-Q is the oldest restaurant that specializes in the stir-fried dish today. It is about a 10-minute walk from Zhongshan MRT Station (中山站). The first floor of the two-story restaurant is closed during weekdays, so my family and I were seated at two round tables on the second floor for dinner.
At Genghis Khan, you first choose ingredients from a display of meats, vegetables and sauces to create your own bowl. You then hand it to a chef, who cooks it in front of you on a giant circular iron griddle. The restaurant provides four varieties of meat: beef, pork, lamb and chicken. They are thinly sliced and neatly piled in four containers on a counter. It also offers nine varieties of vegetables: basil, bean sprouts, cabbage, carrots, onions and green onions, pineapples, tomatoes and water spinach.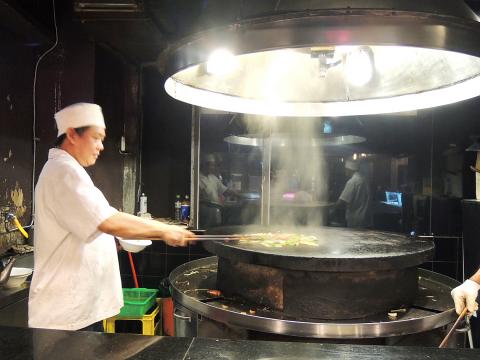 A chef stir-fries all the ingredients for me on a giant circular iron griddle at the semi-open kitchen.
Photo: Eddy Chang, Taipei Times
I had some beef and lamb, and a little bit of everything from the vegetable counter, so my creation looked colorful. It is said that an enzyme in pineapple can tenderize meat, so I added a few slices to my bowl.
Next, I moved to the counter where various sauces were displayed. All the labels for the sauces are written in Chinese and English, with suggested amounts for each. A chef told me that soy-bean sauce, shrimp oil, sesame oil and rice wine were the most commonly used, so I took one teaspoon of each and added some garlic and chilies just to spice things up.
Finally, I handed my bowl to one of the two chefs at the semi-open kitchen next to the sauce counter. The chef skillfully stirred all the ingredients on the griddle and added some water to ease cooking. The sizzling sound and tempting smell immediately aroused my appetite. The chef said that the temperature of the griddle could be as high as 800 degrees Celsius, so they moved fast during the cooking process.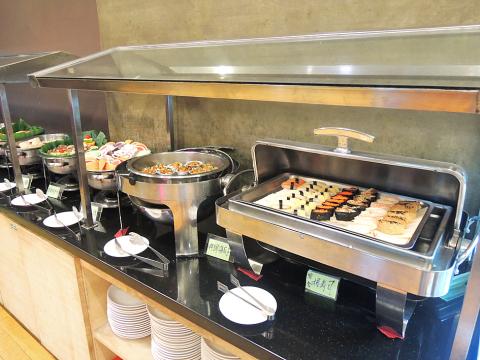 Buffet items are available, including a mini salad bar, a good selection of appetizers, and seven dishes.
Photo: Eddy Chang, Taipei Times
Within a minute, my Mongolian barbecue was ready. The quickly stir-fried beef and lamb were quite tender with a robust meat flavor. Since the chef added some water during the stir-frying, the vegetables did not dry out. But I realized that I added too much soy sauce because my barbecue was a little too salty. A traditional way of eating Mongolian barbecue is putting it in a baked sesame seed coated cake. My cake was crispy and flavorful.
Apart from the Mongolian barbecue, additional buffet items were available, including a mini salad bar, a good selection of appetizers and seven dishes. My favorite appetizer was mixed meat jelly; the mix and chilled jelly-like broth were a good match. Other dishes on the night we dined included a nigiri sushi combo (綜合握壽司), seasoned Venus clams (特調海瓜子), boiled neritic squid (美味軟絲), sea bream with teriyaki sauce (照燒鯛魚排), free-range chicken with green onion oil (油蔥土雞), boiling water scalded shrimps (白灼鮮蝦) and abalone salad (鮑魚沙律). All the seafood dishes were fresh and well cooked. Genghis Khan also has a variety of drinks, desserts and fruit to finish off the meal — though the former two weren't anything to write home about.
There are three prices for the dinner buffet: NT$520 for an adult, NT$270 for a child (between 110cm and 140cm tall) and NT$120 for a young child (below 110cm), along with a 10-percent service charge. For lunch buffet during weekdays, it is only NT$420 for an adult. Overall, Genghis Khan was an enjoyable dining experience, and its authentic Taiwanese-style Mongolian barbecue deserves a try.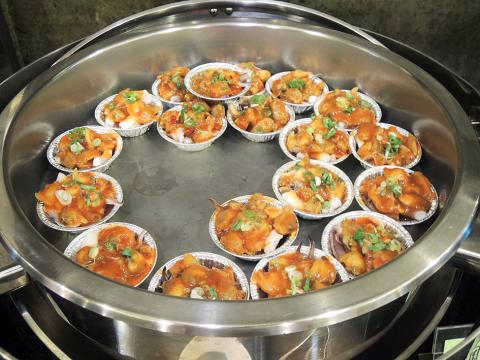 Seasoned Venus Clams and all the seafood dishes at the buffet bar are very fresh and well cooked.
Photo: Eddy Chang, Taipei Times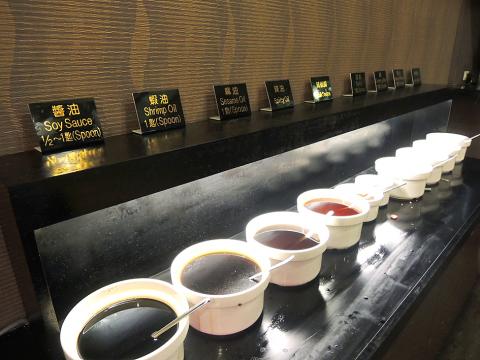 All the signs for the sauces are written in both Chinese and English, with suggested amount for each sauce.
Photo: Eddy Chang, Taipei Times
Publication Notes
Genghis Khan Mongolian Bar-B-Q
(成吉思汗蒙古烤肉餐廳)
Address: 120, Nanjing E Rd, Sec 1, Taipei City (台北市南京東路一段120號) Telephone: (02) 2537-3655 Open: 11:30am to 3:30pm and 5:30pm to 10:30pm Average meal: NT$500 Details: No menu ("all-you-can-eat" buffet style); credit cards accepted On the Net: www.genghisbbq.com.tw
Comments will be moderated. Keep comments relevant to the article. Remarks containing abusive and obscene language, personal attacks of any kind or promotion will be removed and the user banned. Final decision will be at the discretion of the Taipei Times.