Movie review: The Grandmaster
Wong Kar-wai's long anticipated kung-fu epic fuses the director's signature melancholy musings with gorgeous martial-arts action sequences
Reportedly three years in the making and more than 10 years in gestation, The Grandmaster arrives in local theaters today. Directed by Hong Kong auteur Wong Kar-wai, the film proves to be a refined work of cinematography that depicts the life of Ip Man (葉問), the wing chun (詠春) master who famously trained Bruce Lee (李小龍).
Though the kung-fu epic is narratively straightforward compared to the director's previous work, audiences should not expect a biography adhering to genre conventions. True to Wong's unique sensibilities and style, themes of love, loss and the passage of time permeate the film as it pays homage to the martial arts tradition and its masters.
Set in the early 1900s when modern China is in its infancy, the story begins with Ip's (Tony Leung Chiu-wai) childhood and later his domestic life as a gentleman of leisure in China's southern city of Foshan. Through Ip's eyes, Foshan is revealed as an affluent metropolis that is home to numerous martial-arts schools. At the center of the action lies the Golden Pavilion, a lavishly decorated brothel frequented by the region's martial artists.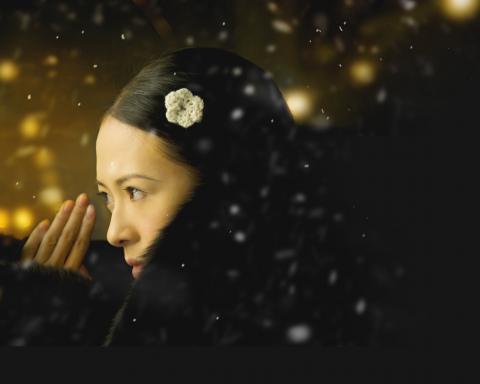 The Grandmaster boasts a glamorous cast led by Tony Leung Chiu-wai, right, and Zhang Ziyi.
Photo courtesy of Warner Bros
It is here that northern master Gong Yutian, played by Chinese veteran Wang Qingxiang, challenges fighters from the south to a last duel before his retirement in the hope of finding a worthy successor. Gong returns north, satisfied, after engaging in a battle of wit with Ip.
The match, however, riles Gong's daughter, Er (Zhang Ziyi), who cannot accept any imperfections in her father's otherwise invincible reputation. Er challenges Ip to a follow-up fight, but only to find herself succumbing to the married man following their duel at the brothel.
The unspoken attraction between the two remains unrequited as the Sino-Japanese War erupts, devastating Ip's family and livelihood. Meanwhile, the narrative focus shifts to Er. Learning of the death of her father after a confrontation with Gong's protege Ma San (Zhang Jin, 張晉), Er returns to her hometown in Japanese-occupied northeastern China and vows to avenge her father's death despite the great sacrifices she is required to make.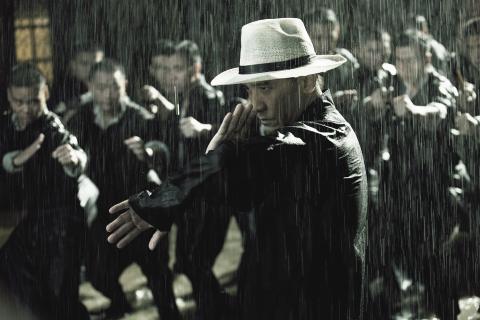 The Grandmaster boasts a glamorous cast led by Tony Leung Chiu-wai, right, and Zhang Ziyi.
Photo courtesy of Warner Bros
Having drifted apart for more than a decade, Ip and Er eventually meet again and ponder their previous relationship and what has disappeared through the ravages of time.
Visually sumptuous and aided by a superlative crew, The Grandmaster dazzles with some of the most gorgeous realizations of martial arts on screen. In the hands of action director Yuen Woo-ping (袁和平), fight sequences are rendered with imagination and sophistication, allowing the characters to show off their respective martial-arts styles which are delivered through refined movements and governed by ritual.
Wong's penchant for nuanced details is admirably realized by the cinematography of Philippe Le Sourd. Through Le Sourd's lens, the vastness of China's snowy north stands in contrast to the often moist, opulently painted south, reinforced by production designer William Chang's (張叔平) ravishing sets.
As in the director's previous work, the visuals are not merely something to marvel at but a vehicle to reflect deep emotions and suppressed feelings. One of the most memorably sensuous moments takes place at the Golden Pavilion where Ip and Er engage in a duel as if it is a delicate courtship. At the gilded, high-class brothel, the two sit on opposite sides of a long table, surrounded by courtesans in cheongsam. Played out against an Italian opera, the sequence unfolds as if portrayed in an oil painting, exuding a sense of mystery and desire.
While the film spans decades that include modern China's turbulent history, the primary focus is always on the characters and how they struggle to cope with what the world has imposed on them. Among the glamorous cast, Zhang Ziyi stands at the center of attention by portraying her character, who experiences a series of tragic events, with emotional intensity. In comparison, Leung conjures up less charisma here partially because his Ip Man is rendered gentle, unassuming and with few distinct characteristics. The most obvious victim of the drastic reduction of a four-hour rough cut to the current 130-minute version, however, is Taiwan's Chang Chen (張震). His character Razor, a master of the Bagua (八卦掌) school of martial arts, is confined to three scenes and has almost no connection to the rest of the story.
Oozing with the kind of longing and melancholy that defines Wong's oeuvre, The Grandmaster beautifully grounds the recurrent themes of memory and the passage of time in the world of martial arts. As the characters utter introspective soliloquies and wander from the Chinese towns and cities to Hong Kong's narrow alleys, the ancient world of martial arts has gradually fallen into oblivion along with its set of rules, decorum and philosophy. Its traces are only captured and frozen in the old photographs of Ip Man in the movie.
Although Wong reportedly spent three years visiting about 100 martial artists across the globe before making the film, he chose to portray his subject with a touch of tenderness. In their final meeting, Gong Er asks Ip to live life on her behalf as she doesn't have a chance to do so. Ip survives, albeit alone, to tell the tale and continue to pass on the spirit of martial arts.
Publication Notes
Film Notes:
The Grandmaster 一代宗師 DIRECTED BY:Wong Kar-wai (王家衛) STARRING:Tony Leung Chiu-wai (梁朝偉) as Ip Man, Zhang Ziyi (章子怡) as Gong Er, Chang Chen (張震) as Razor, Wang Qingxiang (王慶祥) as Gong Yutian RUNNING TIME:130 MINUTES Language:in Cantonese and Mandarin with Chinese and English subtitles TAIWAN RELEASE:TODAY
Comments will be moderated. Keep comments relevant to the article. Remarks containing abusive and obscene language, personal attacks of any kind or promotion will be removed and the user banned. Final decision will be at the discretion of the Taipei Times.