Restaurant review: L'Air Cafe Neo Bistro 風流小館
Located near Da-an Forest Park, the newly opened L'Air Cafe Neo Bistro offers nouvelle cuisine made with seasonal ingredients. Head chef Dana Yu (游育甄) says that after 10 years of working as a chef at top restaurants including Justin's Signatures and L'Atelier Joel Robuchon, she was ready to strike out on her own. Yu opened L'Air Cafe last month with her friend Lin Shu-chen (林淑真), the owner of nearby cafes Bunny Listens to the Music (兔子聽音樂) and Boute de Bijou (珠寶盒).
Yu's goal is to showcase fresh ingredients by crafting the best balances of flavors and textures using French cooking methods.
"If I can create something in just three steps, then I will use just three steps," Yu says. "I want to make sure each ingredient stands out."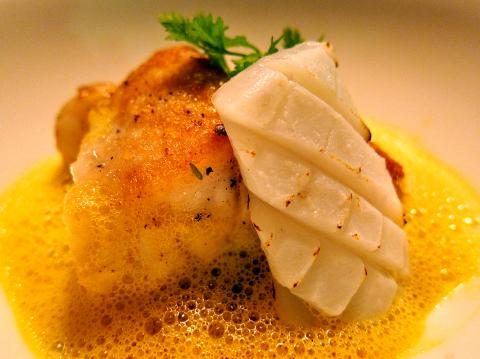 L'Air Cafe Neo Bistro serves nouvelle cuisine created by Dana Yu, the former head chef of Justin's Signatures.
Photo: Catherine Shu, Taipei Times
A la carte options are available, but L'Air Cafe's set menu (NT$2,200 plus 10 percent service charge) not only offers the best value, but allows diners to experience a carefully calibrated sequence of dishes designed to engage all of the senses.
Last weekend's menu prominently featured seafood, which L'Air Cafe buys daily from sellers in Keelung's fishing ports. One of our first dishes was a crisp spear of white asparagus topped with tender slices of steamed abalone and a smooth and creamy sauce. A scallop salad also showcased a tantalizing medley of flavors. It featured a paper-thin slice of phyllo pastry layered with caramelized onions lightly drizzled with sherry vinegar, large scallops, thin slices of bamboo shoots, arugula leaves, cilantro and prosciutto. Our final seafood dish was fresh fish and lightly seared squid served in a white wine and clam sauce.
The highlight of our meal and main course was duck breast from "cherry" ducks, a breed raised in Yilan County. The meat was slow-roasted to lock in moisture and each serving was plated with duck liver that had been marinated in milk before being lightly simmered. The richness of the meat was complemented by a slightly tart red wine and raspberry sauce. The sublime duck cut like butter and melted in the mouth.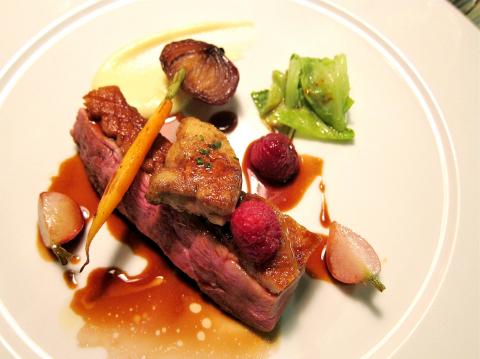 L'Air Cafe Neo Bistro serves nouvelle cuisine created by Dana Yu, the former head chef of Justin's Signatures.
Photo: Catherine Shu, Taipei Times
Our desserts included a refreshing lemon granita with coconut milk, tiramisu and pate de fruit and chocolate served with tea. L'Air Cafe offers a selection of red and white wines from Italy, Spain, France and New Zealand and California, as well as Champagne and sparkling wine. Their house sauvignon blanc paired very well with the set menu's seafood courses.
L'Air Cafe's service is excellent. Though my companion and I were seated in a small alcove out of the main counter's sightline, we never had trouble getting the attention of the server. The pacing of our dishes needed some fine-tuning: our amuse-bouche and seafood courses arrived very quickly, but there was a slight lull before our duck was served. Our waitress offered us constant refills of toasted French bread and herbed butter as we waited, however, and kept our water glasses full.
L'Air Cafe's menu changes weekly based on what ingredients are available. Dishes can be customized for diners who have dietary requirements. Yu says that since the restaurant's soft opening at the end of last month, she has created eight different set menus to make sure repeat customers are satisfied.
Publication Notes
L'Air Cafe Neo Bistro
風流小館
Address: 5, Ln 164, Jinhua St, Taipei City (台北市大安區金華街164巷5號) Telephone: (02) 3343-3937 Open: Lunch is 11:30am to 2pm, dinner 5:30pm to 9pm. Only crepes are available between 2pm to 5pm Average meal: Set menu is NT$2,200 plus a 10 percent service charge. Crepes range from NT$200 to NT$300 Details: Chinese and French menu, credit cards accepted
Comments will be moderated. Keep comments relevant to the article. Remarks containing abusive and obscene language, personal attacks of any kind or promotion will be removed and the user banned. Final decision will be at the discretion of the Taipei Times.