Restaurant review: Mayur Indian Kitchen
Though it is located within sight of Taipei City Hall, Mayur Indian Kitchen is easy to miss because the small takeaway restaurant is tucked among a row of motorcycle repair shops and food stands behind the Keelung Road underpass. Mayur Indian Kitchen is just a kitchen counter with a few tables lined up on the sidewalk, but it offers a wide, constantly changing assortment of home-style Indian cooking. (A second location is located in New Taipei City's St Ignatius Plaza (徐匯廣場) shopping mall).
Owner Mayur Srivastava worked as a hotel chef before opening Mayur Indian Kitchen six months ago. The eatery's dishes are freshly prepared and feature whole spices instead of powdered versions. The restaurant specializes in north Indian cuisine, but also offers south Indian classics like dosa, or savory pancakes made from rice flour and lentils served with a variety of stuffings, and crispy samosas. The restaurant frequently changes its menus and offers specials depending on the season. For example, next week Mayur will began serving homemade yogurt, mango and lemon drinks for the warm weather.
"We keep changing our menu because we want to let people taste new things every time. There are so many dishes in India," says Srivastava.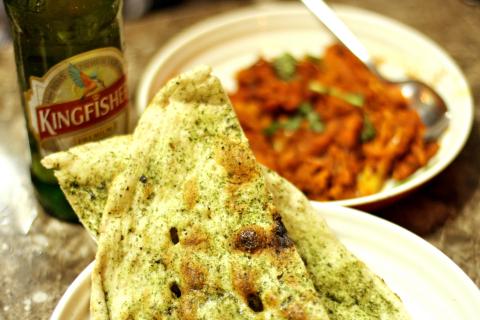 Opened six months ago, Mayur Indian Kitchen offers delicious home-style Indian cooking with plenty of vegetarian options.
Photo: Catherine Shu, Taipei Times
The curries I ate at Mayur Indian Kitchen are mildly spicy, but can be made more piquant based on customer requests. The restaurant offers several jain, or vegetarian dishes, such as aloo gobhi (NT$110), which is made with sauteed potato, cauliflower, tomato and spices. I liked how the cauliflower was lightly cooked to retain some of its crunch. The tandoori chicken masala (NT$145) was also good, though most of the chicken was still on the bone and it became tiresome picking off the meat. My favorite dish of the night was the chana masala (NT$95), which paired very well with the butter naan (NT$55). Mayur Indian Kitchen's freshly prepared version of the Indian flatbread is especially good: the edges are baked until crisp, while the middle is moist and chewy — just right for scooping up curry. The naan comes in 14 savory or sweet flavors. My companion and I also ordered the garlic version (NT$55), which was topped with a plentiful sprinkling of seaweed flakes. The flavor combination was fine but unexpected. We preferred how the plain butter naan tasted with our other dishes.
On a separate visit, I ordered a vegetarian lunch set with chickpea curry, which was made with a liberal helping of cumin. Even the simple cabbage salad included with the set was sprinkled with plenty of fennel seeds, which offered an interesting contrast to the tart vinegar dressing and was a cool palate cleanser after the rich curry and rice.
For dessert, Mayur Indian Kitchen offers both gulab jamun (deep-fried milk balls served in sugar syrup, NT$80) and gajar halwa (NT$95), which we ordered. The deliciously thick, sticky pudding-like dish is made with carrots and cashew nuts cooked in milk and made my sweet tooth very happy.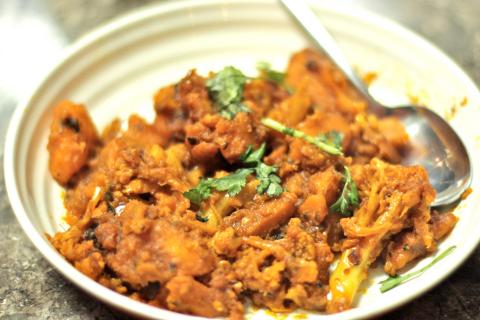 Opened six months ago, Mayur Indian Kitchen offers delicious home-style Indian cooking with plenty of vegetarian options.
Photo: Catherine Shu, Taipei Times
Publication Notes
Mayur Indian Kitchen
Address: 350-5, Keelung Rd Sec 1, Taipei City (台北市基隆路一段350號之5) ; St Ignatius Plaza Mall food court, 8, Zhongshan 1st Rd, Luzhou Dist, New Taipei City (新北市蘆洲區中山一路8號) Telephone: 0981-917-977, 0920-099-979 or 0921-004-175 (Keelung Road); (02) 7717-1556, 0921-004-175 or 0955-531-063 (St Ignatius Plaza) Open: 11am to 9pm (Keelung Road); 11am to 9:30pm (St Ignatius Plaza) Average meal: NT$180 to NT$300 Details: Chinese and English menu, cash only. Visit www.facebook.com/mayur.indiankitchen for more information
Comments will be moderated. Keep comments relevant to the article. Remarks containing abusive and obscene language, personal attacks of any kind or promotion will be removed and the user banned. Final decision will be at the discretion of the Taipei Times.