Restaurant review: Du Hsiao Yueh (度小月)
Peddler's noodles (擔仔麵, danzaimian) is a popular snack or supper food that can be found all around town, often in quite unremarkable versions of flabby noodles, watery soup and an over-seasoned meat sauce. Du Hsiao Yueh (度小月), which according to shop lore began business back in 1895, has had plenty of practice in getting it right. It has five outlets, including two in Tainan, its home city, and three in Taipei, with the newest restaurant in the bustling Yongkang Street (永康街) shopping district.
Du Hsiao Yueh's Yongkang Branch has left its humble origins far behind, and while its minimalist contemporary Chinese interior is not exactly luxurious, it has some pretensions to style. The most notable aspect of the design is the replica low brick stall at the front where the noodles are made. A video screen above provides a detailed introduction to the store and the craft that goes into making the perfect bowl of peddler's noodles.
A basic bowl of noodles, available either dry or in soup, is just NT$50. It is flavored by Du Hsiao Yueh's special meat sauce, which has just the right amount of flavor, enhancing noodles that are cooked to al dente perfection. The yellow Taiwan noodles (油麵) are the traditional choice, but vermicelli (米粉) and flat rice noodles (粿條) are also available. Dry rice with meat sauce (祖傳肉燥飯) is available at NT$30 for a small bowl.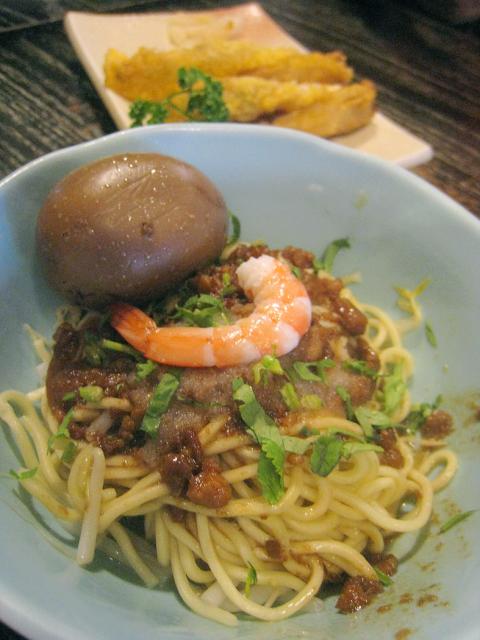 A bowl of peddler's noodles with a stewed duck egg.
Photo: Ian Bartholomew, Taipei Times
Whether you choose the noodles or the rice, both are really not more than a few mouthfuls of food. Fortunately, Du Hsiao Yueh also offers a host of side dishes made in a kitchen in the back, lifting the humble bowl of noodles into a varied spread not unlike an Asian version of tapas.
The bowl of noodles can be enhance by a stewed duck egg (NT$15) and perhaps a side of deep fried shrimp rolls (NT$150, 黃金蝦捲) to make a perfect light snack. Served with a sweet dipping sauce, these crispy rolls are dangerously moreish, and are almost worth a visit to the restaurant all by themselves. But Du Hsiao Yueh offers much more.
For those who feel like taking a little time over their meal, there is a multi-page menu of side dishes that are likely to all but eclipse the central bowl of noodles. These range from the light-as-air deep fried tofu (炸芙蓉豆腐, NT$160) and delicately flavored vegetable dishes such as fresh harvested cold bamboo shoots (NT$200, 晨採關廟冷筍) to regular stir-fries like shrimp and cabbage (NT$180, 櫻花蝦炒高麗菜). Hawker stall favorites that are now sadly hard to find, such as Tainan-style taro cake (台南芋粿), are a welcome addition to the menu.
For those visiting Du Hsiao Yueh for an evening snack, the establishment also offers Taiwan Beer, two kinds of shaohsing wine (紹興酒) and two types of kaoliang (高粱酒) to help diners make a night of it.
Service, which is provided by by young people who are quick on their feet and able to lay out your spread of small dishes in record time, is fast and efficient. The staffers are not exactly founts of information about the food, but the picture menu does provide some explanation about each dish (in Chinese only).
Publication Notes
Du Hsiao Yueh (度小月)
Address: 9-1 Yongkang St, Taipei City (台北市永康街9-1號) Telephone: (02) 3393-1325 Open: 11:30am to 10:30pm (Sunday to Thursday), 11:30am to 11pm (Friday and Saturday) Average meal: NT$250 per person, minimum expenditure NT$100 per person Details: Credit cards accepted, picture menu with Chinese, English and Japanese On the Net: www.iddi.com.tw
Comments will be moderated. Keep comments relevant to the article. Remarks containing abusive and obscene language, personal attacks of any kind or promotion will be removed and the user banned. Final decision will be at the discretion of the Taipei Times.