Japan's fading 'pink' movies get festival show
Evolving cinema industry has seen a decline in the country's soft erotica genre, which was responsible for around 500 films a year in its heyday
For the past 50 years, the world of Japanese pink eiga, or pink films, has taken movie fans on a wild ride through crime, drama and violence — with liberal doses of sex thrown in for good measure.
The pink film industry has along the way also provided a fertile training ground for some of Japan's most successful mainstream directors, such as Oscar-winner Yojiro Takita (2009's Departures).
This year's winner of the Berlin International Film Festival's Critic's Award, Takahisa Zeze (Heaven's Story) is the latest to have graduated from the ranks of soft erotica and gone on to greater acclaim.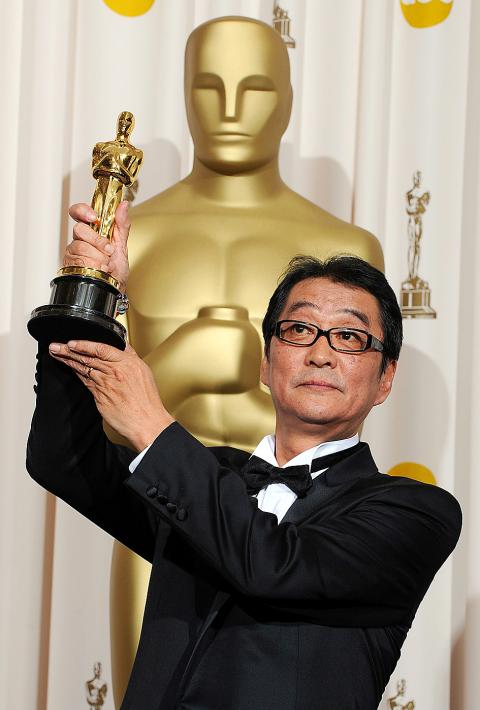 Japanese director Yojiro Takita, who started off in soft erotica films, holds the Academy Award for Best Foreign Language Film at the 81st Academy Awards on Feb. 22 2009.
Photo: AFP
But an evolving cinema industry at home and abroad has seen a decline in output and box office income for a genre which in its heyday was responsible for around 500 films a year.
They were screened at an estimated 600 cinemas across Japan, but there are now fewer than 50 productions released each year and the number of exclusively pink cinemas has fallen to below 80.
"The lines between pink cinema and mainstream cinema have become blurred and it is now simply harder to get the films made and harder to get them screened," explained Japan-based film scholar Roland Domenig.
Domenig was this week overseeing a retrospective of pink cinema at the 13th Far East Film Festival in the northern Italian town of Udine.
As well as screening a selection of pink films dating from 1964 to 2008, Domenig brought with him the doyen of the genre — Kokuei studio producer Sato Keiko.
Keiko started out in the film industry when pink cinema was also beginning in the mid-1960s and took the name for which she is famous — Daisuke Asakura — to hide the fact that she was a woman.
Now, at a diminutive 72 — and responsible for hundreds of pink films over the decades — Keiko laughs loudly when asked what got her involved in a genre that skirts the seedier side of cinema and, indeed, of life.
"People are always surprised when they meet me," she says. "But that was why I took a male name. We thought people might have trouble in those times working with me and for me if they knew I was a woman.
"It was mere chance, that I got started in pink movies. My father owned the studio and the pay was good, simple as that."
The basic premises behind pink films are that they are low budget, that they are shot very quickly and that they have to include a few sex scenes — but always with genitals hidden to comply with censorship laws.
Apart from that, Keiko says, anything goes, and a look down the list of productions screening in Udine shows what she means: Inflatable Sex Dolls of the Wastelands (1967) has been screening alongside the likes of Adultery Diary (1996) and Rustling in Bed (1999).
"What makes pink cinema so popular for young directors starting out in the industry is that there are no taboos," says Keiko. "As long as there are some sex scenes, they can do whatever they like.
"Also, they learn fast and they learn how to work to a tight budget and that's why so many of Japan's great directors have started out with pink [films]."
Keiko takes heart from the fact that the pink industry survived the 1980s as reason to believe that it will survive its current crisis.
Before the 1980s, Domenig says, around 75 percent to 80 percent of films being produced in Japan could be classified as pink but the advent of the adult porn industry took the pink film audience away.
"The differences between pink and general films changed in those years and you can now get away with more in mainstream films," says Keiko. "But we know that it is harder to get work in the big studios and so we can always find people wanting to work with us."
Keiko points to the rise of satellite and cable TV, as well as the DVD market, as positive signs for pink cinema.
Then there is the fact that the genre has found an international audience — through festivals such as that at Udine and through DVD sales and television.
"At the moment things are not good," says Keiko. "At the moment things seem to going backwards.
"But we have hope — people always want to watch films and want to learn how to make films so we will just keep making them. When you get to my age you learn that the best way to approach everything is to just keep on keeping on."
The Far East Film Festival ended on Saturday.
Comments will be moderated. Keep comments relevant to the article. Remarks containing abusive and obscene language, personal attacks of any kind or promotion will be removed and the user banned. Final decision will be at the discretion of the Taipei Times.