Restaurant review: Masala House 異香料館
It might be easy to overlook Masala House (異香料館), which is located among a cluster of student eateries and cafes near Shida Road (師大路). Out of India, a nearby popular Indian restaurant, looks like it attracts more foot traffic by virtue of its location at the entrance of the alley on Pucheng Street (浦城街) where both restaurants are located. But Masala House, which offers a few unique items on its menu, is worth a visit.
On my first visit, I ordered the chana masala (NT$250), a spicy dish of chick peas, and palak paneer (NT$250), a spinach curry with chunks of paneer cheese. Both were delicious. If you're wary of spicy foods, though, be aware that both curries had a fiery kick even after a request for less spicy versions.
These dishes come with a serving of white rice shaped in a heart on your plate. Naan bread is also available for an additional NT$40 (NT$50 for garlic or butter flavored) and roti is NT$50.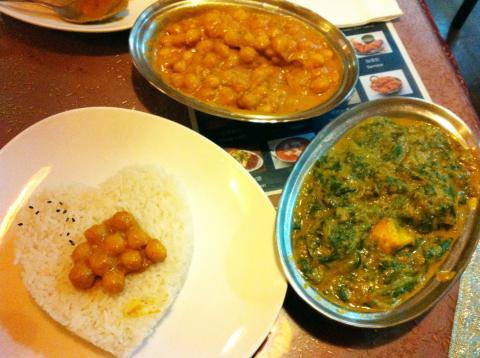 Curry with heart.
Photo: David Chen, Taipei Times
The curries had already won me over, but what sealed my decision to return for a second trip was one of the restaurant's south Indian specialties, its dosa, a large crepe made of rice flour and lentils. A dosa, which costs NT$50, is a crispy version of a crepe and makes for a nice alternative to naan bread. It's also available with a garlic or butter for NT$60.
The dosas go especially well with Masala House's green chutney (NT$35), a sauce made of chopped cilantro and garlic, or another south Indian dish called sambar (NT$100), a sweet-and-sour stew of green beans and cauliflower. These items also come as accompaniment for the masala dosa (NT$150), which is a dosa rolled up and stuffed with potato curry. This makes for a satisfying lunch if you're in the mood for something other than curry and rice.
I would have tried another south Indian dish, idli (NT$80), a savory cake that's also made of rice and lentils, but the restaurant wasn't serving it on my last visit. Maybe next time, if I can resist not ordering the masala dosa again.
As for classic Indian dishes, Masala House offers a large menu, with around a dozen varieties each for beef, chicken and vegetarian dishes. Prices are average, ranging from NT$230 to NT$300 per dish. Tandoori grilled chicken is available for NT$250 a serving and NT$550 for a whole chicken, which needs to be ordered in advance.
In a nod to its student clientele, the restaurant offers a price-busting selection of curry and rice lunch specials: vegetable, daal and chicken curries are NT$100 each, mutton is NT$150, and beef is NT$130. The lunch comes with rice and a soda, and the rice can be replaced with naan for an additional NT$20.
The atmosphere at Masala House is cozy, with the kind of decor one expects at an Indian restaurant in Taipei, and Bollywood music videos playing. The cafe-sized space looks a little run down — you can see peeling wallpaper in the corners of the room — but the food makes up for this shortcoming.
Publication Notes
Masala House 異香料館
Address: 19, Ln 13, Pucheng St, Taipei City (台北市大安區浦城街13巷19號)
Telephone: (02) 2362-0901
Hours: Daily from 11:30am to 2:30pm, 5:30pm to 10pm
Average meal: NT$150 to NT$300 per person, 10 percent discount with student ID
On the Net: www.littletibet.com.tw, 0223660211.tw.tranews.com
Comments will be moderated. Keep comments relevant to the article. Remarks containing abusive and obscene language, personal attacks of any kind or promotion will be removed and the user banned. Final decision will be at the discretion of the Taipei Times.