Handmade in Taiwan
New start-up Web site Pinkoi seeks to give Taiwanese independent designers an e-commerce platform that will bring them global exposure
When Peter Yen (顏君庭) worked as a software developer in Silicon Valley, one of his favorite things to do on days off was shop for handicrafts. Yen explored craft fairs with his wife, or browsed Etsy (www.etsy.com), an online marketplace for handmade items.
But when he searched for a similar Web site that featured independent designers from his home country, however, Yen came up empty-handed.
"There are so many designers working in every corner of Taiwan, but we didn't have a single platform that would bring them all together," he says.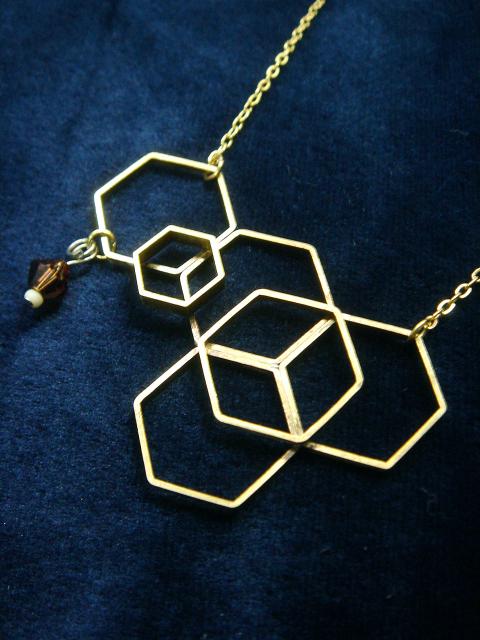 Brand 20/20's Hexagon Extensity necklaces, which are made out of brass and accented with Swarovski or glass beads, were a best-selling item in Pinkoi's booth during December's Renegade Craft Fair in San Francisco. www.pinkoi.com/store/2020
Photo courtesy of Pinkoi
Sensing a market niche, Yen left his job at Yahoo and moved back to Taipei, where he formed a start-up team with Web developer Mike Lee (李讓) and graphic designer Maibelle Lin (林怡君). The trio created Pinkoi (www.pinkoi.com), which they hope will give Taiwan's independent designers worldwide exposure. (The site's name is a combination of "pink" and "koi" — pink as a nod to the site's mostly female target audience and koi because it is a symbol of good luck.)
The Web site, which went live in October and is now in beta stage, currently has about 2,000 items listed by more than 100 designers. The team plans to add 400 more vendors by the end of the year. Pinkoi will be available soon in simplified Chinese and English to attract an international audience.
Before Pinkoi launched, its founders spent a year visiting craft fairs like Simple Market (簡單市集) and studios to woo designers from around the country.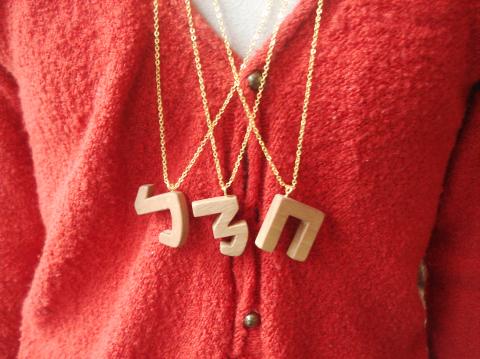 All the characters of the zhuyin fuhao phonetic alphabet, also known as bopomofo, are available as hand carved wooden pendants from 157-4. www.pinkoi.com/store/157-4
Photo courtesy of Pinkoi
At first some were skeptical.
"They said, 'Oh, here is another business guy and every business guy tries to make money off me,'" Yen says. "I had to convince them that we are different."
Dozen Lee (李易達) of Mozi Dozen (木子到森), which is based in Tainan and makes wooden home accessories, says he was wary of pitches by other companies and design agents. But after talking to Yen, he decided to sell his items online for the first time on Pinkoi.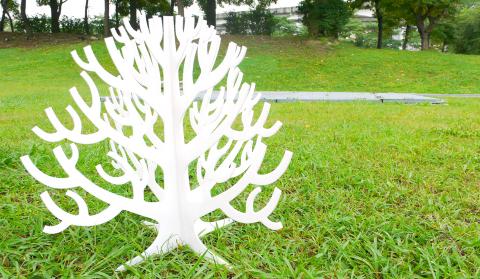 Tennessee Cha Cha's (田納西恰恰, the brand is named after a Tizzy Bac song) multi-purpose acrylic White Tree was originally created to hang wedding cards. www.pinkoi.com/store/dasha
Photo courtesy of Pinkoi
"They have really thought about how to make sure that value is returned to the designers who work with them," Dozen Lee says.
Listing on Pinkoi is currently free; the Web site takes 10 percent of an item's price if it sells. To make Pinkoi accessible to designers with little experience in online marketing, Lin created a simple, uncluttered site layout that puts the focus on product photos. Vendors can upload pictures and edit listings in batches.
Vinka Yang (楊士翔) of Twine Studio (繭裹設計), which makes jewelry and clothing from organic materials, says Pinkoi is a welcome alternative to other e-commerce sites like Yahoo Auctions Taiwan (奇摩拍賣), Ruten (露天拍賣) and PChome Online (網路家庭).
Above: The lacelike edges on Wooow's (杯子大革命) delicate porcelain vases were inspired by insect wings. www.pinkoi.com/store/wooowykceline
Photo courtesy of Pinkoi
"We didn't have anything like this in Taiwan before," Yang says. The two-person design team of Twine, which has small shops in Taipei and Taichung, tried Yahoo Auctions Taiwan, but found that making sure their handmade wares stood out from thousands of mass-manufactured items was too time-consuming.
"We'd given up on selling on the Internet. That's something we stopped pursuing long ago," Yang says. "But now we have an online platform."
Yen says the Etsy site is a source of inspiration for Pinkoi. Founded in 2005, US-based Etsy now has 7.2 million members, more than 400,000 of whom have opened stores. Pinkoi's founders believe their site has the potential to become as successful as Etsy, but in a different region.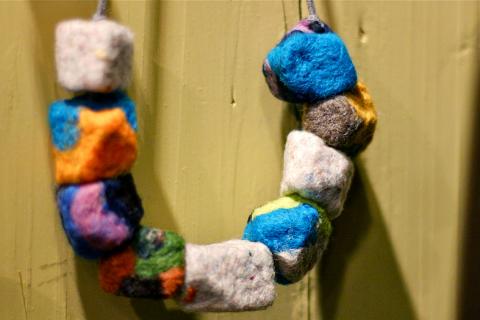 Founded by two architects, Twine Studio uses all-natural fibers and dried plants to make accessories and home decor items. www.pinkoi.com/store/twine
Photo: Catherine Shu, Taipei Times
"Pinkoi has a lot of opportunities in the Asian market. Etsy is focused on Western countries and they haven't really entered Asia yet," says Yen, adding that he is open to working with Etsy in the future.
Like Etsy, Pinkoi has various ways to search listings, so shopping feels like a treasure hunt. One way that Pinkoi is different from Etsy, however, is that Pinkoi's creators see it as a social networking site in addition to an e-commerce platform. Shoppers have the option of logging onto Pinkoi with their Facebook accounts, while sellers can create a "My Pinkoi" page for their own profiles. All users can share their favorite items and ask other Pinkoi users for suggestions.
"We want customers to make friends with designers easily and create a community with them," Mike Lee says.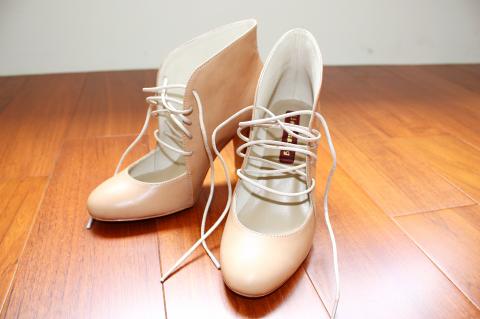 Liebe.hsing's sleek high heels and classic Oxfords are handmade in Taiwan using traditional shoemaking techniques. www.pinkoi.com/store/liebehsing
Photo courtesy of Pinkoi
The Pinkoi team's marketing efforts have taken them to events like last year's Taiwan Design Expo (台灣設計博覽會) and San Francisco's Renegade Craft Fair. This year they plan to attend an exhibition in Shanghai.
The site is currently open only to designers who work in Taiwan, but the Pinkoi team will eventually invite vendors from other countries, including China. They say that Pinkoi staffers will continue to carefully review vendor applications as the site expands, in part to ensure that mass-produced items aren't being passed off as handmade, a problem that plagues Etsy (which does not have an application process for sellers). Yen also promises that the site will continue to spotlight Taiwanese brands as it pursues an international market.
"We are going to do it carefully and let people know that we are not going to use designers from other countries to overshadow what we have locally," Yen says.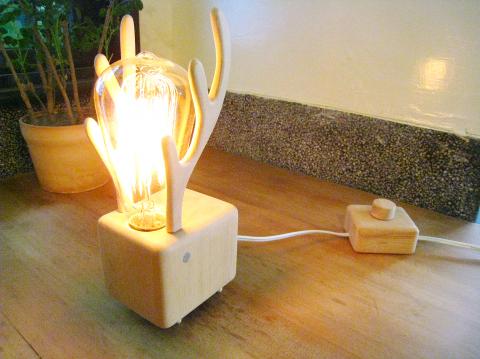 Mozi Dozen's cute home decor accessories include tiny desk lamps with wooden deer antlers. www.pinkoi.com/store/mozidozen
Photos courtesy of Pinkoi
The Pinkoi team is still talking with potential investors — none of the three founders currently draws a salary for working on the Web site and the project is financed with their savings. Yen is confident about the start-up's long-term financial viability, but says that the Pinkoi team sees the Web site as more than a profit-making venture.
"We are kind of like evangelists, telling designers to believe in what they are doing and enjoy what they do," Yen says. "We can work together to establish the value of design and, more than that, establish the value of Taiwan."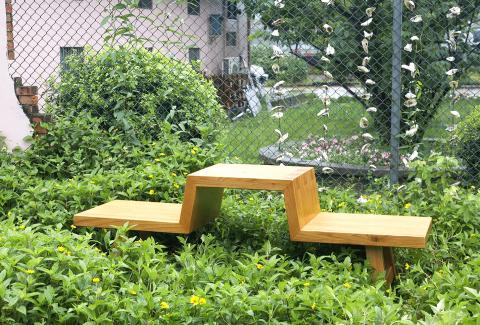 ROC 69's (民六九) minimalist furniture designs are built from wood that has not been treated with chemicals. www.pinkoi.com/store/roc69
Photo courtesy of Pinkoi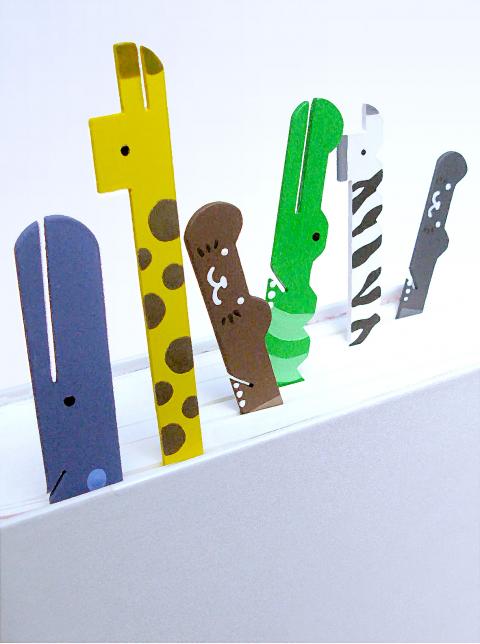 Fly To Me's (飛特米) wooden items include a menagerie of hand-painted, animal-shaped bookmarks carved from popsicle sticks. www.pinkoi.com/store/flytome100
Photo courtesy of Pinkoi
Publication Notes
On the Net:
www.pinkoi.com www.facebook.com/ilovepinkoi. An English-language version of Pinkoi will be launched during the second quarter of this year. Before then, English-speaking shoppers can contact the Pinkoi team online for assistance
Comments will be moderated. Keep comments relevant to the article. Remarks containing abusive and obscene language, personal attacks of any kind or promotion will be removed and the user banned. Final decision will be at the discretion of the Taipei Times.