Brave new ink
Lin Fan-wei attempts to give traditional Chinese ink painting a new sensibility — but it's a tough road to travel
"My work is like making tea," says Lin Fan-wei (林帆偉), pouring a cup as he describes why he chose to show 10 ink-on-paper pieces from 2008 rather than new works at his current exhibition in Taipei. "You brew one, appreciate it for a while, and then brew another ... You have to sit back and savor it before you really know what's good."
Like many Taiwanese of the older generation, Lin trained in traditional ink painting and has since gradually incorporated modern colors and materials into his repertoire. He resists abstraction, saying he "cannot start from nothing." Unlike artists of the older generation, however, Lin is only 27 years old.
The works chosen for A Superficial City (一個輕薄的城市), on exhibition through Jan. 31 at MEME (覓空間) near Guting MRT Station (古亭捷運站), are partly inspired by Italo Calvino's Invisible Cities. The Italian writer describes dozens of cities in an imaginary conversation between Kublai Khan and Marco Polo. Lin's dialogue is based on his relationships with cities such as Beijing, Shanghai and Suzhou that he visited while traveling in China in 2007.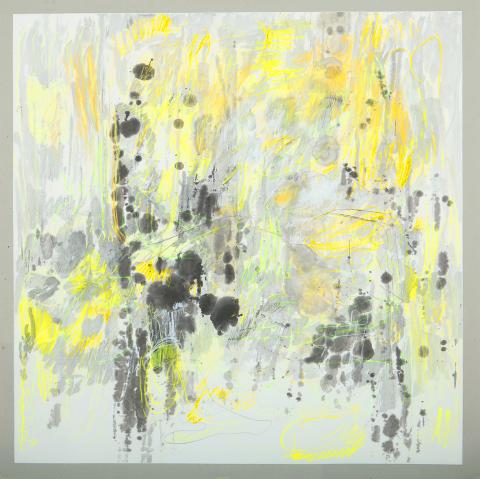 Lin Fan-wei, Glass Curtain of the Summer Afternoon (2008).
Photo courtesy of Lin Fan-wei
This exhibition follows his 2009 solo show at the Kuandu Museum of Fine Arts on the campus of Taipei National University of the Arts, of which Lin is a graduate and a half. (He received a BA in fine arts from the school in 2006, and abandoned his master's studies in art conservation to concentrate on painting in 2008.)
Whereas the ink paintings in the earlier exhibition depicted cities as sprawling masses of buildings from the perspective of someone perched on a rooftop or peering from a nearby mountaintop, the cities in the current show are seen from inside the urban jungle. "You're experiencing the city as a part of it, not looking at it from outside as if it's a monster," Lin says.
Rather than simply lining up the ink-and-pastel drawings along the outer walls, the MEME gallery has broken up its floor space with dividers that allow visitors to walk around the large works (all 180cm by 180cm) and see them individually. Unlike most traditional Chinese landscapes, the perspective of the viewer takes prominence: One piece, Lin's favorite of the series, is titled Tree From the Window (窗外有樹).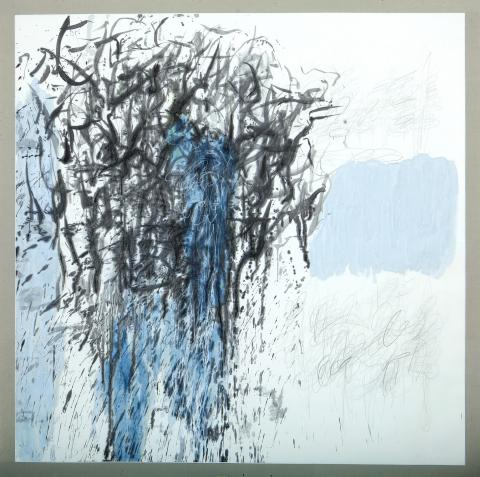 Lin Fan-wei, Tree From the Window (2008).
Photo courtesy of Lin Fan-wei
The attempt at tormented branches in the left half of Tree is reminiscent of German artist Anselm Kiefer, who Lin cites as an influence. The scribblings in the right half of the drawing call to mind Cy Twombly, or perhaps Ming Dynasty calligrapher Fu Shan (傅山) — another acknowledged influence.
Better, in my opinion, is Glass Curtain of the Summer Afternoon (玻璃帷幕的夏日午後). Lin says he began the work with ink stains that soaked through to the paper from a previous painting. The watered-down ink strokes and almost taxicab-yellow pastels he added demonstrate his skill with composition and willingness to push the envelope without resorting to the obviously Jean-Michel Basquiat-influenced primitiveness so popular with young Taiwanese artists.
Although he won the Macao Museum of Art Excellent Abstract Painting Award in 2008 — despite his statement about abstraction that "if I had to start from nothing, my painting would be all black" — Lin has yet to realize big sales or gallery recognition in Taiwan.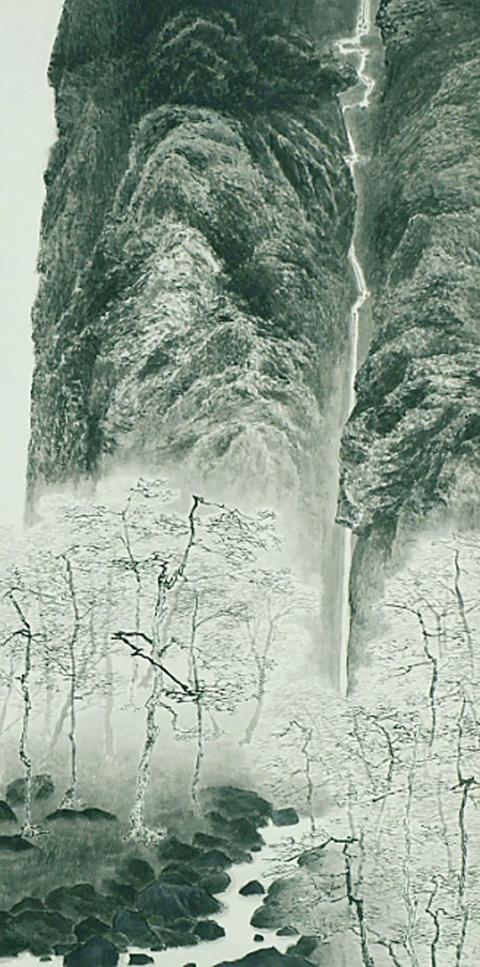 Lin Fan-wei, Landscape (2004).
Photo courtesy of Lin Fan-wei
In choosing to work in a more-or-less traditional ink painting format, he sets the bar for himself very high. He complains that "new traditional" works by young artists are overlooked, but with everyone from Chang Dai-chien (張大千, dead 28 years now) to Li Xiaoxuan (李孝萱, 51 years old) stretching the revered Chinese ink tradition to new heights, not to mention a plethora of Taiwanese contemporary artists riffing on the genre in different media (Yao Jui-chung (姚瑞中), Howard Chen (陳浚豪), Wu Chi-tsung (吳季璁) et al), Lin hasn't chosen the easiest of styles.
A Superficial City is a pleasure to see. If Lin wants to do something new, however, he'll have to keep pushing the boundaries. At 27, he has plenty of time.
And maybe he's already done it, but judging from the fact this is 2011 and we're just now seeing his works from 2008, we could have to wait till 2014 to find out.
Publication Notes
Exhibition notes
What: A Superficial City (一個輕薄的城市)
When: Mondays to Saturdays from 11am to 6pm. Until Jan. 31
Where: MEME (覓空間), Hong's Foundation for Education and Culture (洪建全教育文化基金會), 12F, 9, Roosevelt Rd Sec 2, Taipei City (台北市羅斯福路二段9號12樓), tel: (02) 2396-5505 X122
Admission: Free
Comments will be moderated. Keep comments relevant to the article. Remarks containing abusive and obscene language, personal attacks of any kind or promotion will be removed and the user banned. Final decision will be at the discretion of the Taipei Times.